Have you ever noticed how simple it is for little ones to pray?
They just give thanks…
"Jesus, thank you for this day and that we got to play outside and that mommy's dad came for a visit and that it is nana's birthday.  She's lived a long time.  Thanks, God."
They simple say it as it is…
"God, it would be really nice to not have to go to school tomorrow.  But I know I have to."
They have the desires of God wrapped in their little hearts…
"Jesus, I want my aunt to know you, so I am going to tell her about you today and share with her from my Bible story book."
But something happens when we mature.
We lose our innocence and become more conscience of our words.  Maybe it stems from being disappointed by God.  Maybe we're guarded because we were teased by an older sibling during bedtime prayers.  Maybe we struggle with fear and insecurity and inadequacy plaguing our identity and stifling our speech.  Maybe we don't know what to say or how to say it to our Holy God, forgetting that He is still our loving Father.
Do you struggle in your prayer life?
This free download, Prayer:  Ideas for Opening Up to God, is written especially for you.  Packed full of encouraging ideas, it is totally appropriate  for a tween, teen, or twenty-something to gain a framework for establishing a prayer life and yet also challenges a spiritually mature mom or mentor to engage in an open dialogue with God.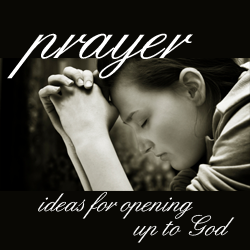 browse all our free Topics & Truth downloads here
Elisa is a trained
biblical life coach
, mentor, and speaker passionate about equipping women to experience authentic life change for the sake impacting the next generation. She is the founder of
More to Be
and author of
Impact My Life: Biblical Mentoring Simplified
. You can also find Elisa writing for The Better Mom, MODsquad, FaithLife Women, and the Internet Cafe Devotions. Elisa considers her first calling as wife to Stephen and mother to her house-full of children. Her favorite days begin on the porch with the Lord and end on the beach with her family and friends. Connect with Elisa at
www.elisapulliam.com
.