A thought.
A new idea.
A concept that works.
Inspired by the need to equip women and reach teen girls.
Seeing the need confirmed by friends and sisters in Christ.
So here's the question we've been considering…

We have an idea that could totally transform the overall impact of women's ministry, not by stopping what already works well but by adding a concept deeply immersed in the Scriptures…

By taking this principle of the older women teaching the younger, we believe that ETC. could easily fall under the covering of women's ministry and offer a complimentary opportunity for moms by providing an in-real-life Grace Chats time.  In the same we're cultivating Grace Chats discussions here on the website and through Facebook, we think it would be awesome to bring Grace Chats into real life by partnering it with ETC.!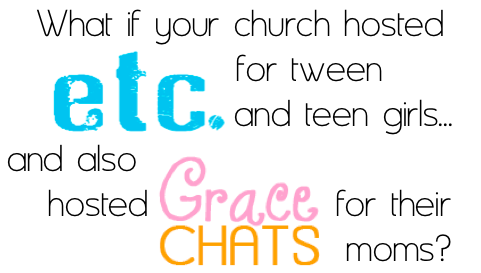 Of course, ETC. can still be hosted by women outside of a church ministry, held in their own home, so they may offer a safe-haven gathering for their daughter and her friends.  Yet, for that mom or women that would like to reach out to the next generation, but feels they need the support of the body, leading ETC. as a part of a church ministry might be the perfect solution.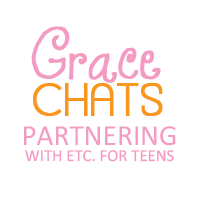 Are you interested in bringing Grace Chats & ETC. to your church? 
Download this Information-Packed Resource to Learn More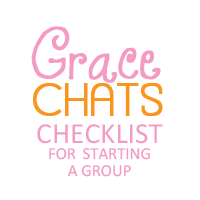 How do you actually do an in-real-life Grace Chats?
Download the Grace Chats In-Real-Life Checklist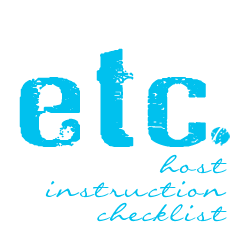 But how do you do ETC.?
Download the ETC. Checklist
and make the most of all our ETC. resources
What do you think of this idea?
Questions?
Leave a comment or contact Lisa (at) moretobe (.) com.
Elisa is a trained

biblical life coach

, mentor, and speaker passionate about equipping women to experience authentic life change for the sake impacting the next generation. She is the founder of

More to Be

and author of

Impact My Life: Biblical Mentoring Simplified

. You can also find Elisa writing for The Better Mom, MODsquad, FaithLife Women, and the Internet Cafe Devotions. Elisa considers her first calling as wife to Stephen and mother to her house-full of children. Her favorite days begin on the porch with the Lord and end on the beach with her family and friends. Connect with Elisa at

www.elisapulliam.com

.