Will you become a part of something God laid on my heart more than six years ago?
I tell the story over here.
Will you make plans now to experience the amazing vision of my amazing friend, September McCarthy?
I hope so. I would love to meet you at Raising Generations Today!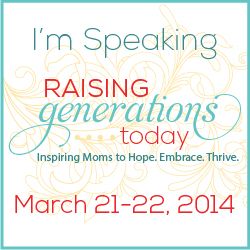 Raising Generations Today is an annual conference designed to equip and inspire moms to reach the hearts of their children for the glory of God. Through providing valuable resources, inspirational speakers, practical teaching materials, and the connection of moms in every season of parenting, Raising Generations Today will offer hope to women so that they may embrace and thrive in their roles as moms.
I promise you that this will be an amazing conference. As one of the organizers of Raising Generations Today, I passionately believe that moms are hungry for the type of teaching, encouragement, and fellowship that we plan to offer, particularly in the Northeast of the United States. While there are other incredible conferences seeking to encourage women, this conference has a focus solely on equipping mothers and raising the next generation — and that is our heartbeat here at More to Be.  We are proud to be a sponsor of Raising Generations Today, confident that this conference will me a need in a way touches hearts of moms and glorifies God.
Mark your calendars, friends, for March 21-22, 2014,
to join us at what I believe with be a holy, sacred,
amazing conference for Christian moms.
I'll be there and would love to meet you face to face.
Elisa is a trained
biblical life coach
, mentor, and speaker passionate about equipping women to experience authentic life change for the sake impacting the next generation. She is the founder of
More to Be
and author of
Impact My Life: Biblical Mentoring Simplified
. You can also find Elisa writing for The Better Mom, MODsquad, FaithLife Women, and the Internet Cafe Devotions. Elisa considers her first calling as wife to Stephen and mother to her house-full of children. Her favorite days begin on the porch with the Lord and end on the beach with her family and friends. Connect with Elisa at
www.elisapulliam.com
.