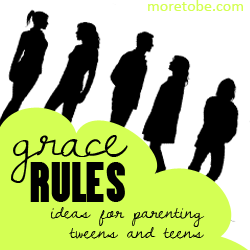 Whoever said toddler-hood was the parenting stage to watch out for had yet to face the other t-infamous years!  Raising tweens through teens is a challenge that comes with nearly as much sleep-deprivation and an equal amount of concern, uncertainty, failure, and mishaps. So let's set the record straight.
There is no perfect parenting stage.
Parenting is a tough job.  It requires dedication and determination.  It demands a commitment of time and a passion for consistency.  But most importantly, parenting needs a good dose of grace, especially when navigating through the tween and teen years.
The Grace Rules Guide is designed to encourage and equip moms in the high calling of parenting tweens and teens. 
Built on the principle of grace and the power of God's example as our Father, this guide is loaded with effective and practical parenting ideas, including a special "how-to" on Facebook privacy settings.
Purchase the Grace Rules Guide for $2.99
After your make your purchase, you will receive an email with a link to download the PDF file for your personal use. The link will expire in 24 business hours, so be sure to respond to it soon.