Are you craving a biblical mentor, but don't know where to find one?
Would you like to have some practical guidance on how to grow as a godly woman, but maybe you don't have the time for a long-term commitment or the flexibility to connect face-to-face with a mentor?
You're definitely not alone in longing for mentorship but struggling to find a way to make it happen. I get emails every week from women asking if I can mentor them, because it feels like there is no one else they can turn to in light of their circumstances.  Trust me, I'd love to say "yes" to every single woman, but there's simply not enough of me to go around. That's why this concept of an Exclusive Mentoring Experience is a perfect solution for the both of us.

What's an Exclusive Mentoring Experience?
This opportunity is designed for women seeking mentorship, specifically from Elisa Pulliam, but also willing to be connected with other women in order to develop follow-up mentoring connections. While the group will meet for six weeks, the mentoring relationships formed within the group can be pursued by participants to continue on their own at the end of the program.
The Exclusive Mentoring Experience includes:
three live group phone calls with other participants
one sixty minute individual coaching call with Elisa Pulliam
closed Facebook group for weekly interaction and access to resources
limited to 10 women in each group
Plus, additional bonuses and downloadable resources:
PDF copy of Impact Together: Biblical Mentoring Simplified
weekly Scripture printable
accountability worksheets and weekly check-in
Anchor Your Vision Worksheet with project planner
and more . . .
Topics of focus may include:
how to study Scripture and apply it
carving out time for rest and refueling
living according to your core values
writing a mission statement and goals
developing a lifestyle of worship
cultivating a meaningful prayer life
time management and organization
setting priorities and boundaries
developing communication skills
nurturing relationships
uncovering your calling
and more . . .


To be added to the wait list for the
next Mentoring Experience, sign up below. 
The fee to enroll in the Exclusive Mentoring Experience is $179 per person, and must be made within three business days of being accepted to the group to secure your spot. 
To apply for the Exclusive Mentoring Connection Group, complete this application.
If you are selected, you'll be notified with details for making payment and enrolling in the group.
---
About Your Mentor
Elisa Pulliam is a life-long mentor, life coach, coach trainer, author of 
Meet the New You
and
Impact Together: Biblical Mentoring Simplified. 
She is passionate about seeing women experience authentic life transformation for the sake of impacting the next generation. Her mission as owner of the
Kaleo Agency
, a life coaching and leadership development company, and as founder of 
More to Be
, a ministry passionate about training and equipping women to mentor, is fueled by God's redeeming work in her life and twenty-plus years in youth and women's ministry.  She counts it a privilege to connect with other women online and in real life, and strives toward savoring each moment with her husband of 20 years, Stephen, and with their four tween and teenage children.
---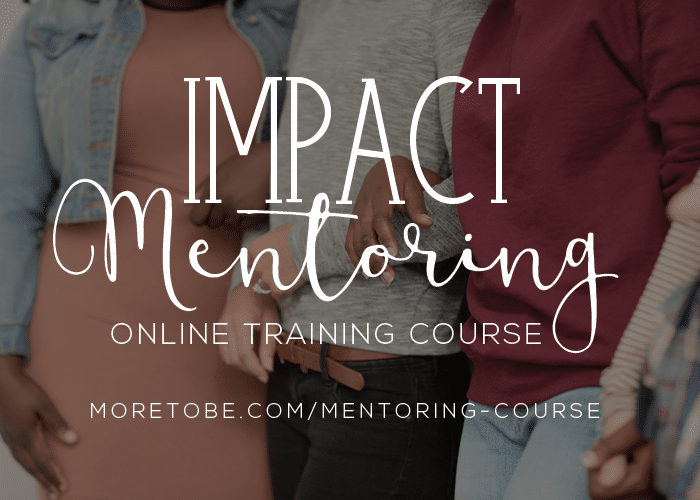 ---