What is Mentoring?
Most women believe they are not qualified to be a mentor!  Not true!  If you love Jesus and have set your life to live by the Bible, then you are qualified to mentor. Think of it in terms of being a trusted counselor or guide, and if you are a disciple of Christ, you are more than qualified to do just that!
As author Anne Ortlund writes in "The Disciplines of a Beautiful Woman," we simply need to know "one more thing" in order to teach that thing.  For example, if we know John 3:16, we can turn to another and teach it.  It may be only one powerful verse, but from there we go back to our Bible and learn another verse so that we can teach another person.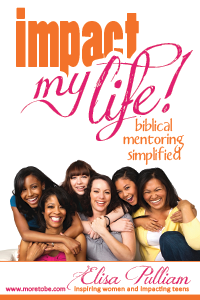 Mentoring is simply about doing real life together with real people, which mean we are transparent and humble, while deferring glory to God as we live rooted in the Word.  It is like a baton pass in a relay race involving generation to generation. As one woman receives from the Lord, she in turn refreshes another who refreshes another.  Mentoring is extending out our hand, to their hand, to put it in God's hand, who will in turn put it into anothers hand.
We know you might find the idea of being a mentor intimidating, which is why Impact My Life: Biblical Mentoring Simplified is the perfect tool to help you step grow in your faith while stepping into significant mentoring relations. Packed full of step-by-step instruction, relevant illustrations, and solid biblical teaching useful drawing on the principles of discipleship and the Titus 2 call, Impact My Life will open your eyes to seeing your potential and purpose as not only a mentor, but as a women of influence for the glory of God.  To learn more about this book, visit www.impactmylife.net or purchase from Impact My Life from Amazon.
Here's a sneak peak of what you'll find inside, Impact My Life…


Mentoring is simple, if you think of it this way:
Meeting…spending time together, as in "meet with one another" in whatever way the Lord leads
Encouraging…lifting her another up with words and deeds that glorify God
Noticing…paying attention to her life and asking questions to learn what is happening in her heart
Teaching…sharing the Word of God and lessons of life your life for her benefit
Offering…finding practical ways to serve her by offering your time, talents, and resources
Responding…always speaking the truth (Jesus & Scripture) in love, while keeping healthy boundaries in place
Inspiring…her by demonstrating what it looks like to live out the Gospel, surrendered and redeemed
Navigating…helping her to find the course, especially the narrow gate along wide paths
Growing…together in this relationship with each other and with the Lord

Mentoring Requires us to Ditch our Excuses and Embrace the Scriptures
Most women come up with an excuse as to why they can't mentor!  They believe the lies of the Enemy instead of the truth of Scripture!  It's time to shine some light and set you free to enjoy the blessing of being a being a mentor.
But I'd be a hypocrite!
Instead, follow Paul's example who followed Christ's example!
It is natural to think that our past should dictate our future, but on the contrary.  Our past gives lessons to be learned for the benefit of others futures.  However, if you find yourself in the midst of a trial, it is likely not a good time to begin mentoring, even though God will use this experience for the benefit of someone in the future (Romans 8:28). Instead of believing that you are a hypocrite, believe the truth that your mess has been redeemed by the Savior.  Compare yourself to Paul in 1 Corinthians 11:1, who said "Follow my example, as I follow the example of Christ."  His life was a mess, but he became a great teacher and example for others.  He modeled his life after Christ, as we should, and thereby was able to mentor others.
But I'm too young!
Even the young are called to set an example!
 We are never too young to set an example and embrace the call to mentor, as Paul admonished to Timothy:  1 Timothy 4:12, "Don't let anyone look down on you because you are young, but set an example for the believers in speech, in life, in love, in faith and in purity." We simply need to be striving to live out the Gospel, not perfect it!  Our age is not important, rather what we believe counts.  Do we confess that that Jesus Christ died on the cross for the forgiveness of our sin and has made a way for us to be with Him eternally and right with the Father through His blood shed on our behalf (Romans 10:9-10, Ephesians 1)?  Are we willing to put to death our sinful nature and live by the power of the Holy Spirit (Romans 8:5)?   If yes, than we are well on our way to being able to mentor.
But I lack wisdom!
Just ask God for wisdom!
Many of us feel we are too young and don't know enough yet.  But God promises to work through us regardless of our age or breath of understanding of the Scriptures. Our wisdom comes from above!  James 1:5 says, "If any of you lacks wisdom, he should ask God, who gives generously to all without finding fault, and it will be given to him."  The Message translation puts it this way, "If you don't know what you're doing, pray to the Father.  He loves to help.  You'll get his help, and he won't be condescending to when you ask for it." We don't need to know all the answers off the top of our head.  We simple need to know where to find the answers from God and through the Scriptures.  Mentoring will simply press you further into the Word and your relationship with the Lord.

But it is not my gifting!
We are all need in the body of Christ, and simply need to practice life together!
It is true that God gives us each a different personality and spiritual gift.  Some woman are great teachers, others are great hostesses, and others fantastic at finding ways to help.  However, mentoring isn't about how our spiritual gift is used in the body, but rather how we are connected to the body (1 Corinthians 12:12-27). To mentor simply means to live life, woman to woman, generation with generation, within the body of Christ, sharing what we learn and passing it on.  Paul describes how this looks in Philippians 4:8-9, "…whatever is true, whatever is noble, whatever is right, whatever is pure, whatever is lovely, whatever is admirable–if anything is excellent or praiseworthy–think about such things.  Whatever you have learned or received or heard from me, or seen in me–put it into practice.  And the God of peace will be with you."  As we seek to live a Godly life, modeled after Biblical principles, we are being qualified by God to mentor others — as the LEARN, RECEIVE, HEAR, OR SEE in us–and put into practice in their own lives.
But it is not my call!
If you are a woman, you are called!
Likely, the most famous passage on mentoring comes from Titus 2:3-5.  In it, Paul writing to Titus offers instructions on how we are to live and gives specifications for the example women are to set for other women.  "Likewise, teach the older women to be reverent in the way they live, not to be slanderers or addicted to much wine, but to teach what is good. Then they can train the younger women to love their husbands and children, to be self-controlled and pure, to be busy at home, to be kind, and to be subject to their husbands, so that no one will malign the word of God." What I love about this passage is that the purpose of Paul's instruction is to give the Word of God it's due attention instead.  With this perspective in mind, we can honestly say that mentoring isn't really about us at all.  It is about God and His Word, and we simply have the opportunity and privilege to answer the call of setting an example for the women in our lives — older, younger, sister, mother, friend, and stranger alike.


How Do I Begin?
Mentoring is a privilege, blessing, and sanctification process. If you believe that Jesus is Lord and His Word is truth, and are willing to humble yourself before the Lord, you can begin mentoring today. Your next step should be pray and seeking the counsel of your pastor. You might also want to purchase Impact My Life: Biblical Mentoring Simplified, and spend the next month in a careful, devotional study of the material.
Would you like to begin a mentoring movement in your church or women's ministry?
Invite Elisa to speak to your group on her mentoring experience and offer a mentoring training session personalized for your group.  Contact Elisa at elisa (at) moretobe (.) com.