How can we learn to accept ourselves just the way we are and grow in security and contentment?
In order to find true, Godly contentment, we must accept our identity in Christ!
It is a misnomer to think we will ever love or fully accept ourselves, for to do so would mean we would either have to never sin or pretend it doesn't exist. When we have a true understanding of nature, we will see that we need Christ even more. Only then will we find the peace we are searching for as we receive Jesus as our Savior.  Even so, we might wrestle our entire life with all sorts of questions that need Biblical answers:
Who am I?
Why am I here?
What is wrong with me?
How can I change?
Will I ever be happy? With me? With life?
The world tells us that we will be content and happy when we have finally . . . fill in the blank. For some, it means arriving at the place of academic accomplishment or in being well-known and respected! For others, it is a six-plus figure salary and a house on the hill. It can even be about being married and having kids.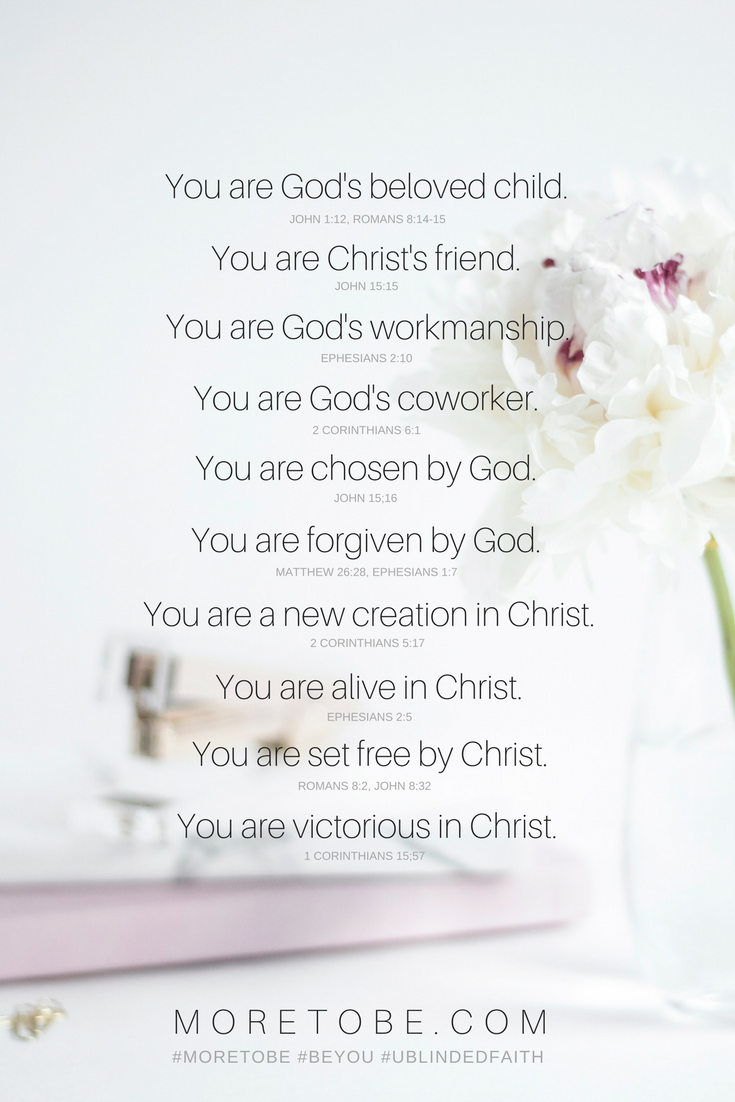 The lie we believe is this: "I will finally be happy when I have achieved all that I have dreamed about." P.S. Finally never happens. And if it does, it never matches up to the dream!
Being happy is something we long for, but isn't something God is concerned with in terms of our well being.
Loving ourselves is another ill-pursuit. God never tells us in Scripture to love ourselves, but He does tell us to love Him and love others. Isn't that interesting? We're trying to figure out how to love ourselves and find happiness and according to the Word, we're looking for the wrong thing! Instead, we need to ask:
How can I love God sincerely?
How can I love others well?
What does God say about who I am?
What will bring me true contentedness?
Instead of pursuing acceptance, happiness, and contentment, we actually need to walk in it according to what God gives us through Christ. God knows who we are, so we need to find our identity in Him alone! When we do that, we will find contentedness. We will begin to know the plans He has for us, not in terms of details, like what university, relationship, job, but in terms of purpose. When our identity is found in Christ — as a daughter of the King set on this planet to declare His love, grace, forgiveness, mercy,  joy to others — everything we do and everything we believe about ourselves is shaped by that truth (1 Peter 2:9).
When we seek to love God, as an expression of our gratitude for the Cross, we will care for our lives and our bodies in a loving way, as well. It is all interconnected.
Looking at our lives through the lens of God's truth castes new vision on our purpose.
We are not simply going to work (wherever we get paid), but we are co-workers alongside the Lord (2 Cor. 6:1). We don't need to burn out on life, for we're alive with Christ (Eph. 2:5). Our struggles are not unconquerable, for we are victorious through the Lord Jesus Christ (1 Cor. 15:7).
She is my child. John 1:12, Romans 8:14-15
She is Christ's friend. John 15:15
She is my workmanship. Ephesians 2:10
She is my coworker. 2 Corinthians 6:1
She is chosen and appointed by my son, Jesus Christ, to bear His fruit. John 15:16
She is forgiven. Matthew 26:28, Ephesians 1:7
She is sealed with the promised Holy Spirit. Ephesians 1:13
She is a new creation. 2 Corinthians 5:17
She is alive with Christ. Ephesians 2:5
She is blessed with every spiritual blessing in heavenly places. Ephesians 1:3
She is set free. Romans 8:2, John 8:32
She is victorious through the Lord Jesus Christ. 1 Corinthians 15:57
When we come to accept what God has to say about who we are, who He is, and how we should live, it changes everything. Instead of trying to love ourselves better and find happiness in our circumstances, we need to seek to love God with all our heart, soul, and mind, and find joy in serving Him instead of satisfying ourselves (Deut 6:5, 1 Peter 4:10).
For more on the topic of identity and purpose,
enroll in the Infuse Life Transformation course.