Have you ever considered how your beliefs are impacting your actions?
We all have a core set of beliefs, which influences the way we process information, react to life circumstances, and interact in relationships with others. These beliefs are shaped by our experiences, environment, and the influences upon us, especially as a child, but throughout life as well.
While some of these beliefs are true, in that they are consistent with God's truth (John 17:17), others are lies masquerading in aged-old sayings, pop culture, and spun out from the Father of Lies (John 8:44).
When our beliefs don't line up with Scripture, our emotional and spiritual health are compromised. 
We will find ourselves in inner turmoil and external conflict with unsatisfying pursuits and unhealthy relationships. That's when it's time to do a mental makeover!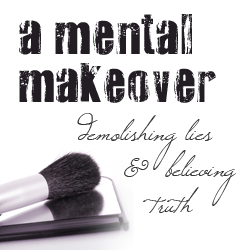 Click the "add to cart" button to get access to links to download this resource.
[purchase_link id="16699″ text="Add to Cart" style="button" color="dark-gray"]