Grace.
We need it.
Especially in our relationships.
Especially as moms of tweens and teens!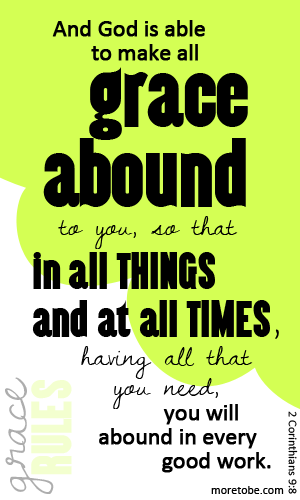 Grace is a gift from the Lord that enables us to do life God's way.  It is by grace that we can see life through God's lens, choosing to act and react according to the Word by the power of the Holy Spirit at work within our lives.  It is this grace that gives us pause and place to think before we speak.  It is grace that allows us to respond tenderly instead of with condemnation.  It is grace that we need in our parenting, because it is what our kids need!  That's why we've created Grace Rules, a collection of effective ideas for parenting tweens and teens built on the principles of grace. It is packed full of Scripture application and thought provoking questions that will bring energy back to parenting, while applying the theology of grace to the reality of life.
We excited to give away Grace Rules today!
Leave a comment below telling us where you see God's grace abounding in your life, and you'll be automatically entered in the giveaway.  We'll draw 5 winners on Saturday, May 5th!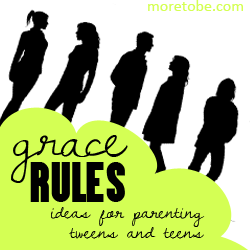 Don't want to wait to see if you won?

Get Grace Rules half off HERE today!

…linking up with WFW, WLWW, Raising Homemakers…