If only I had known then what I know now, my life would be radically different today.
I think we'd all say that is true about our lives, don't you think?
Of course, looking back, I know I wasn't at all the type to listen to others. Unlike my oldest daughter now, I was not teachable at her age.
I had to learn my own lessons, the hard way.
Of course, I didn't have many people speaking truth into my life. My mom and dad did the best they could, but the fact of the matter is that I didn't make navigating through my adolescence very easy on them or myself.
As I walk alongside my teenage daughter, I'm struck by the fact that while our experiences are different our struggles are often the same.As I listen to her process life out loud, I remember exactly how it felt to be her age. Right down to the butterflies overtaking my stomach and the nervous, chatty energy that marked each new opportunity.
Nearly every teen girl struggles with friendships, boys, parents, pressures to perform, fears, doubts, and searching after God, to some degree or another.
They desperately want answers on matters that are so incredibly important to them, but are often too afraid to ask, for fear of embarrassment, criticism, or even rejection.
I suppose the reason I've taken the time to write down, 100 Things I Want to Tell Teen Girls, is that I don't want them to feel alone, lost, or unsure any longer. I know each person needs to live out their own story, fresh with their unique experiences of successes and failures. I'd be foolish to think for one moment that this list could prevent any crisis or promise a happy ending.
However, I do believe these 100 Things could possibly offer a word of hope to a girl seeking answers, a word of comfort for a mom uncertain of what to say as she listens to her daughter, and a word of challenge to women who need to step into significant mentoring roles.
Ultimately, the best gift we can offer this generation of teen girls is a listening ear and a huge dose of love poured out on them right where they are at today.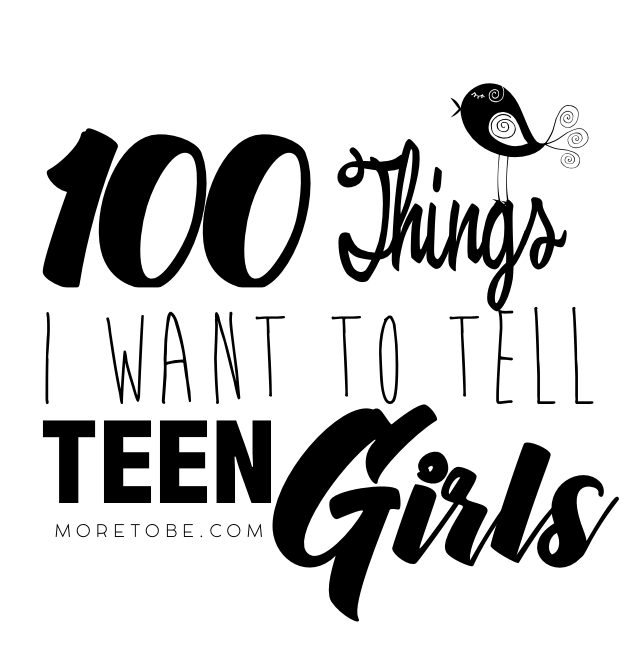 Would you like to read the rest of 100 Things I Want To Tell Teen Girls now?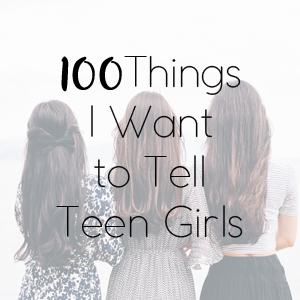 Click the "add to cart" button to make your purchase via PayPal and get access to the link to download this resource.
$2.99Add to cart