We know that there are many unspoken issues our readers face and in the silence, often feel isolated in their struggles. Our desire is to break through the silence and the dark lonely places with the light of Christ and His truth.  Today, we step out in that direction as one of our our contributors brings to you a perspective on the very serious issue of cutting. Tessa is not a counselor or therapist, but has approached this topic with humility and great courage, seeking out a perspective from girls who have endured this battle. If you, a friend, or loved one is cutting, please do seek out professional help.  You can locate a Christian counselor in your area through contacting Focus on the Family at http://family.custhelp.com/app/home.
One never desires to be trapped in the chains of self-harm; it always starts small, just like any other addiction. A girl may pick up a blade one day to distract herself from the pain inside that was caused by a bully. Realizing that it was a pretty good way of "numbing" the inward hurt, she picks up the blade a second time. Eventually it becomes an uncontrollable habit. This girl has no idea how these chains have tied her down; all she knows is that it now feels impossible to break free.
Self-mutilation is becoming more wide-spread in our culture today. It has even been referred to as "the new anorexia." It's a fight against oneself, and it can even become life-threatening.
I have interviewed a few girls who are currently on their road to recovery from self-harm to share part of their experience. Most of them said their self-harm was often caused from being depressed, angry, afraid, lonely, or frustrated. One of the girls said, "Even when I was happy I felt the need to cut because I felt like I didn't deserve it." With no way of coping with the pain they are experiencing, they turn to self-mutilation. Another girl added, "I never learned an appropriate way to deal with any sort of negative emotion."
One teen named Taylor mentioned how she started self-harm after her boyfriend broke up with her.
"I can forever remember feeling not good enough for anyone and as soon as that relationship had ended I was at rock bottom. The emotions of feeling not good enough, depressed, and like I could not carry on any longer was what really triggered it."
To become free from these chains, one must get rid of any triggers that may tempt him/her into hurting them self.
"Seeing pictures on the internet of people cutting themselves or reading detailed writing about how people want to relapse badly tends to trigger me," Michelle said. "I do not read any literature that I can guess contains triggers. I do not listen to any music that I perceive has triggers."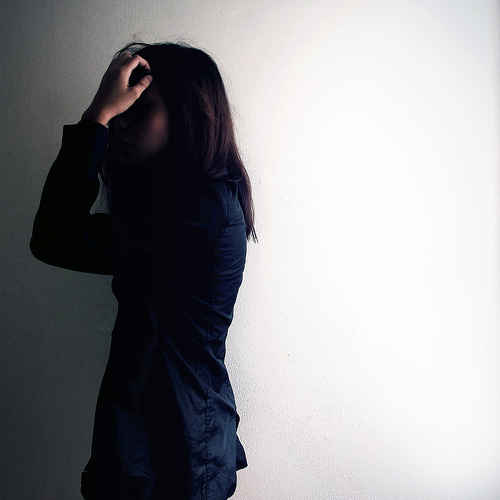 Another girl, Lisa, described her struggle with recovering from this addiction.
"Despite my efforts and resisting the temptation, the urges remain."
The road to recovery will not come easy for the one who self-harms. It's a fight, but one that they can overcome with the help of others, and especially with the help of Christ.
One of the girls, Rebecca, talked about what she does when temptation arises.
"I would go for walks, tell someone how I felt, pray, or just go for a nap… Self-harming is a temporary fix to your problems after your done self-harming those feeling will come back. It's way better to find the solution than the fix. Life gets better. Recovery isn't easy but it's worth it."
If you are struggling with self-harm, refuse to feel hopeless. There are ways to recover, which begin with seeking professional help easily found by asking your doctor and meeting with a Christian counselor.
There have been several other people in your situation who are no longer held by the chains of self-harm. The steps toward healing may be different depending on each person's situation, but healing is possible.
Michelle discussed how she became free from this addiction.
"I was at a church youth retreat, and a senior shared her testimony. She said: 'Jesus shed His blood so I don't have to shed mine'… when I first went into recovery, I was just becoming serious about my faith. I separated my faith from my recovery, not realizing how related they were."
Taylor shared on her journey to recovery as well.
"On a Sunday morning during church service my pastor gave an example in his sermon. He brought his wife up on stage and surrounded her with about ten other people. My pastor told us that he was Jesus and the ten others that were surrounding her were what was keeping her away from Jesus. Her sin, her depression, her marriage, her self-harm, her insecurities, and so on.

Standing there I felt the Holy Spirit shake inside of me saying 'beloved, that is you standing up there. Why don't you break every chain and find your worth in me. Satan is holding self-harm over you and you are more. Come to me and I will take your scars and call you beautiful'… I have found other ways to let out my feelings. The most beautiful one that I have learned is running to my heavenly Father who only wants to wrap me up and protect me in His warm embrace."
God can bring healing and make something beautiful out of your brokenness. Taylor also added,
"I once was a broken, depressed, angry girl who wanted nothing to do with the Lord. Trapped in my sin. Covered and living off of the devil's lies. My scars defined who I was. Now I can boldly say I am a girl who truly loves the Lord with all of her heart, might and soul… My scars do not define me anymore. They are beautiful and they tell my story… I promise you that if He can turn my hell of a life around like He did without even questioning it, He can and will do the same thing in your life if you are struggling with it as well. Take Heart."
As Rebecca mentioned, recovery will not come easy. And you certainly can't do it alone; however, you can do everything through Christ (Phil. 4:13). Remember that Satan comes to steal, kill, and destroy (John 10:10). But through Jesus, you no longer have to be held captive by those chains. "So if the Son makes you free, you will be truly free" (John 8:36 NCV). God loves you deeply and does not desire for you to harm yourself. In fact, it hurts God when he sees you hurting yourself, especially since He already sent His Son to take the punishment upon himself. God wants you to honor your body, as it is written in 1 Corinithians 6:20 NCV, "You were bought by God with a price. So honor your bodies."
Jesus came to set you free from the pain inside your heart that causes you to cut.  He bled for you—so that you could be free from your sins, from your pain, and from your addictions. He bled so that you would be made whole. You no longer have to live in the chains of self-harm; Jesus has already set you free. As Isaiah 53:5 NLT describes,  "He was beaten so we could be whole. He was whipped so we could be healed." Your healing can begin today.
Again, please know that you can find help if  you, a friend, or loved one is cutting.  Please speak to a trusted adult and  seek out professional help.  You can locate a Christian counselor in your area through contacting Focus on the Family at http://family.custhelp.com/app/home. You don't need to suffer alone.
photo credit:  http://www.flickr.com/photos/helga/3899825528/