A few weeks ago, an article came across my Facebook feed, "Seventeen Magazine Pushing Sex as a Drug to 12-Year-Olds."  Immediately my mind went back to my own Seventeen magazine days. My sixteen-year old self sat on the dark brown, shag-like carpet in my bedroom flipping through my own copy and taking quiz after quiz of "Does He Really Like You?", "Are You Just Too Shy?" and "What If He Dumps You?".  I had a subscription along with one to Teen, YM, and Bop.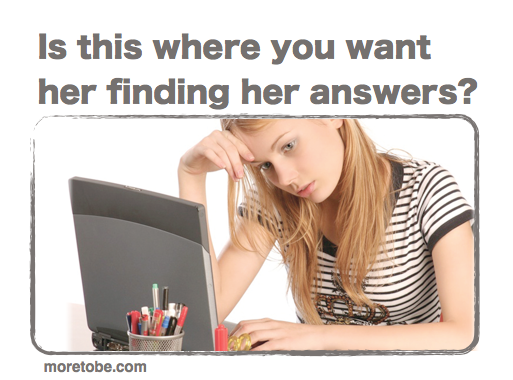 My reminiscing did not bring back the warm, fuzzy feeling that a memory of your childhood bedroom should bring. Instead it brought feelings of sadness.  
That didn't stop me, however, from wondering what Seventeen magazine is like today. I opened a new tab on my computer's browser to take a look. This is what I saw.
"How to Be the Girl He Remembers"
"Tips for a Better Make Out Session"
"Flirty Text Message Ideas"
My heart broke into a million pieces. I sat there, with my sleeping baby girl in one arm and my phone in the other hand, and mourned over the lies, the deception, the deceit – a trap the enemy is planting to get into the minds of young girls.
I thought of the hundreds, probably thousands, of young women sitting on the other side of their computer screens reading these articles at the same time as me. Young women without moms and mentors to help them fish through the rubble and get to truth.
See, I was that girl. That's why I had a subscription – several subscriptions. Even though I was a Believer, I was still young in my faith, and I thought those magazines were truth because that is all I saw, and there was no one to tell me otherwise.
Sitting with Seventeen magazine in my hand, trying to circle the best answer, I hoped to discover the answers to my deepest teenage questions.
Am I worthy? 
Am I beautiful? 
Am I good enough?
Questions that I continued to seek answers to throughout my 20's. This foreshadowed what I would believe for the next ten years of my life – that my worth is found in someone's else's acceptance. All I wanted was to be chosen.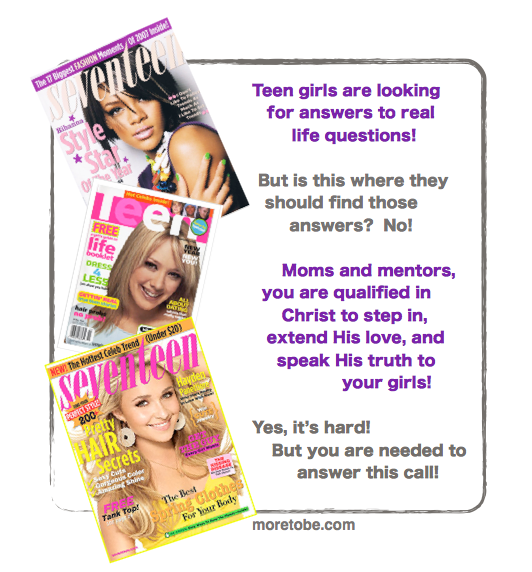 The truth is that I was already chosen.
And so are our daughters and all the other girls sitting on the other side of the computer screen or with a magazine in their hands answering quizzes and reading articles.
We might be tempted to dismiss articles like in Seventeen magazine as just something teenagers like to read. We think that there's no real harm in them. In reality they are being used by the enemy to steal, kill, and destroy (John 10:10) – steal their purity, kill their future, destroy their feelings of worth. Just reread the titles of the articles above. Each of them are saying, "If you do x, y, or z, then you will blank (get the guy, keep the guy, be pretty, become sexy, be enough)".
Will you speak into their lives?
Young women must have mothers and mentors who teach them that decisions that lead to destruction begin in their minds. In order to prevent this they must take their thoughts captive and destroy every thought that's against God's Word (2 Corinthians 10:5). But in order to take our thoughts captive, we have to do two things first.
Proverbs 4:23 NLT
Guard your heart above all else, for it determines the course of your life.
We have to control what comes into our minds. "I will not set before my eyes anything that is worthless" Psalm 101:3 (ESV). The effects of what we read, watch, or listen to are sometimes subtle, but they are there. Little by little our minds begin to twist truth.
We have to know truth in order to recognize anything contrary to it. "Finally, brothers, whatever is true, whatever is honorable, whatever is just, whatever is pure, whatever is lovely, whatever is commendable, if there is any excellence, if there is anything worthy of praise, think about these things" Philippians 4:8 (ESV). By saturating our minds with truth we are putting on the helmet of salvation which reminds us of our worth in Christ and protects us through His blood that He shed on the cross.
How do you teach your daughter or mentee to guard her heart?
If you would like to make the investment in being equipped and encouraged
to speak into your daughter or mentoree's life, please sign up for our next M2B Coaching Course.