A Note from Elisa…
I am so glad Brenda is tackling this topic of online dating. You will be intrigued by her story and blessed by her wisdom. However, I want to point out that Brenda is writing specifically to share her advice with our twenty-somethings. If you are a tween or teen, please do read this post for the sake of being informed, but please know that we do not encourage you to consider online dating as an option for you until you're an adult. 
Try to explain online dating to your grandparents, and maybe even your parents for that matter, and you will probably see crinkled foreheads and shaking heads in return. What ever happened to just good, old-fashioned meeting through mutual friends, at church, or in college?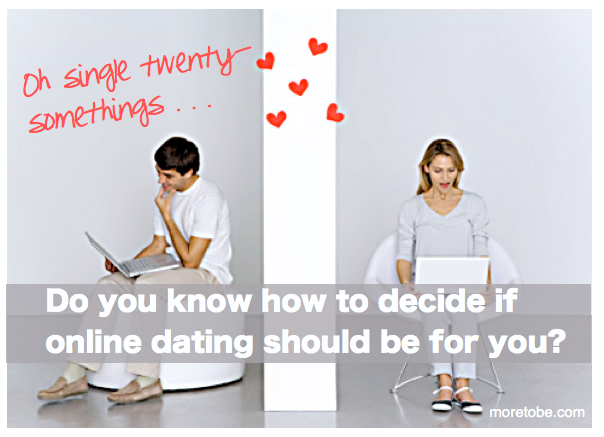 I asked the same thing. Then I turned 30 . . . then 31 . . . and I still wasn't married nor did I have any prospects for marriage. My friends were trying online dating sites, which isn't a good reason in itself but, I decided to go ahead and give it a try too. I went online, filled out the compatibility profile, checked the boxes and told the computer whether I preferred tall or short, within 30 miles or 300 miles, and someone who jumps out of planes or reads poetry.
After about a month of spitting out the wrong guys, the website spit out the right one.
And I married him.
Yes, I met my husband on an online dating site.
Now, I'm not trying to endorse online dating sites. This isn't a campaign statement declaring "it can happen to you too." It's just a fact.
In Christian circles there are a lot of opinions about online dating. I understand all sides of the debate of whether or not Christians should use online dating sites to meet someone. When I was making the decision, I asked myself whether I was chasing boys instead of allowing God to bring my husband to me. I kept coming back to 1 Corinthians 10:23:
""All things are lawful," but not all things are helpful. "All things are lawful," but not all things build up."
Online dating is not for everyone. However, we do not need to put a false commandment on it either. Whether or not a person should use online dating is a matter of motive, which is really  a matter of the heart.
5 Questions to Check Your Heart…Especially About Dating
Do you typically "chase boys"?
Do you seek attention from guys?
Do you feel incomplete without a boyfriend?
Do you have a history of always being in a relationship?
Do you just like the thrill of dating or are you seeking its ultimate purpose – a godly marriage?
If you discern that it would be helpful for you to use online dating and that it could build up instead of tear down, then there are further steps you should take.
How to Use Online Dating in a Way that Can Be Helpful
1. Treat online dating just as you would dating in real life.
If you don't ask guys out in real life, then don't do it online. Wait for them to contact you. That means don't use the "flirting features" on online dating sites. This is a way to keep the controls in God's hands.
2. Be discerning about the label "Christian."
The term "Christian" has a lot of different meanings. There are people who consider themselves Christians because they celebrate Christmas and they're not Jewish or Muslim or another religion. Then there are people who have accepted Jesus as their Lord and Savior, but are not trusting Him with their lives at the moment. And there are people who have accepted Jesus as their Lord and Savior and are trusting Him fully by living their life for Him. We all know that the Bible instructs us to not be unequally yoked (2 Corinthians 6:14), so it's important to fully discern what this looks like in our relationships.
3. Pray continually.
Ask for wisdom from God above all else. You need wisdom for whether to move forward and meet the guy you connected with online in person, but you also need wisdom to keep your eyes on Jesus. If you find that your thoughts are becoming consumed, you're rushing to the computer constantly to check who's contacted you, or you are becoming overly discouraged, then it's time to take a step back and reevaluate your motives.
Online dating is not for everyone. Through prayer check your heart to see if it's right for you. Then, move slowly through the process just as you would or should in a situation where you met in real life first.
What are your thoughts about online dating?
For a thorough look at the topic of dating, courting,
and relationships in light of God's design,
download our Dating Handout and Resource Guide!