I am in a season of a lot of change. It seems like every time I turn around something has changed, or is about to change.
At the start of this season, my heart didn't like this change very much. I started to get pretty anxious about it. I remember previous seasons of change; going from high school to college, from college to living on my own in a state far from my home, from singleness to marriage, etc.
Although all of these seasons were welcomed ones, I remember times of great anxiety over the change that was surrounding me.
The other morning I was praying through what this budding season will bring. I was handing things over to God, asking Him to help me release my controlling grip of the unknowns, pleading with Him to show me to trust in His goodness for this changing season. Shortly after this prayer session, I was reminded of Esther and her faithful journey through an intense season of change.
The Life of a Queen
Esther was a young Jewish orphan who was chosen to be a part of a budding group of women who could potentially become wife to the King. And although us modern day ladies probably wouldn't turn down a chance to become a Queen, we must realize the type of King she would be marrying should she have been chosen. He wasn't charming, and He wasn't grace-giving. He was harsh and demanding. In fact he dismissed his previous Queen because she stood up to him. This royalty role doesn't exactly paint a picture of happily ever after.
Esther was taken from the care of her Uncle and was required to undergo a year of beauty treatments and training in order to even be presented before the King as a potential bride. After this long year, Esther found favor and was selected to become Queen. But with that role as a Queen, Esther stepped into some responsibility. The lives of her Jewish people were being threatened, and the only one able to save her people was the King. Her life would be at stake should she even approach him with her request to save her people.
Despite all of the change that Esther had undergone in the last year, now she was at the risk of losing her life very shortly into this new role as Queen because of the imminent threat against her people. It was risky, but she knew she needed to stand strong and risk her own life in order to save the lives of others. I am inspired by Esther's determination and her faithfulness to her people. She doesn't give up the fight out of fear, and she stepped into her new role with confidence and passion knowing that God will provide for her and her people.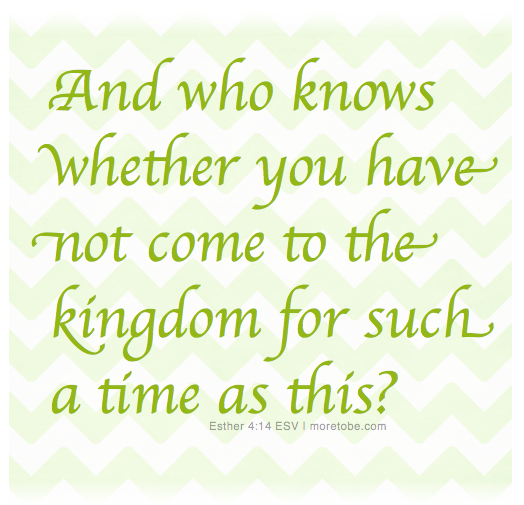 Stepping Out
Although my next season isn't going to require that I step out with my very life for the lives of many, it will require that I step out. Step out of my comfort zone, step out of the security of what I've always known, and lay myself down in order to love and serve others in a whole new way.
This season is going to cause me to release my grip, let go of control.
We all go through different seasons of change. We all face seasons when we need to step out in order to live out our calling. I'm learning that as these seasons of change come, we need to take it one day, one decision, one moment at a time—seeking His will in the midst of the change. For we know that He doesn't change, the seasons change.
What changes are you facing in your life today?
Can you let go of the reigns and give Him control?
I encourage you to bring your fears of the unknowns to the foot of His Cross. Let Him guide you, beloved…
{And we encourage you to step out in faith here. We invite you to step out as a mentor here. }