A lot of people would rather crawl under their couch than to openly discuss some topics centering around sexuality and purity, but that won't make the questions go away. Yes, questions from girls and moms (and boys and dads) like…
I know the Bible says sex outside of marriage is wrong, so is heavy petting an appropriate substitute?
Is anal or oral sex an OK substitute for sex until I get married?
I've heard looking at porn is wrong, but what about stories that are erotic?
What does the Bible say about masturbation? Is it an okay alternative for Christians? Does it count as sex?
So rather than avoiding the most embarrassing questions, we're going to look at them from three different perspectives: biblical perspective, considering biology, and psychological implications.
From a Biblical Perspective…
Let's start with defining sexual purity. Josh McDowell's, The Bare Facts 39 Questions Your Parents Hope You Never Ask About Sex, states purity is "a commitment to live according to God's design."
What is God's design for sex?
The Bible has a lot to say about sex, right from the beginning. Just after creating Adam and Eve, God said in Genesis 2:24 sex unites a husband and wife into one flesh. God did not break down sex into different categories. Sexual acts are meant for marriage, to unite people within marriage, to bless marriage with joy. The concept of uniting a couple was important enough to be quoted five other times in the Bible.
And then there's the yada factor!
What is yada?
According to Dannah Gresh, yada is defined as "to know, to be known, to be deeply respected." Yada is the Hebrew word used in Genesis 4:1 to refer to the sexual union within marriage–the two becoming one flesh. Yada is also used 900 other times in the Bible to refer to the soul-deep intimacy we can experience with God. (See here for part 1 of Dannah's talk on yada. Here for part 2. And here for part 3.)
God created sex to promote unity, intimacy, joy, and depths of emotion within a marriage. All sexual acts are to be preserved for marriage. There are no short cuts or substitutes. Even masturbation, where the source of pleasure is self, violates the beauty of yada.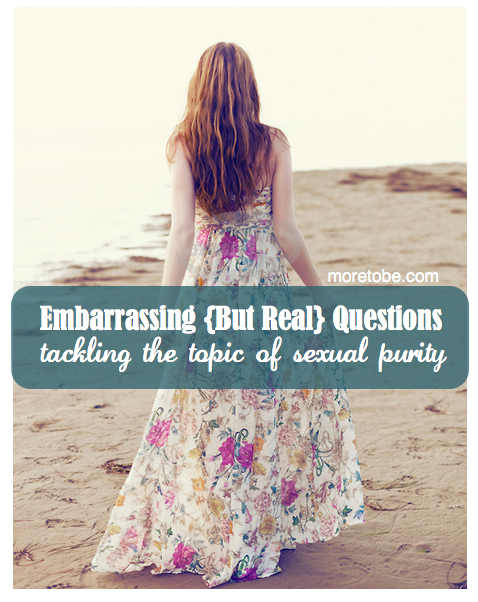 Considering Biology…
Our bodies are complex machines. God designed a host of chemicals that create the heady, intoxicating feeling of sexual arousal to pour into our bloodstreams during sexual encounters. In her discussion about yada, Dannah Gresh states, "Dopamine [the feel-good chemical released in our brains during sexual encounters] attaches you to the source of pleasure." The chemicals do not distinguish whether or not the other person is your husband. They simply cause attachment. This source of pleasure, according to the above Genesis verses, is meant to be kept between a husband and wife.
There is no distinction between types of encounters, either. Any sexual action that involves the release of brain chemicals like dopamine and moves toward a sexual response is a sexual act. This includes heavy petting, oral and anal sex, exposure to pornographic material (which includes erotic literature), and masturbation. (Read McDowell's 39 Questions book for a more detailed discussion.)
Just as you can train your body to run a marathon or to lift weights, your brain learns how to respond to sexual stimuli, including when and why to release sexual response chemicals. According to McDowell's 39 Questions book, masturbation is sex without a partner, so your body is learning to respond sexually in a way that will rob you of future pleasure with a spouse. (See question #38 in McDowell's 39 Questions book for more.)
Sex was designed to be enjoyed by a husband and wife together. (See here for more.)
And as for the whole "safe sex" talk? It's not true. Many diseases can still be spread even with condoms. (See here for the facts.)
The Psychological Implications
Regarding his definition of purity, Josh McDowell went on to say, "Sexual purity involves more than our outward behavior: it also includes our thought life."
God's original design of sex (two becoming one flesh) is lost when one has sexual encounters, including masturbation, outside of the sexual union between a husband and wife. This often results in some level of shame. If you refer to Genesis 2:23-25, the husband and wife are not supposed to feel shame when sex is kept in its proper perspective.
According to McDowell's book, another chemical called norepinephrine is released during sexual encounters and causes emotionally heightened events to imprint on the brain like a photo album. This chemical does not know whether or not you are married during a sexual encounter. It stamps memories into your mind and relates a current state of arousal to past memories of arousal. So, past sexual encounters don't leave your brain. Imagine never being alone in bed with your husband because past sexual experiences pop into your mind.
Keeping it in Perspective
Is sexual purity easy? No. Most things that are worthwhile are difficult, but there is a reward for staying within God's plan. And God had our best interests in mind when He created sexuality. God's boundaries are for our protection and well-being.
From a biological perspective, sexual purity helps protect you from disease and keeps you from bonding to people that aren't your husband.
From a psychological perspective, sexual purity protects you from emotional scars.
From a biblical perspective, sexual purity helps you stay close to God. And even if you never get to experience sex on earth, you can trust God that He will reward you for following His plan when you get to Heaven.
Starting Fresh
So, what if you've made mistakes? What if we've lost perspective and went against God's design for our bodies and sexuality purity?
There is HOPE found in his GRACE and FORGIVENESS.
The fact is that when we sin, we put a wall between us and God. Yes, we will feel the consequences — like shame, guilt, and broken relationships — but are also free to receive God's grace and fresh new beginnings. He washes us clean. He removes our sins from us! His forgiveness is always there. We just need to be willing to ask for it from God and receive it in return. Jesus died on the cross for all sins.  It is up to us if we will trust in Jesus' forgiveness, and do as He told the woman He saved from being stoned to do: go and sin no more ((John 8:2-11).

More Resources