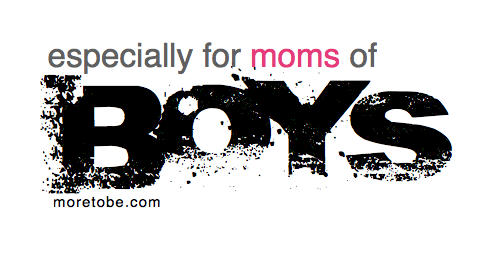 I'm passionate about prayer because I've seen God reveal Himself through my words whispered — and hollered — up to Him over the years. See, I know that when I pray, it isn't a guarantee that I'll get what I want.
If my will isn't the Lord's will, I might as well forget about asking…or demanding my way. 
However, I don't always know what the Lord's will is, so I approach the throne with my heart and lay before God what I hope for and need from Him. And then I yield. And wait. And in time, I get to see God reveal his purposes.
[Tweet "My prayers to see God work is more important to me now than seeing Him work things out my own way."]
I've been wrong too many times.  I don't see the whole picture, like God does. I've learned that just like my kids ask me for things, but don't always get what they want, I too can ask God for things and know that not getting "it" is not a sign of a lack of love. On the contrary, the "no" may be God's greatest act of love for me.
Yet to receive God's "no" with grace, I have to bend my heart to His will.  And that ain't always easy. I've had to learn HOW to submit to God, which has come through practice, life lessons, and also drawing closer to Him. My time in the Word has opened my eyes to discover the character of God and the ways in which He faithfully works.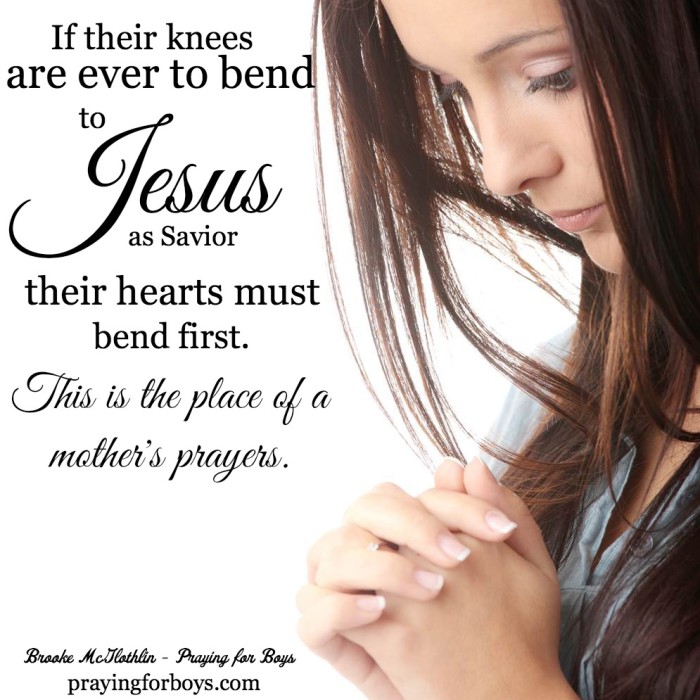 As a mom, my desire for my children is for them to be able to bend their hearts to God from an early age. I don't want to see them struggle through submitting to the Lord as much as I have, and yet I know that through the struggle their wings of faith will grow strong. 
It is such a delicate balance — to pray for our children from the desire of our hearts and yet to know that our desires are sometimes selfish.
We don't want them to walk through trials, disappointments, and life's upsets.  But in those moments, God is at work. He is faithful to grow them, and often for a purpose that is far greater than we can anticipate.  That's why praying for our children is so incredibly important. We get to co-labor with God for purposes that stretch beyond our family unit. These children of ours will one day grow up. Our boys, especially, will be in situations where they will be expected to lead, love, and influence the lives of others.  So shouldn't we be on our knees for them now, asking God to bend their hearts to Him?

Brooke McGlothlin tackles this topic of prayer for our boys, especially in the context of their greater life influence, in her newest book, Praying for Boys.  She writes:
"Are our prayers focused more on what we want our sons to have, on how changes in their behavior will benefit us, or on what we need to do to help them to grow into godly men?"
It's not only important that we pray for our sons (and daughters), but that we take time to consider the purpose and impact of our prayers. If our focus is on our comfort and their self-centered success, we're missing the mark for them and in light of God's eternal purposes.
So how do you learn how to pray with a Gospel-centered mission?  That's what Brooke lays out for us in Praying for Boys, with 21 chapters full of Scripture prayers to focus on a particular area of our sons lives. But before she gives us the words to turn into personal prayers for our boys, she invites us to sit with her and really consider our own hearts and prayer-notions.  It's in these first chapters that we become friends with Brooke and realize that she's a mom in the trenches willing to humble herself before us and share what's she's learned on her journey of faith. Brooke doesn't give us a lecture. She offers us a cup of tea and encouragement to press on, drop to our knees, and pray for our growing men, together.Yes, I'm passionate about prayer, and even more spurred on by Brooke's challenge to pray for our boys — those we've given birth to and those we love as spiritual sons. She's given us the road map to follow in Praying for Boys, and it is one I'm praying we'll wear out together.

A Little Bit About Brooke
Brooke McGlothlin is the real deal, friends.  She is a mom and ministry leader, serving as the Co-founder of Raising Boys Ministries, where moms and dads come to discover delight in the chaos of raising boys. You can find her writing about fighting for the hearts of her sons at the MOB Society blog, or living a life in pursuit of Jesus at her personal blog www.brookemcglothlin.com.
I'm thrilled that Brooke is also giving a workshop on Hope for the Weary Mom with Stacey Thacker at Raising Generations Today in March, so you can grab your ticket here and come meet her face to face.
Visit PrayingforBoys.com to learn more.