It's the month of love and so we're taking extra time to answer the dating and relationship questions we often get from teen girls. Below is a second perspective on the topic of planning your future. If you missed the previous answer to this question, you can find it here.
I met my first boyfriend at one of my brother's soccer games. He was a soccer player, too, and I thought he was so cute. We were both 14 years old and freshmen in high school. He took me to the Valentine's Day dance that year (his mother drove and chaperoned us) and afterwards I just knew I would marry him. I dreamed about what our life would be like, where we would live, even how many children we would have.
When I read this question recently from a young reader, my mind immediately went back to my own young relationship. She writes:
"Is it bad to make future plans with your boyfriend, like marriage and children, even though your aren't even out of high school, when you really love him more than anything and he may have promised he'll marry you?"
First of all, nothing is impossible with God. I don't want to make a blanket statement that teenagers are too young to know God's leading in their future marriages. There are plenty of strong, godly marriages that came out of teenage relationships. God has a plan for your life, and that plan may very well include marrying your high school boyfriend.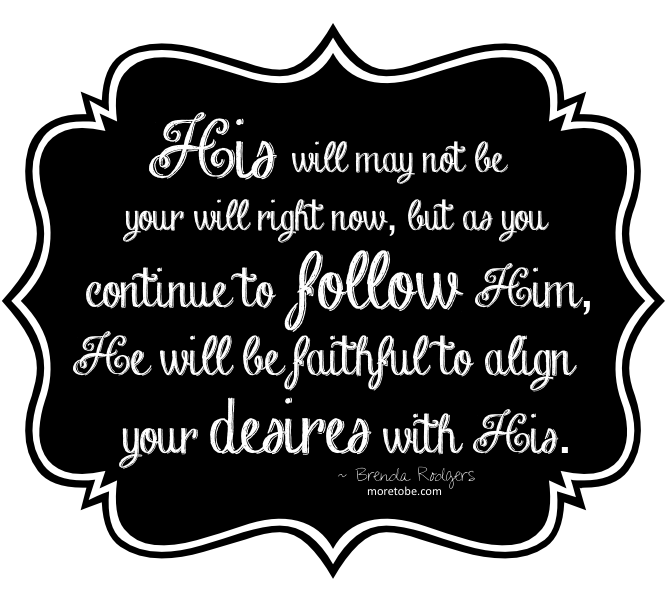 With that said, my advice is to proceed with caution and under much godly counsel from your parents and other trusted adults when it comes to making plans and assuming this is the person you will marry.
As girls, we are easily swept up in the romance of marriage and children. We start buying the bridal magazines, naming the babies, and decorating the house before the I do. This can be dangerous because while our minds are busy making plans, our hearts become cemented with our desires, not necessarily God's desires for us.
The Bible tells us in Jeremiah 17:7 ESV, that "The heart is deceitful above all things, and desperately sick; who can understand it?"
The heart is powerful and can make us believe a path is the right way when it is not. We cannot always trust our heart just because we feel intense, even genuine, love for someone. When we want something badly enough, our heart can deceive us into thinking that we love someone or that someone loves us or that God's will is for us to be with that person.
I know this from personal experience. It wasn't in regards to my first boyfriend that I mentioned above, but there was another boy in my life, someone I grew up with, who I started dating after college. We met in the second grade. We were best friends. We did everything together. It was natural for us to start dating, and I assumed it was the right choice to make. I genuinely loved this person, and I think he loved me in some ways. However, the decision to date him ended up being the worse decision I've ever made. Fortunately, we did not get married, but the effects of allowing my heart guide my decision are still with me today.
[Tweet "The Bible gives us clear instructions for keeping our hearts free from confusion. "]
Proverbs 4:23-27 says, "Above all else, guard your heart, for everything you do flows from it. Keep your mouth free of perversity; keep corrupt talk far from your lips. Let your eyes look straight ahead; fix your gaze directly before you. Give careful thought to the paths for your feet and be steadfast in all your ways. Do not turn to the right or the left; keep your foot from evil."
According to these verses, you guard your hearts by:
1. Keep your mouths pure.
In a dating relationship, this means making sure you do not make false promises or promises you are not sure of yet, such as a future marriage. It also means withholding saying "I love you" until an appropriate time. You and your boyfriend may sincerely love each other, but by waiting to say those words for a time that actions can follow you are helping to guard each other's hearts.
2. Keep your eyes ahead of you and on Jesus.
God may be planning a future marriage for you. However, He's also planning other experiences to prepare you for that marriage – experiences such as finishing high school, going to college, developing your spiritual gifts, building your maturity, and preparing you for what's to come. Keep your focus on what's He's doing in your life right now – not what He may want to do in the future.
3. Think hard about what kind of marriage you want to create and be steadfast in creating it now.
The health of your future marriage starts while you're dating. If you desire a strong, healthy, God-honoring marriage, then you must start now in creating it. This means you must stay sexually pure. It also means that you stay diligent to develop spiritually by praying and reading your Bible. In faith you must be steadfast and determined to not do anything that my compromise your future marriage.
To keep your heart from getting ahead of you, you'll need to keep your focus straight ahead on where God's leading you and His will for your life. The world is going to tell you to follow your heart, that only love matters, and if it's real love it's meant to be. But as a Christian who desires to honor God first, you must keep your focus on Him and His will.
[Tweet "His will may not be your will right now, but as you continue to follow Him, He will be faithful to align your desires with His."]

[email_this_button]