Can I steal a few minutes of your time? I know you're busy and the demands on your life are never-ending. I'm a mom and mentor in the trenches with you, so I can totally picture your life on the other side of this screen. But see, there is something really important I want to share with you. I think it could change your perspective, and more importantly, change our world. It's about our teens and what they need from us.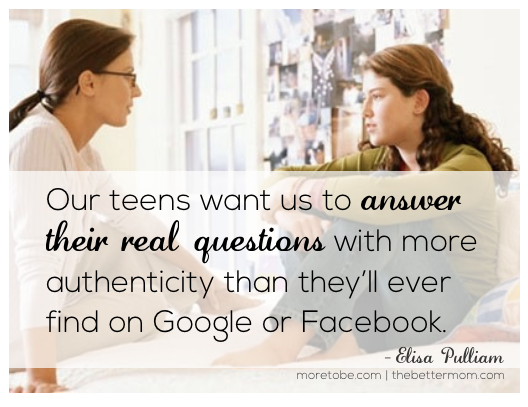 What's an ETC Mentoring Gathering?
ETC stands for Evening Tea and Chat, and it is as simple as it sounds. I pick a night and send out the invites. I boil some water and grab my basket full of tea. The girls show up. Sometimes 3, sometimes 20.  It's up to the Lord's appointment.  And sometimes, I even go to them — whether it is hosted by one of the dorms on campus or even at someone's home.
I open the time with a warm welcome and short prayer, and then I dive into sharing on a topic that God has put on my heart — like identity or relationships or finding hope (you could use something like this or this to help you).  But before I get too far in, I remind the girls that they can ask their questions about anything on index cards. By the time I'm done sharing, usually after 10 or 15 minutes, the questions start coming my way. That's when I feel like I've been dealt God's holy hand in the amazing game of life.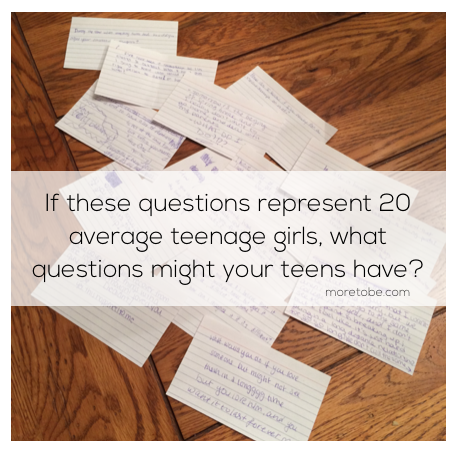 I read the questions, like these real ones, while begging God to give me a way to share His truth in a way that makes sense to their young minds and tender hearts.  And I usually thank God that I'm not doing this alone, but have another sister-in-Christ to shuffle through the index cards with, taking turns answering the tough questions for the next hour. (You don't need to do this alone either. Find someone in real life to partner with and use these start up resources.)
I'm not afraid to tell my mentor-girls that sometimes I just don't have an answer. Nor am I afraid to admit my mistakes and that I am still seeking God for direction. 
Actually before I even begin, I usually tell them a short version of my story of faith and journey through life, especially if there are new girls in our midst.  I'll also share my everyday experiences — sometimes with tears and often with laughter — using enough discretion to communicate the lesson learned and giving God the glory. But trust me, it's taking a long time to figure out the balance. Even though I look back and think, "Well, I probably shouldn't have said __________,"  I take comfort in knowing that God's grace covers my fumbled words.
An hour or so later, we wrap up, but usually the girls don't want to move. They're hunkered down in a safe-haven and don't want to leave the presence of the Holy Spirit covering them in His palpable love. So we sit there, thanking God and smiling. Chatter picks up and then that's when a girl will come to me, look at me with big eyes, and say, "Can we talk?" and we slip off to the corner of the room. She'll say, "You know when you said…" and then she begins to share her story.
Often, I still don't have the answers. But I listen. I don't share my story now, but I affirm hers. I hug her, when the moment feels right. And I offer to pray for her, speaking Scripture truths over her life.
One by one, they slip out the door and I'm left whispering to God the same thing every time.
God, by your grace, I can reach these girls you bring to my home. But what about the rest? What about the ones beyond this campus? Please, Lord, raise up a generation of women — of moms — willing to step out in faith and step into the lives of their girls…and their friends. Please Lord.
Friends, that's why More to Be exists.
That's why there's Tool Shop Downloads and M2B Mentoring Training opportunities at More to Be.
That's why a 31 day series on mentoring became Impact My Life: Biblical Mentoring Simplified.
That's why we're in the midst of releasing a brand new Bible Study resource, ENGAGE, with the first in the edition, Journey to Freedom:  A Bible Study on Identity for Teen Girls.
It's because I long to equip you, so that you can reach the girls I know who need your impact.
If the girls in my life represent a smattering of this generation, then I know for sure there are girls out there hungry for more, too.
So will you step up and out in faith with me?
Let's see if we can impact this young generation of women for God's glory!