I've been thinking a lot about dreams.
Why exactly do we dream and how does God use our dreams? 
What is a realistic dream and what's not? 
How do I achieve my dream? 
All of these questions have flooded my mind lately.
See I'm a big dreamer. I simply love to dream.
Do you like to dream too?  Do you find yourself thinking about what you want to accomplish in your life or dreaming of the person you'll marry and the family you'll one day have?
I have done a lot of dreaming in my life, partially because it's just plain fun to dream.  And sometimes it's because it's something unrealistic for me (like becoming an astronaut at age 11), but I want to play it out in my head anyway.
As I've gotten older, my dreams have deepened.  They became dreams that I held close to my heart and the thought that they may actually happen was just beyond my comprehension.
Because the one thing about dreams is…they can be scary.
Fear will often hold us back from truly discovering not only our dreams, but the plans God has for us as his children.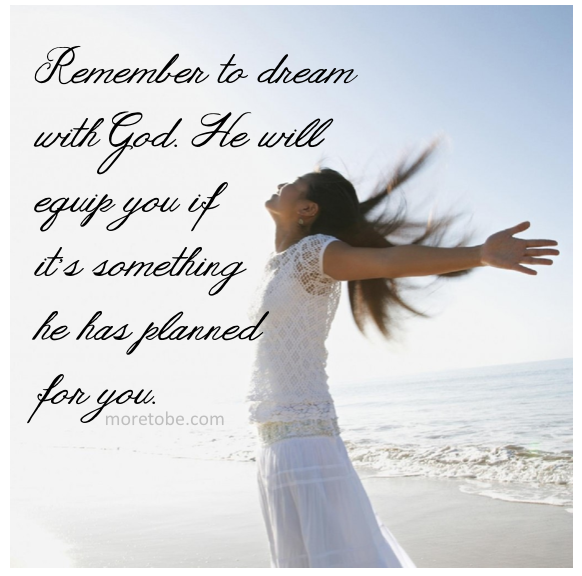 I'll give you an example of something I'm dealing with in the present.  Since I started working in teen ministry, I have dreamed of putting on an event just for girls.  And at that event we would talk about something we all struggle with in some form or another…our body image and self-esteem.  It would be a girls night out, just for teen girls-tackling what the world and the word says about true beauty.
I kept this dream to myself for over a year before I ever spoke about it to anyone.   You may wonder why.  I do too actually.
I was afraid that if I spoke about it, that would make the dream real.  And if the dream wasn't "real" then it could technically not fail.  It seems silly, but in my head that's how I justified it.  Talking about our dreams with someone else not only makes them more real, but it then requires action.   And sometimes we may not be ready to take action with our dreams.
Are you sitting on your dream?
Right now, you may be sitting on your dream.  You may not be ready to take action or you're not quite sure how to take action.  Here are some things I've learned about dreams that may help you.
1.  God wants you to dream.
But he wants you to dream with him. Do you talk to God about your dreams?  Let him in on what's on your heart.  He already knows what your deepest dreams are, but He wants you to bring them to him so he can show you what  he has planned.
2.  Know your skills. 
If you have a special heart for working with the homeless or tutoring children or cooking, that's great!  That could mean that God is calling you to that area as your ministry.  He wants you to dream about how you can use your skills to further his kingdom.  Don't know what special skills you have yet?  That' okay!  Pray that the Lord will reveal them to you.  Don't be afraid to try new things and experiences-you may be surprised at what you're good at!
3. Pray about your dreams. 
Prayer is such an important part of our relationship with God.  When it comes to prayer, our dreams are no different.  Communicate with God about your dreams.  Ask him to reveal his dreams for you as well.
4. Don't be afraid to fail. 
One of the hardest parts of admitting our dreams is the thought of failing at them.  If it's something God has planned for you, ultimately you cannot fail.  Now, it may end up differently than what you imagined in the first place, but if God is directing your dream, rest in knowing that you cannot fail if you are doing good work for his kingdom.
5.  Ask Questions. 
Does my dream line up with what I know to be true about God?  Is my dream helping others and not just myself?  If my dream never happened, or turned out differently than I imagined, would I be okay with that?  It's important to keep asking ourselves questions so that we keep God at the center of our dreams and not ourselves.  Because it's not really about us.  It's very easy for us to get wrapped up in the glamor of a dream.  But we've got to keep things in perspective.
This dream of mine is on the calendar and the date has been set.  I don't how many people will come or how successful it will be.  And yes, I'm scared and I'm very nervous.  But I know that at the end of day, it's something God wants me to do.  I've spent a lot of time in prayer over it and I've asked myself many of those questions above.
The event may fail, but God will not. 
If it does, then I know God has something different, something BETTER on the horizon.  But I know that God has given me a heart for working with girls in this very area and that not only makes me happy but excited for this event!
[Tweet "Remember to dream with God. He will equip you if it's something he has planned for you. "]
He already has instilled you with special skills and abilities, it's up to you to discover them and even more importantly…use them!  And friend, don't let fear keep you from dreaming.
So get out there…and dream on.
[email_this_button]