Being a mom is the most wonderful, scary, exciting, heart wrenching, incredible, frustrating  experience I have ever encountered. You move from one season to the next, hoping it will get easier yet finding that, although there is change, mothering will never, ever be easy!
As the seasons pass, you wonder: will they ever eat solid food, be potty trained, stop yelling "NO!", learn how to share, be able to focus on one thing for more than three minutes, learn to sit through the church service, start kindergarten, learn how to read, catch on in math class, make Christian friends,  stop rolling their eyes when I offer my suggestions, or become totally yielded to God?
Much of mothering takes place in seasons of waiting.
Waiting for them to learn.
Waiting for God to open their eyes.
Waiting.
As I have been raising my two children, I have trusted God. Trusting Him hasn't been the hard part. For me, the hard part has been when I just don't see Him working.  I want to see Him working. I want to see just a glimpse of what He is doing.  I want to see evidence that He is stirring in their hearts, opening their eyes, and changing them.
Most of the time I am not able to see it. I am simply told to trust.
During these times of waiting, I have found myself fighting for joy. If I could just see that my prayers are working and my efforts are bearing fruit, then I might be able to find joy. It dawned on me one day that much of my "joy" has been based on seeing the fruit of my labor and prayers. At times, it's what has motivated me onward.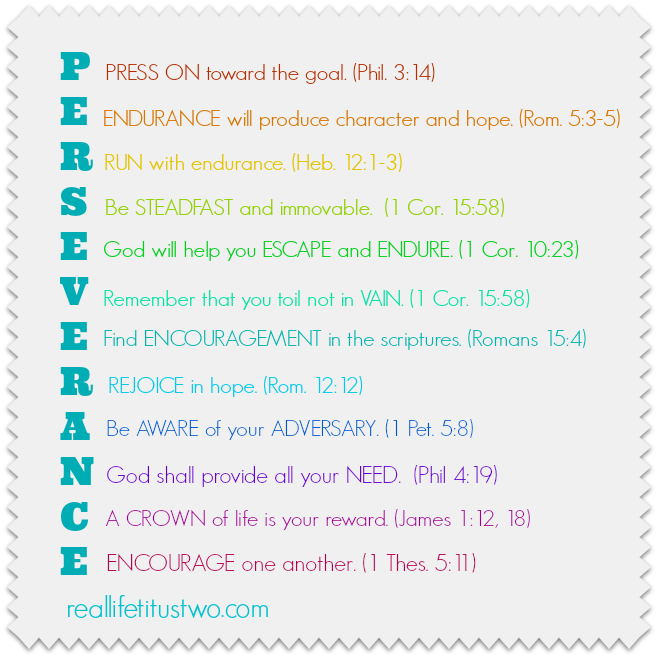 Shouldn't we have joy even when we don't see what God is doing?
As I was walking through one of these waiting times,  a word came to my mind.  Perseverance.  As I was facing the unknowns in my life, and was asking God to show me what He is doing,  the only thing I heard God saying to me is, "persevere."
Persevere without any clue of what the future holds.
Persevere because He has asked me to.
Persevere trusting in Who He is.
Persevere and find joy and purpose in God.
God gave me one word. He didn't tell me my kids would be fine, or that all my efforts and prayer would bear fruit. He just said one word:
Persevere.
He reminded me of truth and He gave me the following:
P – PRESS ON toward the goal. (Phil. 3:14)
E – ENDURANCE will produce character and hope. (Rom. 5:3-5)
R – RUN with endurance. (Heb. 12:1-3)
S – Be STEADFAST and immovable.  (1 Cor. 15:58)
E – God will help you ESCAPE and ENDURE. (1 Cor. 10:23)
V – Remember that you toil not in VAIN. (1 Cor. 15:58)
E – Find encouragement in the scriptures. (Romans 15:4)
R – REJOICE in hope. (Rom. 12:12)
A – Be AWARE of your ADVERSARY. (1 Pet. 5:8)
N – God shall provide all your NEED.  (Phil 4:19)
C – A CROWN of life is your reward. (James 1:12, 18)
E -ENCOURAGE one another. (1 Thes. 5:11)
Persevere with me, and find that joy — true joy — is only found as we focus on the Savior while persevering in prayer and pouring our lives into our calling of being a mother.
Will you persevere with me?