I lie to myself all the time.
The thing is, I don't realize I'm doing it.
"You won't ever measure up."
"You aren't beautiful."
"You will never truly be loved."
I'm a lover of words, but they sure can do a lot of damage.
Too often words are strung together as sentences that become weapons of destruction.
Sometimes these sentences come from simple conversations with strangers, and sometimes the words come from the mouth of a loved one. But if I'm being real honest, most of the time these unkind words – these lies – come from me.
It can be easy to believe the bad about yourself because you see it every day. You live with it, with your mistakes and your failures, the things you could have done more of, less of, or never at all. At first it's easy to distinguish the lies from the truth, but over time they slip and slide and morph until one day you hear what was once a lie and instead consider it to be truth.
Years ago, I watched friends walk away from me and although it was never spoken, I heard the lie loud and clear: You will never truly be loved. Who you are is not good enough. It sounded like a lie until I had a reason to believe it. Those words went from being a passing thought to something I attached to my being as truth. I entered every new friendship with this "truth," believing inside that eventually they would see the real me and would walk away, too.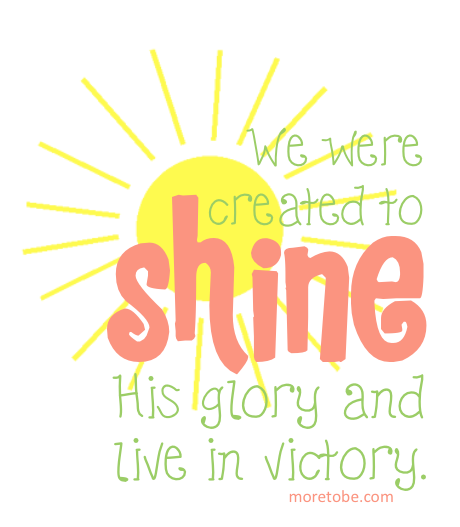 I was insecure, comparing my behind-the-scenes to everyone else's highlight reel, believing that I wouldn't measure up and wasn't good enough.
We were never meant to compare and contrast our lives with others, and as long as we measure our success or goodness or worth against others, we will never see clearly.
We weren't created to live feeling guilty, ashamed, weighed down, or conquered. We were created to shine His glory and to live in victory.
It doesn't matter where you've been or what will come or what lies you've believed – the Truth sets you free and the truth is you are found in Him.
The best way to get rid of the lies is to replace them with Truth.
The best way to see the truth is to know the Truth.
"I won't ever measure up" doesn't matter if I'm living out Colossians 3:23-24:
Whatever you do, work heartily, as for the Lord and not for men, knowing that from the Lord you will receive the inheritance as your reward. You are serving the Lord Christ.
"I am not beautiful" crumbles in light of Psalm 139:14:
I praise you because I am fearfully and wonderfully made; your works are wonderful, I know that full well.
"I will never truly be loved" loses its grip when I hear Romans 8:37-39:
No, in all these things we are more than conquerors through him who loved us. For I am sure that neither death nor life, nor angels nor rulers, nor things present nor things to come, nor powers, nor height nor depth, nor anything else in all creation, will be able to separate us from the love of God in Christ Jesus our Lord.
When you know the Truth, you can recognize the lie.
It doesn't mean the lies will disappear, but you'll know Who to run to. It doesn't suddenly make everything great, but it gives you a chance to breathe, to know that He Who is in you is Good.
Next time you look in the mirror and frown or you fail to meet expectations (including your own!), run to Him and lean into the Truth. Then you will know the truth and the truth shall set you free. {John 8:32}