Sweet Mama, we've got something special in store for you. Over the next week, we want to deliver hope straight to your hearts.
We know that you serve tirelessly each day.
We know you meet needs that  no one ever seems to realize is well beyond your own abilities.
We know you feel alone and often overlooked.
We know you wonder if you'll ever make it through to the finish line — whether that is seeing the day your little one begins preschool or watching your senior cross the graduation platform.
We know. Because we're mothers and daughters.  Because we're women witnessing the work of mamas everywhere. We know it is hard work with eternal rewards but so much earthly waiting.  So while we can't lift your physical burdens or solve your mothering mysteries, we want to cheer you on to mother well.
We want to  remind you that your work matters . . . that your mission is of holy value.
As you face Mother's Day, we want it to be a time in which you choose to celebrate the calling God has given you and feel a fresh surge of His power and purpose direct your steps and guide your heart as you raise the next generation.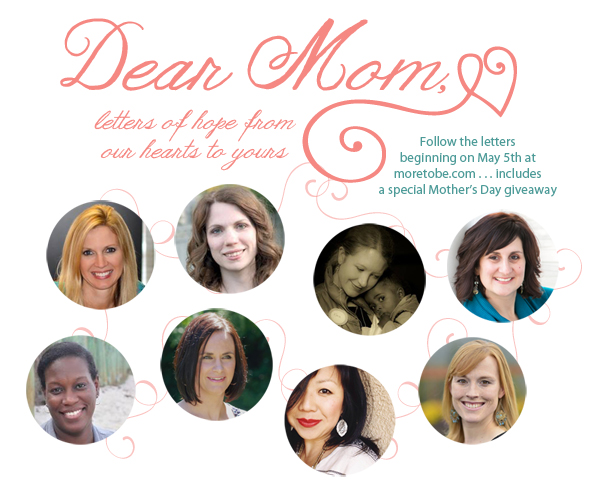 We invite you to follow our little band of mother-encouragers, as we share with you the hope we've found in Christ and the many ways it directs our motherhing steps. May our words nurture your tender hearts and inspire you to press on in your mothering journey.
Tuesday, May 6
Daniele at Domestic Serenity
Kara at The Chuppies
Wednesday, May 7
Andrea at Wisdom for Her Heart
Mandy at From Lukewarm to Zealous Pursuit
Thursday, May 8
Rachel at Rachel Wojnarowski: Inspiring Extraordinary Faith for Everyday Living
Ruth at Grace Laced
Friday, May 9
Amy at Gospel Homemaking
Elisa at More to Be

A Special Mother's Day Giveaway
As a special treat, we want to bless you with some giveaway love.  All you have to do is enter in the Rafflecopter at the end of each post throughout the "Dear Mom" tour. We'll pick a winner on Mother's Day evening. The contest is open to US residents only. One winner will be chosen for each prize.
a Rafflecopter giveaway