We are taught by the world that in order to make friends, we need to find people who share common interests. However, is it possible to make friends even with those who have absolutely nothing in common with you?  Well, yes, by acting the way Jesus would towards them.
Of course, that's not always easy. You and your friend may not get along all of the time. There may come a season when the two of you don't even speak to each other.
However, if you want to keep your friendships alive, you need to become the kind of friend that is mentioned in Proverbs 18:24 MSG, "Friends come and friends go, but a true friend sticks by you like family."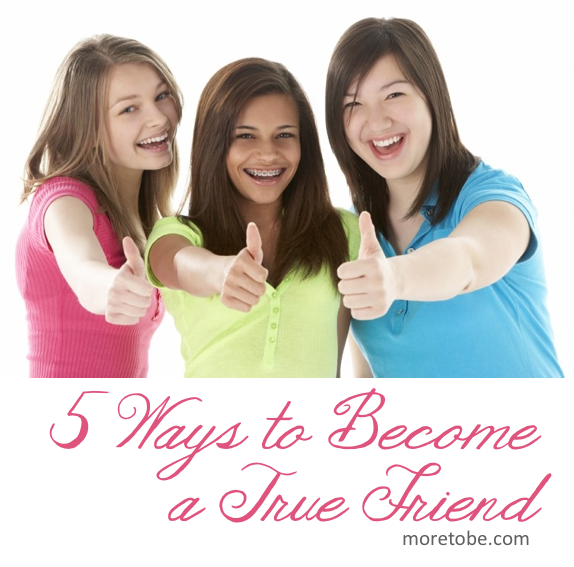 How do you become this kind of "true friend"?
Be selfless.
Do you ever argue with your friend about what to do, where to eat, what to watch, etc.? Here's a tip: If you want to prevent these arguments, let your friend have her way. By doing this, you are following Jesus' example when he died for you on the cross. Not to mention, Scripture says to "think of others as better than yourselves" (Philippians 2:3 NLT) and "do to others what you would want them to do to you." (Luke 6:31 NCV).
Pray for them, and pray with them.
Ask your friend if there is anything they need prayer for, and be sure to pray about it. If God is the center of your friendship, there is nothing that could break your bond, as Matthew 18:20 NLT describes: "For where two or three are gathered together in My name, there I am with them."
Be there for them.
Be the shoulder that your friend can cry on. Sometimes it's hard to see the good that can come out of a situation when you're experiencing it, so remind your friend to seek God during these times. Share Scriptures with her that will remind her of the good that can come out of adversity. Walk through the difficult seasons with her, as it says in Proverbs 17:17 NLV: "A friend loves at all times. A brother is born to share troubles."
Avoid judging and gossiping.
Scripture says that "gossips break up friendships" (Proverbs 16:28 MSG). A true friend doesn't act one way towards you and then talks about you behind your back. Even if your friend does something that you do not approve of, be careful not to judge her. Keep in mind that you a sinner as well. Matthew 7:3-4 NLT: "And why worry about a speck in your friend's eye when you have a log in your own? How can you think of saying to your friend, 'Let me help you get rid of that speck in your eye,' when you can't see past the log in your own eye?
Be a good influence on them.
Examine the way you act and talk in front of your friends. Are you drawing them closer to Christ or away from Him? You can become a bad influence simply by constantly complaining and finding the negative in situations. This kind of behavior will rub off on your friends. Be sure it is evident to your friends that honoring Christ is your number one priority. Be a leader, not a follower. Proverbs 12:26 NLT says that "the godly give good advice to their friends; the wicked lead them astray."
So how do you find true, Godly friends?
The answer is simple.
You become one.
Proverbs 27:17 NLT
"As iron sharpens iron, so a friend sharpens a friend."
I challenge you . . .
Examine your friendships. Is there a quality on this list that you could work on?
[email_this_button]