Summer for me means the escape from my routine.  I am not a morning person, so I love not having to get up early in the summer, whereas in the winter I need to rise in the dark, try to rustle up a balanced breakfast, and send my kids off to school with a smile.  Some days I don't even want to talk to anyone I am so sleepy and comatose!
However, there is one routine that I try desperately to keep, even during the summer months . . . the habit of prayer!
I am the mom of three very active kids.  Two boys who are my bookends, one who drains me physically and the other emotionally, and a daughter who loves to play the role of the middle child.  Several years ago, when my firstborn was approaching his teen years, a friend of mine recommended a book to me entitled, Every Day I Pray for My Teenager, by Eastman Curtis.  This book sits by my bedside, along with my bible, and has become a mainstay in my prayer life for my children.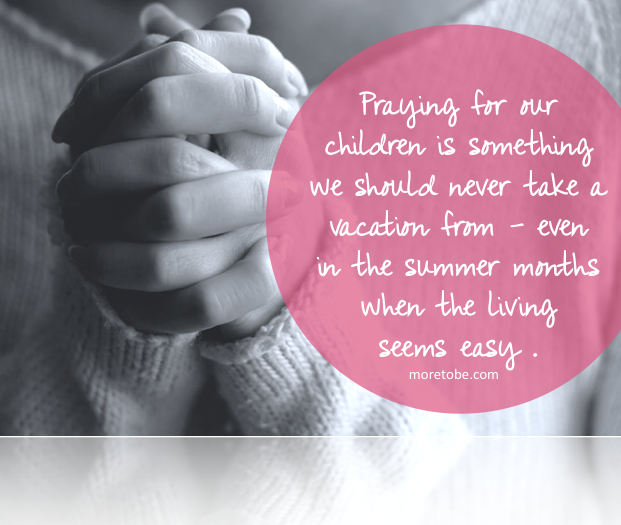 Each morning (some mornings as late as 10 am in the summer!), I open this book and ask the Lord what my children need me to pray for.  This book has a list of subjects that range from everything from spiritual needs such as personal devotions, bondage breaking prayers for issues like lying, relationship needs like choosing friends, school needs like favor in sports to college and future needs like choosing a major. The book is formatted in much the same way that Moms In Prayer is structured.  There are a list of scriptures related to the topic on one side of the page and on the other is a prayer that incorporates those scriptures and allows the parents to pray in the affirmative for their child.
I am always so in awe of God's faithfulness.
I love that His word does not return void. 
I cannot tell you how many times that I have prayed for something specific from my children, guided from this book, and have seen that prayer answered.  Some days it was immediate and  very simple.  Other times it was over time that His faithful answer was revealed.  One time in particular, the Lord prompted me to pray for joy for one of my children and that very same day, that child exclaimed, "I feel so happy, so joyful and I don't know why."  I knew.  And God knew.
Some routines are good not to break. 
Praying for our children is something we should never take a vacation from – even in the summer months when the living seems easy and we can wake up when we've actually had enough sleep!
Will you persevere in praying for you children this summer?
Download our free resource on prayer, found here, for simple ideas to help you pray on purpose.