I'm a like-to-know-what-to plan kind of a gal. Have you noticed God often doesn't cooperate with our preference for making plans?
Currently, I am asking God, "What next?" Thirsting for control, I'd like a printed itinerary of what God has in store for my family. Searching for solutions, I wrestle with problems that seem to have no answers. Maybe you have a few of those too.
God's answer to "What next?" is simple:
"Trust Me."
In this place of uncertainty, I have been reading Isaiah 43:1 NIV.
     Do not fear, for I have redeemed you;
I have called you by name; you are Mine!
Why is it so easy to forget God's provision for fear is redemption and relationship? Insecurity can tempt me to feel like He's forgotten my need. This verse is not about the fear.  It isn't about the problems or questions that rush like waters gone wild.  It's about trust.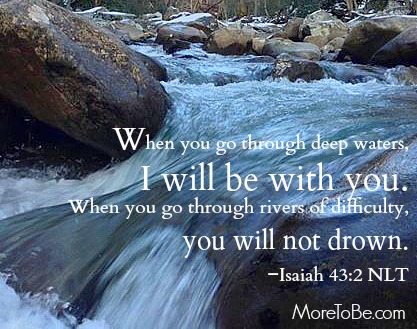 What is your need today?
Strength for peace comes as I begin to understand these words are about what God has done, is doing, and will do.
Countless catastrophes and questions can stir up fear that twists hard, but God reminds me I am called by name.
I am His.
God-acts of faithfulness and sheer grace stand strong in this passage overflowing with good reasons to trust God.
It's time to let God…be God.
Promises of God are rich and true for all who will accept them—for all who will respond to his call. For every mom who cries out for help.
Every single one of us.
God promises to be with us when we pass through the waters of trouble. I need to keep my eyes on God rather than the rip-tide of hard moments. When rivers rise and it's hard to keep my head above the water, hard to catch my breath, God is present.
When the issues of life heat up and burn like a fire, God promises protection in the midst of the fire—"You will not be scorched."
Only God can do this.
God will go to great lengths. He will do what we cannot; even the impossible is not out of his grasp. He will make a way through the hot mess we can't get through on our own by breaking through the seas of our troubles. Blazing trails through the wilderness of our confusion and sin, moving in the dead, dry deserts—shriveled places of our lives that have no water for growth, He will make rivers flow.
Yes, it's time to let God be God.
Why would He go to such lengths of love for us?
Isaiah 43:20-21 ESV
For I give waters in the wilderness
, rivers in the desert, to give drink to My chosen people.  The people whom I formed for Myself 
that they might declare My praise.
Remember you are chosen and formed for God himself.
[Tweet "In our desert places, He provides just what we need, so drink this life of God down deep. "]
Hold fast to the truth that He has shaped us for himself, called us by name, redeemed our sin, and saved our lives.
Yes, it's time…to let God be God.
Time to let grateful praise rise up until we shout long and loud.
We have a God who saves.
Oh sweet yes, it's time!
What are you needing to trust God for today?
Photo Credit:  Carolyn Fellhoelter
{linking up here}