I am at a point in my life where I am continually confronted by my weaknesses: physical, mental, and emotional. Some days I can't remember who I am, let alone the names of my 8 children. I feel my body slowing and hurting, sleep is a distant memory, and I often feel like I'm in puberty again with the emotional roller coaster I'm on at times.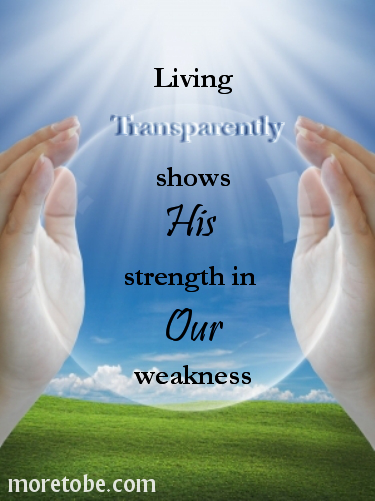 (image courtesy of arztsamui/freedigitalphotos.net)
How can I mentor others when I'm such a mess?
Oh, sister, if you are dealing with this very question then I'm here to tell you GOD IS SWEET!
He is sovereign and He knows it all already. He isn't surprised by the trials in our lives. He knows the process of change in our hearts, where we are still struggling to walk in victory and joy. None of this is news to Him. And yet He still calls us to disciple/mentor others!
[Tweet "Our weaknesses are all a part of His process to help us walk in faith and not in our own strength."]
Walking by faith is not a platitude to recite on Sunday mornings. It is the anchor I hang onto that keeps me centered in the heart of God. Walking by faith means I don't rest in my strength (weak as it is) but I rest:
in His unchanging goodness and grace
in His eternal wisdom
in His abundant loving-kindness
in His unquenchable strength
in His unending faithfulness
Won't I mess others up when they see I'm not perfect?
This one makes me chuckle. First of all, putting me up on a pedestal is akin to idolatry! I am not to be glorified or exalted – God is. So the sooner the gals I mentor know I'm weak and fallible, the better.
It is not our perfect image that draws others to us, it is our life of surrender and trust in a trustworthy God!
Over the years I have had more comments about how my failures have blessed and encouraged others than I care to count. It sounds strange (and it still does to me after all these years) but what they meant was that they found hope for themselves, knowing that I am not perfect. My weaknesses and imperfections made their own seem less unconquerable. They were able to see that every one of us is in process with the Lord and that no one has arrived, so to speak.
Living our lives transparently in front of those we mentor does not remove the value and truth of our words.
On the contrary, it lets them know that WE know our hope, our success, our victory is in the transforming work of the Spirit in our lives as well as theirs.
And THAT, dear sisters, is encouragement indeed!
Imitate me as I imitate Him.
Mentoring, like homeschooling, doesn't mean I have it all together. It means I need to be just one step ahead to teach what I know.
I first started discipling someone when I was 6 months old as a believer. I knew this: Jesus loved me. And that was enough to begin to disciple that gal I had just led to Christ. I taught her as God taught me.
She saw what God was doing in my life.
She saw the rough patches He was smoothing out.
She saw the sin where He was convicting me and bringing me to repentance.
She saw my wrestling with the Word.
And she learned to follow my example in her own life of faith.
Don't hide your weaknesses or let them make you feel you should throw in the towel with mentoring others. Don't let the enemy lie to you that you are somehow disqualified because you aren't perfect.
Own those weaknesses, knowing that the Lord of all the earth is the One who called you to be His vessel of blessing to others around you.
He called YOU to come alongside girls and women to mentor, train, and build them. He called YOU to be a part of His Kingdom, to see the church grow in maturity. He called YOU, warts and all, as He works to transform you (and those you mentor) into the image of our glorious Lord.
So be encouraged, dear sister. I'm not writing to you because I have it all together. I'm writing to strengthen your faith with the knowledge that HE has it all together. And He holds you in the palm of His hand. Hallelujah!
Have you ever been derailed by your weaknesses?
Can you see how God could use your weak areas to strengthen others?
{linking up here}