In the children's classic Charlotte's Web, Wilbur the pig experiences an emotion that is all too familiar to some. A rainy day on the farm spoils his outdoor plans and he soon realizes that none of the farm animals want to play with him. Loneliness descends. Finally, as darkness falls, he hears a voice.
"Do you want a friend, Wilbur?" it said. "I'll be a friend to you. I've watched you all day and I like you."
In the ensuing chapters, readers delight in the budding friendship between Wilbur and Charlotte.
Like Wilbur, we want someone to call out to us, asking to be our friend.
Whether young or old, male or female, introvert or extrovert, the desire for friendship is universal. As Christians, this longing for friendship comes, in part, from the recognition that we are made in the image of God—the God of relationships.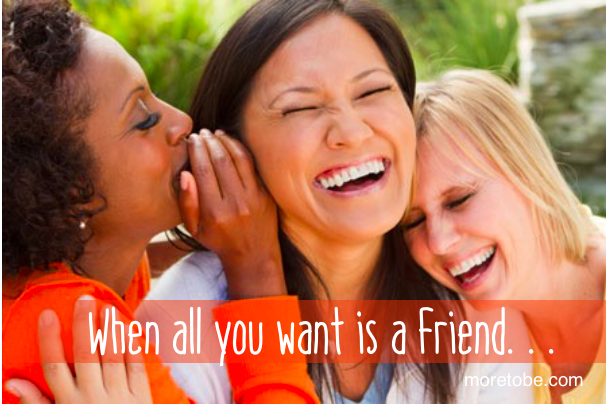 Yet even as young children we learn to be wary of friendship. One day we have a playmate; the next day we are replaced by someone else. Or how many times have we witnessed our children stating, "You're not my friend. I don't want to play with you anymore."
The scars of our childhood relationships follow us into adulthood, influencing our adult friendships and our willingness to reach out to others.
Adding to this challenge is the transient nature of our world. We may leave home for college or graduate school, forcing us to say goodbye to our childhood friendships and to start over in a new place. Once in the workforce, we may move for a job or jobs, uprooting ourselves and perhaps our family yet again. Throughout this process, our desire and need for friendship remains.
My own journey is a tale of moves and friends scattered across the globe. Like Wilbur, I have experienced my share of loneliness and wondered at times if anyone wants to be my friend. Recently, a conversation with a "new" friend started me thinking about friendship in a fresh light.
As a Christ-follower, I wholeheartedly affirm that the Lord is "Lord of all," including my friendships.
So how does this truth inform the way we pursue and think about friendship for ourselves and for our daughters?
It starts with reaching out to others.
I know, it sounds too obvious. Yet how often do we actually take the first step? I mentioned my "new" friend. Recently I realized that both of us would be home while our husbands were away at an event. So I sent an email asking if she would like to get together. Of course, I was thrilled when she said yes, but what struck me even more was her gratefulness that I asked her to hang out. Later, when we talked about the details of our time together, she mentioned the timeliness of my email. Coming off of the holidays and having spent time with "old" friends, she realized how much she needed friends in this new place.
[Tweet "Too often we allow our fear of rejection to hold us back from making the first step."]
Nothing beats the feeling of someone wanting to spend time with you.
Next, we need to be open to friendship, even if it looks a bit different than we imagined.
A common misconception is to assume that our friends need to look like us—that they need to be the same age, in the same season of life, etc. As I think over my adult friendships, two of my closest friends have been at least ten years older than me and one was in a different season of life. Yet these were reciprocal relationships. I had something to offer to the relationship even if I was a bit younger.
Which leads me to my last point:
Learn how to be a friend.
You may find yourself in a season of life where your friendships look a bit lean. You long for a girlfriend that you can call or text to share the latest news with or to grab a cup of coffee together. It's a lonely place to be. Even though we know intellectually that God is with us, we need the physical presence of a friend. Instead of despairing, use this season to cultivate the qualities of a true friend—a person who listens well, a person who shows compassion, a person who rejoices and mourns with others. And pray.
Ask God to bring a friend into your life. Be open to how He may answer your prayer too.
We are relational beings. At the end of Charlotte's Web, Wilbur mourns the loss of Charlotte only to be surprised by all the new "friends" that suddenly come into his life. May this be true for us as well—that we embrace the friends we have and welcome new ones into our lives.