Can I say I just love being able to talk with other women who are willing to get real about being in progress? All you have to do is listen to a few of Heather MacFadyen's podcasts or read her blog and you'll know, she's real about being real.
[Tweet "Don't you think it's refreshing to accept our limitations while not resigning to be "as is"? #theNEWyou @elisapulliam"]
God is not about the business of creating us fearfully and wonderfully, only to ditch us at the point of conception. His work that began long before we saw it, knew it, or even conceived of it, promises to continue in until we meet Him face to face.
So why do we look at our issues and give up?
Why do we believe we'll never change?
And what exactly will it take to move forward in honest, stick-to-it transformation that leads to lasting results?
Heather and I chit-chat about these questions and more, as I share about my journey of real life change — some of which you can read about in Meet the New You. It's not a memoir, but a handbook for you to embrace on your own life change journey.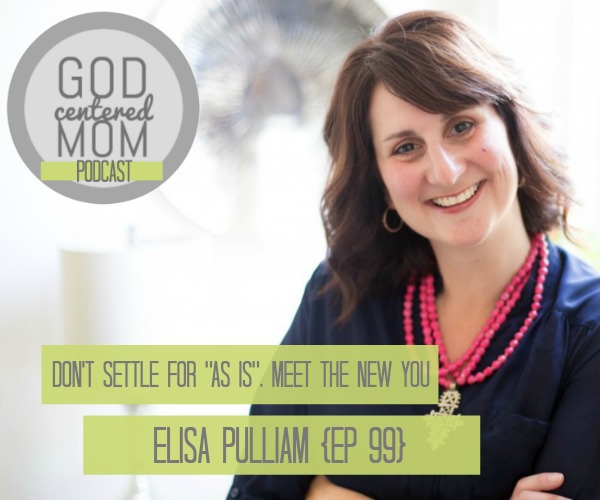 Honestly, my passion for seeing women, like you, embrace real life change is because I want you to experience the joy of no longer feeling "as is" and to experience the delight of answering the call God has put on your life along with the amazing way He wants to use you to impact the next generation.
So how about clicking here to listen to the God Centered Mom podcast and get your dose of inspiration in full today?
If you'd like to get to learn how to move trough the process of transformation, grab a copy of Meet the New You: A 21 Day Plan for Embracing Fresh Attitudes & Focused Habits for Real Life Change and begin a journey of embracing fresh new attitudes and focused habits that lead to real life change.