We recently received a very vulnerable email from a teen girl struggling with sexual addiction. My heart ached as I read her words, describing how the habit began.
One day my older teen cousin showed me music videos on YouTube, even though he said, "You're too young to handle this . . . you're just a baby." There were a bunch of girls twerking grinding and giving each other lap-dances. When I got home I looked up the videos, which turned into my discovery of porn and more. I was only in 4th grade.
She went on to describe how her computer savvy dad found out and tried to put blocks in place, but she found a way around it. In secret, she continued to watch the videos. Her guilt and shame led to a battle with anorexia and cutting. She shared about how she gave her life to Christ and asked for healing. She repented and begged him to take the desires away, but He hasn't, even though she's seen the Lord work in other ways in her life. She confessed that she's simply exhausted from the battle. That she wants to be pure. That she wants to be valued by her future husband. And that she just doesn't know what to do anymore.
My heart breaks for her most of all because she is struggling alone, in silence.
I knew my words could either breath life into her soul or lead her into further despair. I'll never know, of course. But I'm praying that God used me to give her hope and I now pray that these words may bring hope to you . . . if you're struggling too or coming alongside someone who is entrenched in any stronghold.
Thank you for trusting us with your story and your pain. I can hear the struggle in your heart — your desire to do what is right before God and the never-ending pull on your heart and mind. You are not alone, sweet sister. We all struggle with sin in a variety of ways, some that is obviously seen and some that is hidden in the dark. I hear the despair in your words and your feeling of shame. I hear your fear about your future and how your husband would respond.
Bravo to you for being wise and mature in realizing that there is impact from our actions.
I pray that you will no longer stand in a place of condemnation. You are not bad. You are not dirty. What you're doing does not glorify God and will have an impact on your life, but God loves you even in your mess. You are still His daughter, worthy of love and respect. By His grace, He will provide a way out of this stronghold of sin. By His grace, He can provide you with a loving, tender, compassionate husband. That is not beyond God's power!
[Tweet "There is no magic formula that will get you out of sin."]
I can't say anything that will fix this immediately. But I know that the Word says in James 5:16, "Therefore confess your sins to each other and pray for each other so that you may be healed. The prayer of a righteous person is powerful and effective."  You have confessed to me and I will pray for you to be healed.  But I also think it is very important that you confess to a trusted adult in your life. Ideally, if your mom is a believer, I'd go to her first and ask her to take you to a Christian counselor. There are core issues within your heart and mind that need to be tackled with the Truth and in prayer.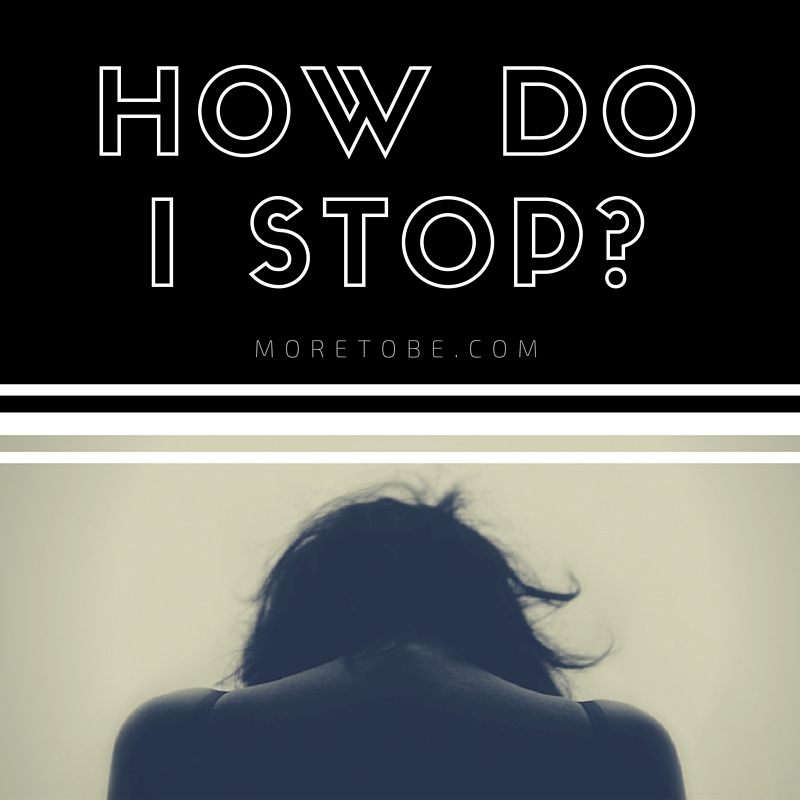 In the meantime, I highly recommend entirely changing up your habits and routines. Consider the don'ts first, such as:
Don't go to the "places" of your sin.
Don't associate with those who lead you in that direction.
Don't put yourself in a situation where you have to say "no." 
But rather than just focusing on what not to do, consider what you can do differently, such as:
Who can you spend time with instead of doing what you were doing?
Who needs to be served or helped in your family or community? 
What activity can replace the sinful one, such as exercise or reading or listening to worship music or even doing a craft? 
Find something positive to put your hands and mind to work on!
Overcoming sin is a process — one step at a time in choosing the right behavior over the wrong behavior.
You might backslide, but don't give up the fight. Keep pressing on, trusting that God will be at work in you, enabling you to overcome. And don't be afraid to seek help from someone you can trust. We need each other, especially when we are battling the tangles of sin.
Thank you for reaching out. I pray these words give you hope to not give up the fight.
I share this real question with you, because I know there are plenty of others out there, like her, struggling with "this" sin who need hope, too. And I share this with you because I don't want another teen to struggle in silence.
I don't want another teen to give up the fight because they are too afraid to go to the adults God has given to help them.
But in order to be a trusted adult, we have to change our response.
While we need to call sin sin, we also need to respond in truth without anger. We have to not make their struggle our story.  What do I mean by that?  Well, I know as a mom, it is all to easy to feel hot with anger from a place of guilt and shame. We think their sin is our fault . . . that we failed . . . that we caused this to happen. Well, that may be true. There is a chance we weren't discerning. That we weren't proactive.  That we weren't available to listen and engage. But quite possibly, there was nothing at all we could to prevent our child from falling into sin.
The crisis isn't always about us.
Sometimes there is nothing we could have done to prevent the "what is," but there's always an opportunity to respond in love and truth. We will need to walk down the "get right with God over this issue" path at some point. We have to get out of the way of ourselves so that Jesus may work through us for their sake.
So, may I give you this challenge, moms?
Will you take the time to consider whether you've been an unapproachable mom?  Will you think about how your response to your teen's everyday sin may me them feel alone in the battle?
If you're ready to open the channel of communication with your teen, take the first step and tell them you'll be there for them, no matter what. I pray, with you, that if they find themselves caught in the stronghold of sin, you'll be able to send them a life-line with your mercy and compassion, and be used by God to pull them safely to shore.