I've been mostly quiet for a while. My writing voice was silenced to a whisper many months ago.
Last May my mother quietly slipped into the arms of our Father, and with her went my voice. The end of Mom's time on earth seemed to drag with it any desire to share words of encouragement or inspiration. Funny, inspiration literally means the drawing in of breath. Indeed I drew in a great breath, but could not bear to release it. Until now.
I began my long journey last May. This journey through grief was compounded by a last minute move across the country with our six children. This was our second move in two years. The details of every twist, turn, and pothole seemed to blind me to the greater purpose behind the path God was showing me.
Isn't this just how the dark moments can fool us?
When we find ourselves in the midst of the darkness, when we feel hidden in the shadows, we often forget why we are there.
We often begin to believe there is no point, or worse, we believe we may have been forgotten. The shadow can hide us from the truth.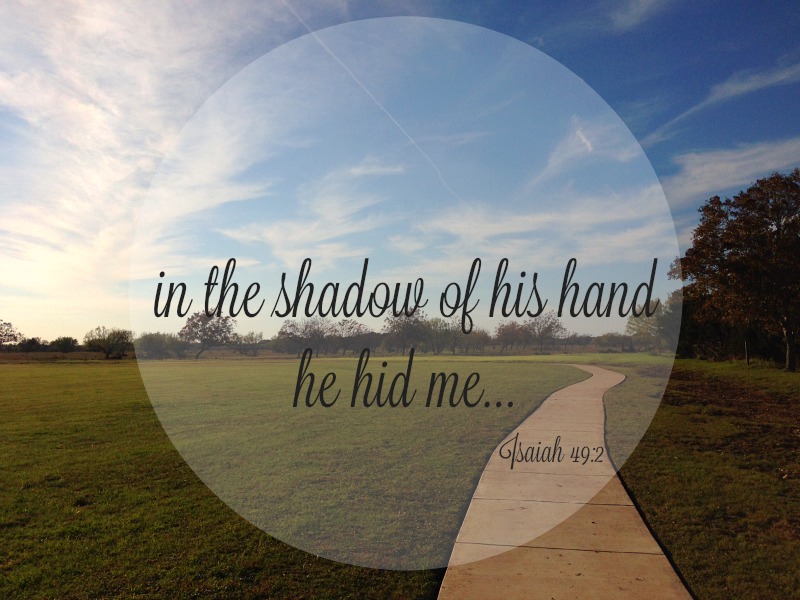 The truth is we are not forgotten. We are not alone. We are not without purpose. The truth is quite the opposite. The truth is God has not cast us aside. The truth is God has tucked us safely into the darkness. The place of rest. The place of comfort. And, wildly enough, the place of strengthening.
This season in the shadows is as purposeful as the season in the sun – perhaps even more so.
Throughout Genesis 1, during the first six days of creation, God shows us over and over again "And there was evening, and there was morning…" (Gen. 1:31, NIV). What about the time in-between? The dark of night . . . every new creation was preceded by the dark of night. An evening arrived, then darkness.
[Tweet "But here is the hope, friends. After every dark night . . . came the morning. "]
The morning comes again and again. His mercies are new every morning. (Lamentations 3:22-23, NIV)
When the darkness envelops and we strain our eyes for any sign of light, we can go to Him and see that again and again He brings the light.
This time in the shadow of night is His appointed time for us to rest. A time to be still, and know that He is God. (Psalm 46:10, NIV)
I read something a few days ago. Mesmerizing words from a beautiful devotional given to me by a dear sister in Christ. It reminded me of His holy purpose. She remembered her own time in the darkness, and felt compelled to show me a glimmer of light . . . a truth we must hold closely when we face our own shadowy silence.
Isaiah 49:2 NIV
In the shadow of his hand he hid me;
he made me into a polished arrow and concealed me in his quiver. 
[Tweet "Certain strength and beauty can only grow in the shadows. "]
This time in the shadow of His hand forms us into the very weapons He will use to accomplish His holy purposes. We become these refined weapons of love made beautiful in the rest of His arms.
When you find yourself in the shadows . . . times of change or challenge, times of solitude or sorrow, times of grief or growth . . . remember, sisters, He is forming a polished arrow through your trials. He is concealing you close to His heart.
He will release you into a destiny you can not yet imagine.