The beginning of a new year isn't the only time we're allowed to embrace a new beginning.
In God's economy, we have access to a fresh start any time we want!
His amazing grace is ready to wash over our regret instantly.
His forgiveness is available to us at any moment.
His truth is ready to transform our perspective, if we're willing to walk in it, one step of faith at a time.
The change we crave, whether it's in our character or circumstances, begins by sitting at the foot of the cross and opening our hearts to His presence, our minds to His truth, our lives to His leading.
So isn't it time to experience this fresh encounter with God, no matter where you are in life? He promises us that He who began a good work in us will bring it to completion (Philippians 1:6). I don't know about you, but I'm certainly not complete. I totally need God's work to be active and alive in me, not so that I can feel better about myself, but so that I can be the woman, the wife, the mom, the friend, that He's called me to be.
[Tweet "I don't want my issues to stand in the way of the legacy He's seeking to write through my life. "]
Oh no! I want to have more of God's spirit abiding fully inside of me and overflowing onto those I love and desire to serve. Isn't that what you want too?
So how about joining me in a 6-week online book club and work through Meet the New You together?
Oh, I know I wrote the book, but friend that's because I lived it first and need to continue to apply the principles found within each chapter. I can't think of a better time than now to dig into these truths, because I want to wrap up this school year and enter into the summer season with a fresh encounter with God shaping my days. Doesn't that sound like a good idea for you too?
JOIN the BOOK CLUB – No Strings Attached!
This book club couldn't be any simpler, my friends! You can go about joining in two different ways.
Subscribe to More to Be so that you'll get the weekly reading assignment and questions each week. The post will go up on Mondays, so you might want to check the site directly as the weekly email doesn't go out to Wednesday. You can subscribe by clicking here!
Join #theNEWyou Facebook group — click here to join — as we'll be posting there each week and using that space for our discussion. We'd love for your participation and to provide you with much accountability in this space.
Pretty simple, right! But there's more in it for you besides the accountability of reading through this book together!
With your purchase of Meet the New You, you get access to Scripture Prints and Scripture Prayers, plus a Leader's Guide and Event Planner!
All you need to do is email your receipt to gifts (at) elisapulliam (.) com. It doesn't matter when you purchased the book, you can still get access to these gifts.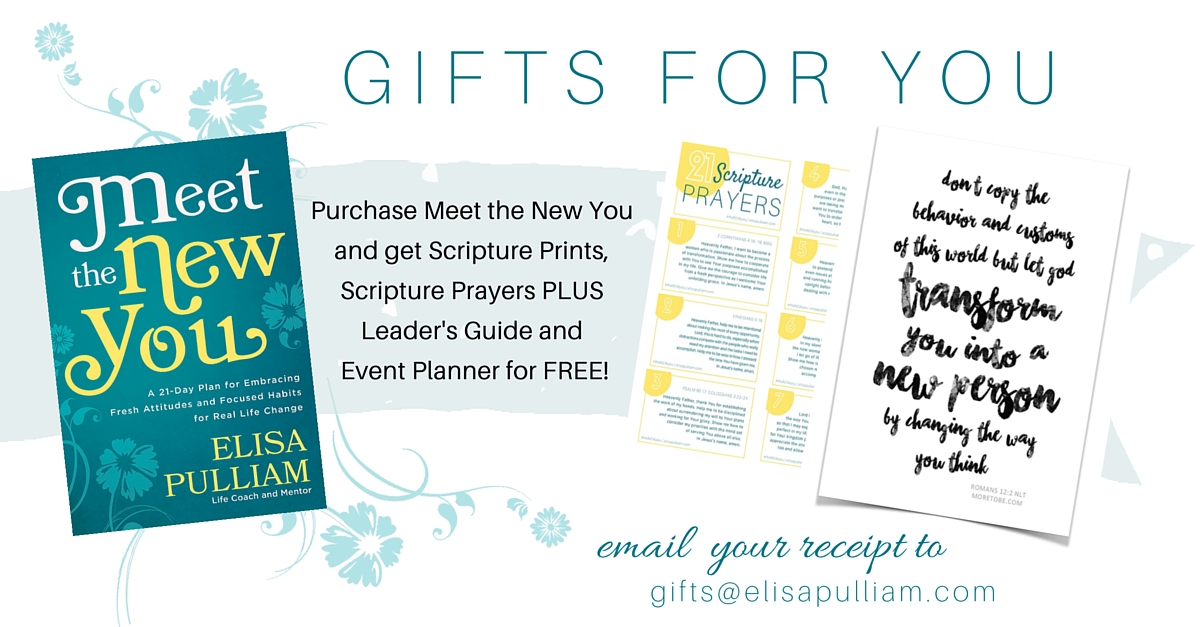 Plus, we'll have giveaways for all participating!
In addition to the free gifts you get with your purchase of Meet the New You, we're also giving away some awesome  life coaching packages! Here's how you'll be able to enter:
Leave a comment on each weekly Book Club posts

and at the end of the 6 weeks, we will draw a winner for two 30-minute sessions!
Leave at least

two comments a week within #theNEWyou Facebook group

on the Book Club posts and at the end of the 6 weeks, we'll draw a winner for the Monthly Motivation Package for three 40-minute sessions to be used in one month on any topic you desire!

Leave a comment on both the Book Club post on the website and Facebook group and be caught encouraging other participants

and we'll enter you into a drawing to win the Perfect Pace Package for five 45-minutes sessions to be used on your time-frame around any area of focus you desire.
If you're not sure what coaching is all about, check out this page for more information. Basically, we can use any coaching session to cover whatever topic is important to you!
Everyone who participates at least once may request a $10 off voucher for any coaching service when booking their package.
And, if you invite someone to join the club, we'll double your voucher to $20 off when you provide us the name of your friend!
So, will you be joining us in this Book Club? Let us know in a comment below so that we can begin praying for you today!
Join In Anytime!
Week 1:  Fresh Encounter with God
Week 2: A Fresh Awareness
Week 3: Assessment Time
Week 4: Overcoming Obstacles
Week 5: Stick with Solutions
Week 6: A Vibrant New Vision
Grab your copy of Meet the New You wherever books are sold!