Assess the Goods.
I can only imagine what comes to mind when you hear such an expression like "Assess the Goods!" As though you and I don't already struggle enough with comparison as women! But I'm not asking you to compare yourself to others. I'm suggesting you take time to assess the good in God's design of you as you evaluate the way you're made!
[Tweet "Rather than measuring yourself against someone you're never meant to be, how about embracing the unique way God has made you?"]
Oh yes, my friend. God made you. Miss Absolutely Marvelous, step right up and don your title proudly. It's not arrogant to boast of your Creator's work! It's humble to admit you're perfectly made by a Sovereign God.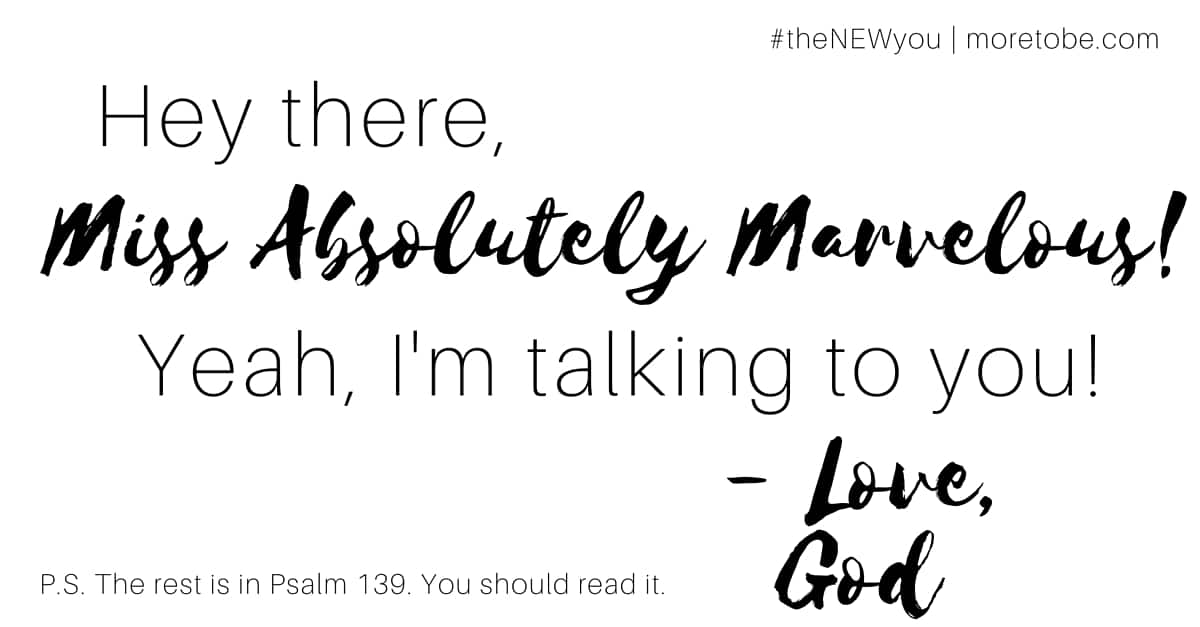 Psalm 139 applies to you. Spot on. Absolutely. Without excuse.
Psalm 193:13-16 MSG 
Oh yes, you shaped me first inside, then out;
    you formed me in my mother's womb.
I thank you, High God—you're breathtaking!
    Body and soul, I am marvelously made!
    I worship in adoration—what a creation!
You know me inside and out,
    you know every bone in my body;
You know exactly how I was made, bit by bit,
    how I was sculpted from nothing into something.
Like an open book, you watched me grow from conception to birth;
    all the stages of my life were spread out before you,
The days of my life all prepared
    before I'd even lived one day.
I know you feel imperfect, as I often do, but our feelings aren't necessarily a reflection of truth. God formed you and I before the world could ever see us. He had a plan in mind for our lives. I know at times, that plan seems so uncertain. We wonder about our purpose in the fact of conflict and failure and rejection. We doubt our worth as our "issues" tend to get more press time than our assets with those who feel free to offer a critique. That's why we've got to be discerning about what we heed from others and where we set our focus.
[Tweet "We need to silence the noise as we strive to hear our Maker's voice concerning His desires for our lives. "]
I know that isn't always easy to do, but one tool I've used to help me focus on the good of God's design of me is through the Highlands Assessment. Time and time again I go back to my results and prayerfully sit before the Lord with them.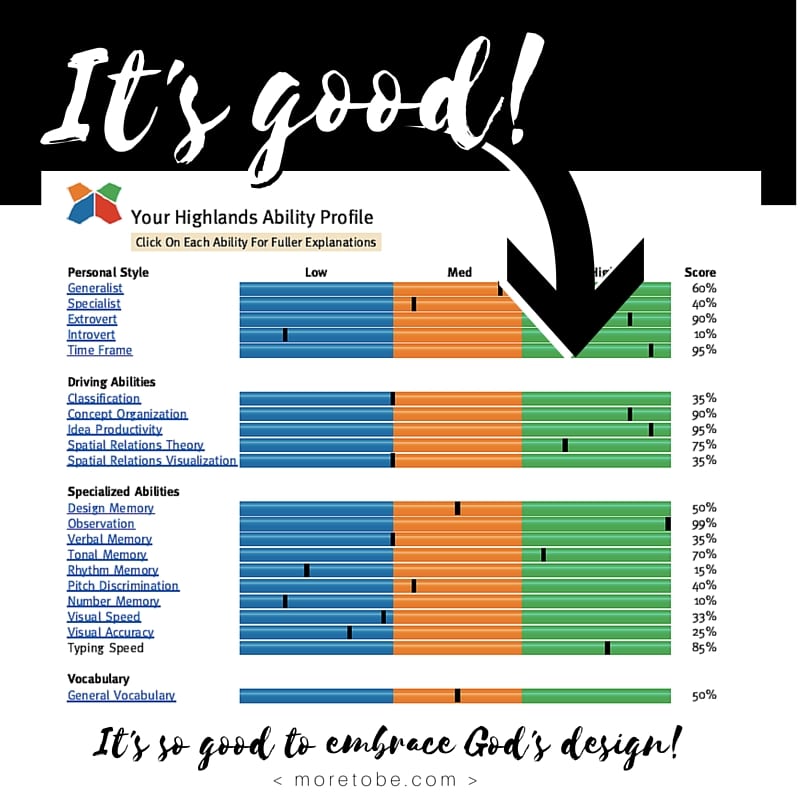 I look at how God made me both a Generalist and Specialist, meaning I love to work in groups and will have many projects on my plate at once, and yet also enjoy being independent and going deep on a task. It's so freeing, and guilt reducing, to remember that my Observation skills and Idea Productivity will serve others so very well but exhaust me at the same time. The are strengths and weaknesses in each of us, and both need to be equally submitted to the Lord. It's not about "losing this" and "gaining that," but rather working with what we have and seeking God for filling in the gaps!
So rather than running from who we are and chasing after someone else's life, how about we come to rest in His design today?
That's the goal for this week of our study of Meet the New You.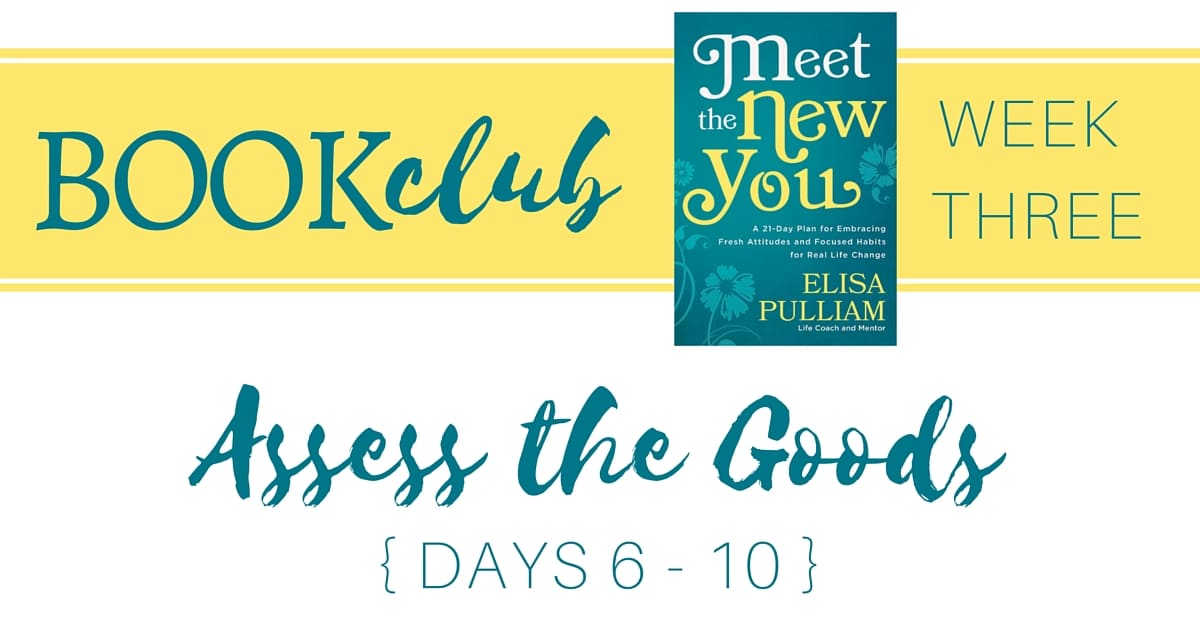 Assess the Goods
As you move into this Phase, the goal is to help you begin to see a vision for your life as you discover the amazing and wonderful ways God has made you. Over the course of days 6 through 7, you'll begin the process of identifying your personality type and how both your strengths and weakness make you whole person, intended for holy use by God. Moving into days 8 and 9, you'll have the chance to pinpoint your learning style and spiritual gifts. This vision phase will round out on day 10 with a look a how to discern your calling.
If you truly want to embrace the vision of who God made you to be and how God wants to use you in this world, then discovering how He made you is a complete, fearfully and wonderfully put together package, is the critical next step.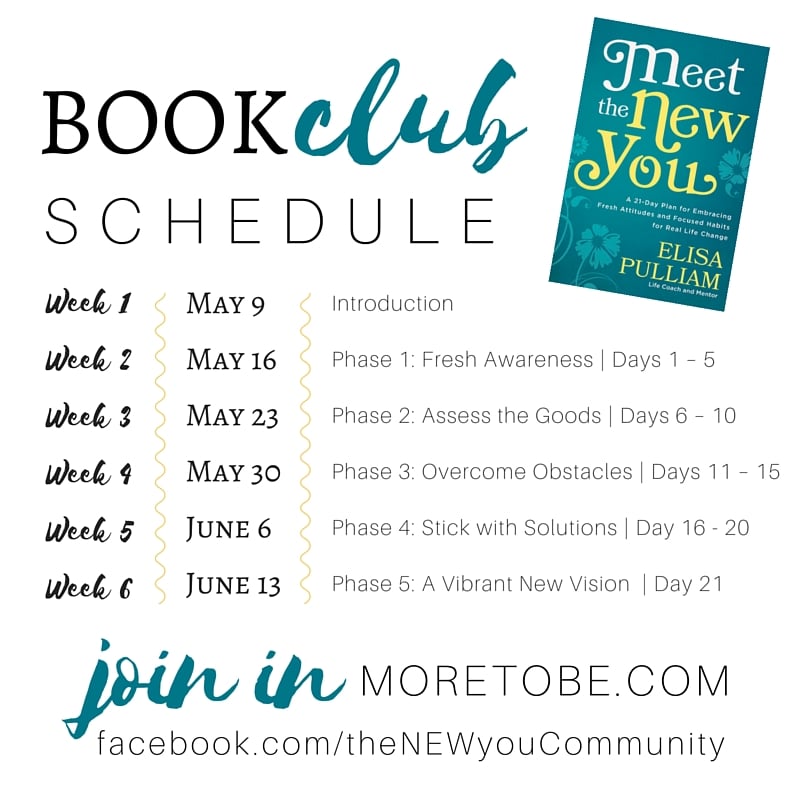 Read & Apply
As you go deeper into Meet the New You, pick the track that works for you in this season of life.
Track 1:  All In, All the Way
Read Days 6 -10 and answer the reflection questions.
Trap & Transform Exercises
Day 6:  Look up the verses and record your thoughts.
Day 7:  Complete at least one personality assessment online.
Day 8:  Complete at least one spiritual gift assessment online.
Day 9:  Complete at least one learning styles assessment online.
Day 10:  Complete passions assessment as found on page 95.
Track 2:  Just the Basics
Read Days 6 -10, answer the Go Deeper questions, and complete the Trap & Transform exercises listed below.
Trap & Transform Exercises
Day 6:  Record your thoughts about the statements and look up three verses that speak to you.
Day 7:  Complete at least one personality assessment online.
Day 8:  Complete at least one spiritual gift assessment online.
Track 3: Skimming this Time
Read Days 6 -10, but skip the Go Deeper Questions and Trap & Transform exercises. 
Discussion Questions
Jump into the discussion in#theNEWyou Community Facebook or leave a comment below with your thoughts! We'd love to hear from you.
What experiences and relationships have influenced your identity?
How might God want to use you, not only because of your strengths but also because of your weaknesses?
What talent(s) would you say God has given to you? How have you enjoyed using them? Or have you neglected them, and if so, why?
"God didn't mess up when He made you." What would it take for you to believe this statement and move forward in a God-given confidence?
What would it look like to harness your God-given passions as you sought God for His purposes?