Are you ready to get serious about life change from the inside out? Oh yes, this journey isn't about simply changing our circumstances. It's not about behavior modification. It's not about an exclusive formula or radical new routine.
[Tweet "It's about the heart of the matter — yes, because the state of our heart matters. "]
God brought that truth to me afresh as I was reading through Acts. I came upon a story in chapter 8 about a man name Simon,  a sorcerer who "astounded people with his magic," until his profound conversion after hearing the Good News from Philip:
Acts 8:13
Then Simon himself believed and was baptized. He began following Philip wherever he went, and he was amazed by the signs and great miracles Philip performed.
Simon was amazed by the miracles Philip performed and in awe of the working of the Holy Spirit manifested in the works of the apostles.
He wanted what they had.
He wanted God's power to be at work in Him. Could we blame him?
Don't we often want what we see in others? Isn't that often what makes us crave change?
But there was this little problem — well, maybe not so little:
Acts 8:18-23
When Simon saw that the Spirit was given when the apostles laid their hands on people, he offered them money to buy this power. "Let me have this power, too," he exclaimed, "so that when I lay my hands on people, they will receive the Holy Spirit!"
But Peter replied, "May your money be destroyed with you for thinking God's gift can be bought! You can have no part in this, for your heart is not right with God. Repent of your wickedness and pray to the Lord. Perhaps he will forgive your evil thoughts, for I can see that you are full of bitter jealousy and are held captive by sin."
He was trying to buy what God offered as a gift. Are we guilty of doing the same?
Do we want a quick fix to our problems? Are we hoping money, talent, manipulation will get us the results we desire, when God is simply saying, "Give me your heart?"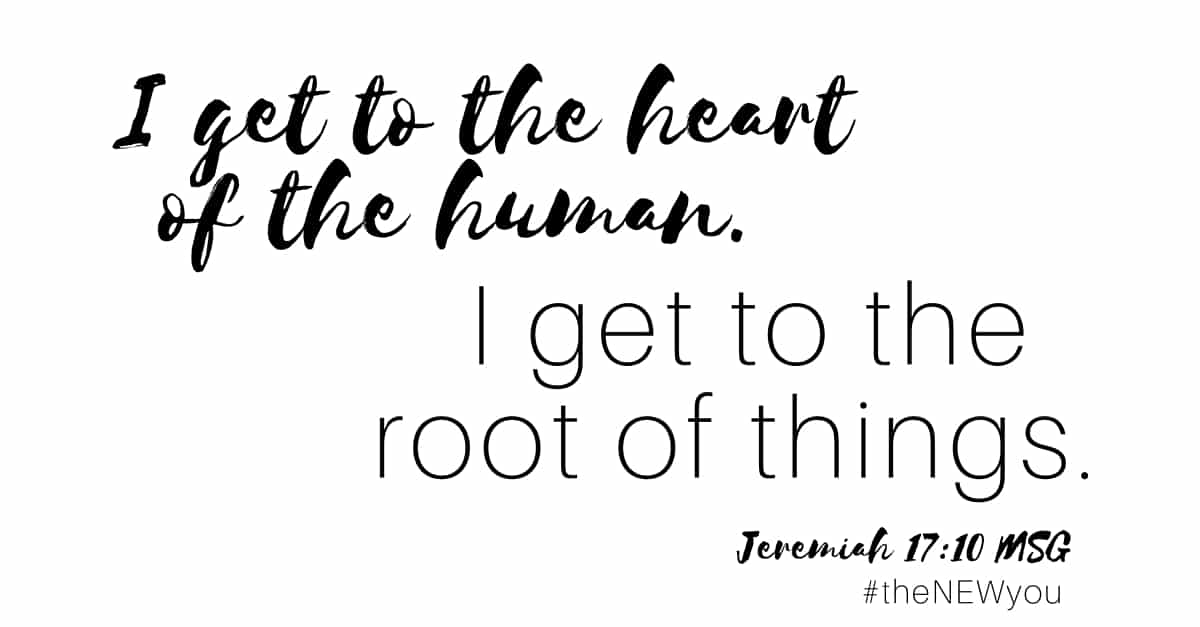 Simon's heart was out of whack, and he didn't even know it. Could the same be said for you and I?
Oh yes, I'm like Simon. My heart is often not right with God, and I'm clueless until the Holy Spirit shows me otherwise. As much as I attempt to keep a "clean account" with God, sometime I am unaware of what's going on "behind my scenes" in the depths of my heart.
When I came upon this passage from Acts, I was unknowingly struggling with a heart full of bitter jealousy and was held captive by sin. The clue was when I confessed about being jealous of another author/speaker/ministry leader with my bible study gals. It slipped off my tongue with such ease, I was actually taken aback. I thought I moved past those issues!  Sheesh, I even wrote about in Meet the New You. So why was I circling around this mountain of jealousy again? I tried to put it out of my mind and just moved forward. You know how we all like to dismiss our sin and make light of our issues, right! But in God's mercy, He called me into repentance, again, as I came face-to-face with the Truth in the Scriptures. Oh, that sort of conviction makes me squirm, at first, but in the long run, I am so incredibly grateful that God's desire is to set me — to set us — free from the stronghold of sin (Luke 4:18).
So, let me ask you a tough question:  What stronghold has you in it's grip? And, how is that stronghold keeping you from experiencing the transformation you crave because of what's going on in the the depths of your heart that's impacting your whole life?
Maybe you don't know. But maybe you're cognizant of the fact that your stuck, trapped, and anything but free.
Friend, that's why Meet the New You, starts off with not looking at how to fix the problem by taking a bird's eye view of your life. Throughout the first five days, the goal is to gain awareness. It's a thought-provoking process of seeing the big picture so that God can show you, like He did for Simon and for me, what exactly is going on in your heart and thereby, your outer life.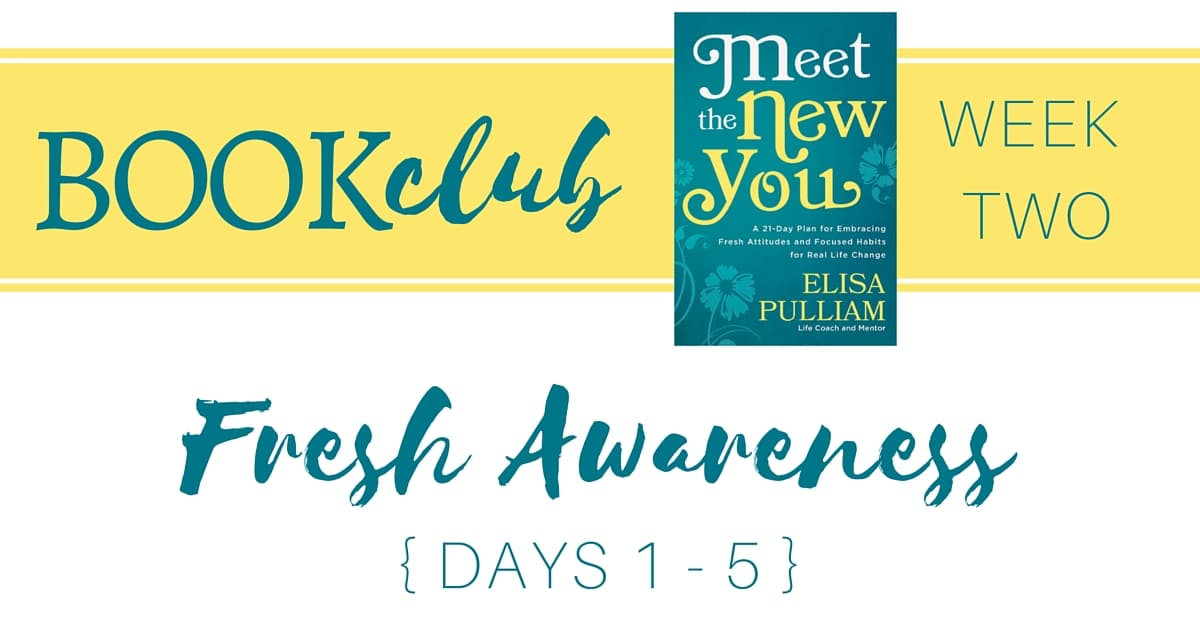 A Fresh Awareness
Are you ready to discover not on you who you really are but where you're going in life? Have you had enough of feeling stuck and would like to break out to find your new groove? Well, the adventure is about to begin as you turn the page and walk into Phase 1 and focus on becoming aware of your life as it is right now.
In this first phase, you'll have the opportunity to get honest about your time along with how you're investing in your priorities. You'll be challenged to consider your responsibilities along with the state of your relationships. And you'll even have a chance to look back at where you've come from while taking a peak at where you're heading.
This first phase isn't about making change happen. Rather, it's about taking inventory on what needs to change while prayerfully beginning the process of looking to God for His purposefully perfect solutions.
So  are you ready to get started? Let's not delay in uncovering the story God is writing through your life and catch a vision as to where He wants to take you!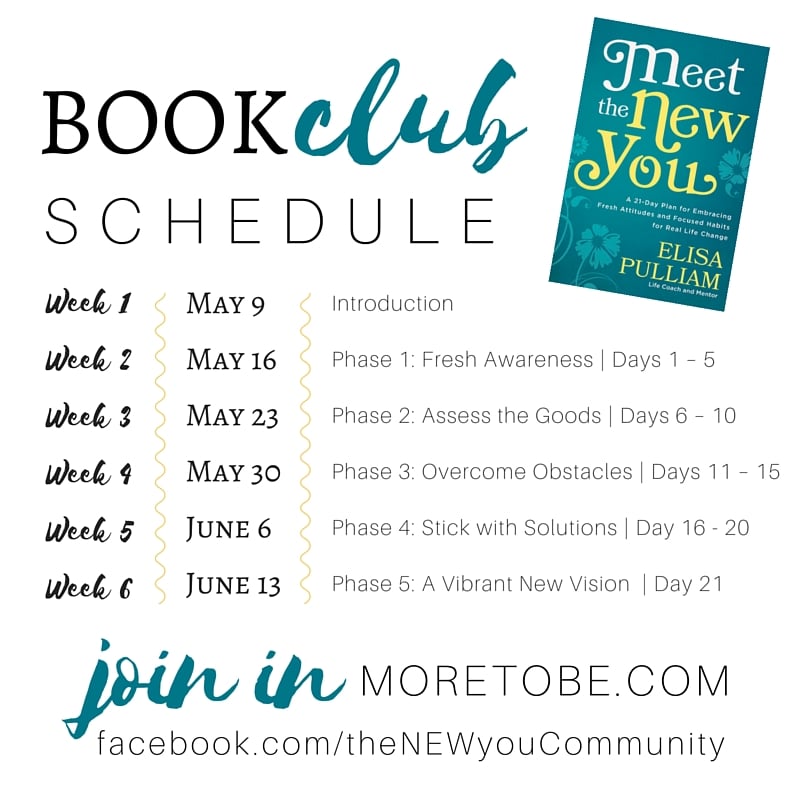 Read & Apply
As you dig into Meet the New You, you'll discover that there's more to this book than just light reading. The Trap & Transform exercises and Go Deeper Questions are designed to help you connect with God at a deep level and look at your life from a fresh perspective. However, I know that it's not always possible to invest as much time as is needed to get the most out of this book. So, to make this journey super doable, I suggest picking a track that works for you in this season of life.
If you pick Track 1, you'll get as much out of this book as possible. However, Track 2 or 3 will give you a great take-away and the satisfaction of finishing well, while being inspired to return to the book again in the future.
There's no one way to move through this content so pick the track that is best for you today!
Track 1:  All In, All the Way
Read Days 1 -5 and answer the reflection questions.
Trap & Transform Exercises
Track 2:  Just the Basics
Read Days 1 -5, answer the Go Deeper questions, and complete the Trap & Transform exercises listed below.
Trap & Transform Exercises
Track 3: Skimming this Time
Read Days 1 -5, but skip the Go Deeper Questions and Trap & Transform exercises. 
Discussion Questions
Jump into the discussion in#theNEWyou Community Facebook or leave a comment below with your thoughts! We'd love to hear from you.
What in your life feels "as is"?
How do you view time—is it an enemy that's always shortchanging you, or is "time on your side"? Explain your thoughts.
Which area of your life—responsibilities, relationships, or resources—do you feel needs the most attention right now?
Looking back on your life story, can you see times in which you had a plan for your future but God had something altogether different in mind? How did you respond? What was the outcome?
What would life look like if your root issues no longer had a stronghold on you?