I'm sure that the woman sitting behind me in church on Sunday morning must have thought I was a bobble head on the dashboard of her car. I couldn't help but to nod repeatedly in agreement as the pastor preached his way through a sermon series on being a game changer. He began his message with a timely question:
If the Christian life was an Olympic Sport, would you view it as an individual or team sport?
Great question, don't you think? But let me take this a step further:
Regardless of whether you see yourself as being on a team or playing solo in this Christian life, what does it look like to use your gifts and talents for the greater good?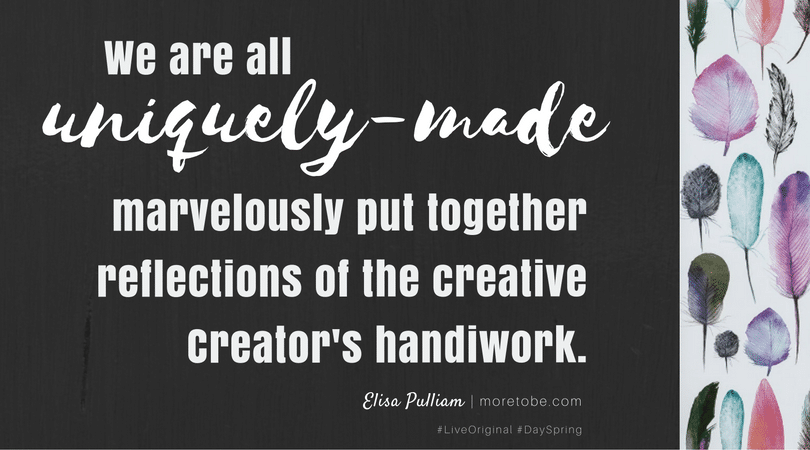 Consider the 2016 Olympics U.S. Women's Gymnastics team, for example. None of them compete on apparatus at the same time, and yet, when it comes to winning the gold medal as a team, it's each one's individual contributions that brought about such amazing success. It's both/and  . . . a individual sport leading to a valuable team contribution and a team sport utterly dependent on individual contributions.
It was all part of their strategy, Raisman explained in a pre-Olympic interview. "We're going in as the best team in the world," Raisman said. (source)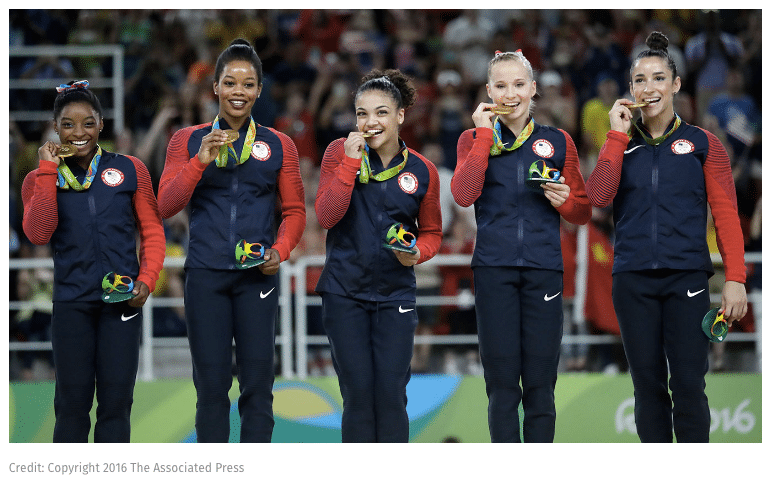 So let me ask you another question:
What does it mean to have the mindset of being a valuable contributor on "the best team" when it comes to your part in the family of God, where your purpose is to use your gifts and talents, with joy and purpose to benefit each other and glorify God?
Could it be that's what Duck Dynasty's star, Sadie Robertson, has in mind in her mission to live original? I love the message she and DaySpring have plastered all over the new Live Original collection: Be You. Shine. Fearless. You are valuable. Yet, as one who has struggled long and hard with believing that God's design of me is good, I know that it's so much more important to get the truth statements engraved on these beautiful objects deeply embedded in our hearts and minds.
What will it take to get us to happily embrace the way God designed us uniquely? When will we finally believe that "being me" is the best version of God's design?  While looking to others for inspiration and example is a good thing, wanting to more like them and less like ourselves is an insult to God's creative work and kingdom purposes.
Think again about those gymnasts on the Final 5 team. When they took their position on that team, they followed behind some of the greatest athletes God ever created. To some degree, they each may have envisioned being like Mary Lou Retton or Dominique Dawes. But in they end, they took the floor as originals. God looks at each one of them in the same we He see all of us — precious, purposed, and part of His plan.
[Tweet "We are all uniquely-made, marvelously put together reflections of the creative Creator's handiwork."]
So, will you choose to look at yourself the way God does . . . as an original? And will you take this message of being original to the hearts of the next generation so desperately in need of the truth? I know that it isn't always easy to know how to communicate the these principles to those girls following behind us, but that's why we're committed to equipping you to become a woman of impact, exactly the way God made you.
We're cheering you on, like we all do for our Olympians, so that you'll bravely and boldly embrace your place on God's team for His glory.
[Tweet "You are a woman of influence, so go ahead, and live original for His glory."]
The new Live Original collection by DaySpring
features on-trend gifts and décor that encourage and inspires
women of all ages to 'Live Original' as God created them.
DaySpring has teamed up with Sadie Robertson to encourage women of all ages to Live Original in the way that God made them.  Sadie loves to encourage those around her by living out and sharing her faith. One of her favorite verses, 1 Timothy 4:12 sums up Sadie's heart: Don't let anyone look down on you because you are young, but set an example for the believers in speech, in life, in love, in faith and in purity. Isn't that a message you want to impart on the next generation, as you embrace it for yourself today (regardless of your age)?