We sat across from each other at the kitchen table.  Neither of us wanted to make eye contact with the other. There was brokenness. There was mess. There was a thick air of emotion that clouded the table where just hours earlier our oldest daughter sat coloring.
"I'm scared of what will happen if we don't do this," were the words I managed to get out to him. He knew. We both knew. We knew we desperately needed to go into a new season with one another. A season of wholeness and mending. A season of letting God work in us like we had never let Him work before. It was going to be hard. But we both were ready for the fight.
I expected to feel a sense of hopelessness about it all. When the enemy takes over and the lies spread like wildfire, it's hard to combat those in our own weaknesses. But I didn't feel hopeless. I felt hopeful. I even felt a twinge of excitement about what I knew only God could do. I was scared silly of the work ahead, but fear is something God knows we battle all too well.
Have you ever felt scared to face the next season of life?
Moving to a new place.
Ending a relationship with someone.
Starting over in your career.
Dropping your child off at college. 
Welcoming new life into the world. 
Getting a medical diagnosis. 
Starting over as a single parent. 
Making strides in your calling.
The list can go on and on of things that can send us into a new season of life. Some seasons are hard seasons and we absolutely dread facing what it is to come. And other seasons are ones of excitement and anticipation of what God has planned.  No matter the season ahead, it can be scary not knowing what is to come.
Abraham.
Sarah.
Noah.
Joseph.
Moses.
David.
Jonah.
Ruth.
Mary, Mother of Jesus.
The disciples.
Paul.
These are just a handful of our Bible brothers and sisters who faced unknown seasons. I'm sure they were scared at times. I'm sure they wanted answers to their many questions. I would be willing to bet that at times, some of them even doubted if God would really come through for them.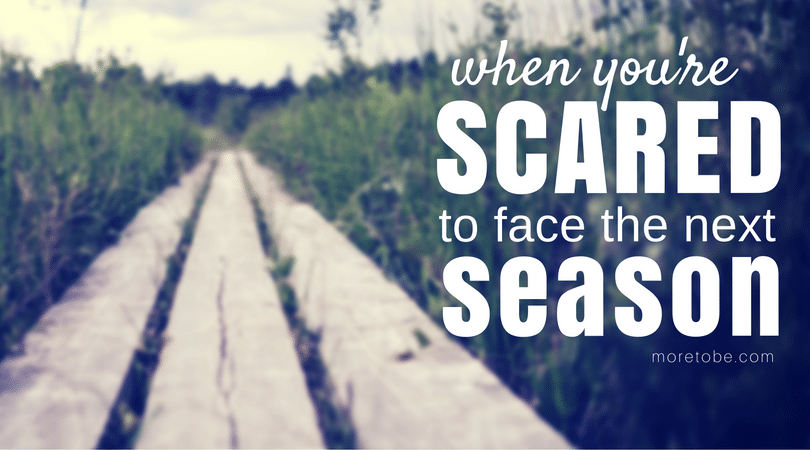 But they followed through. They walked through those hard seasons, those scary seasons when all they knew to do was put one foot in front of the other.
I am reminded of Jesus in the Garden of Gethsemane the night before he was captured and put on trial.
Matthew 26: 36-46
36 Then Jesus went with them to the olive grove called Gethsemane, and he said, "Sit here while I go over there to pray." 37 He took Peter and Zebedee's two sons, James and John, and he became anguished and distressed. 38 He told them, "My soul is crushed with grief to the point of death. Stay here and keep watch with me."
39 He went on a little farther and bowed with his face to the ground, praying, "My Father! If it is possible, let this cup of suffering be taken away from me. Yet I want your will to be done, not mine."
40 Then he returned to the disciples and found them asleep. He said to Peter, "Couldn't you watch with me even one hour? 41 Keep watch and pray, so that you will not give in to temptation. For the spirit is willing, but the body is weak!"
42 Then Jesus left them a second time and prayed, "My Father! If this cup cannot be taken away unless I drink it, your will be done." 43 When he returned to them again, he found them sleeping, for they couldn't keep their eyes open.
44 So he went to pray a third time, saying the same things again. 45 Then he came to the disciples and said, "Go ahead and sleep. Have your rest. But look—the time has come. The Son of Man is betrayed into the hands of sinners. 46 Up, let's be going. Look, my betrayer is here!" 
These verses are sheer beauty to me because we don't often look from the standpoint that Jesus would have been afraid of what was to come.  Jesus asked God multiple times to take the burden away from him.
"My soul is crushed with grief" (vs. 38). 
"Let this cup of suffering be taken away from me" (vs. 39). 
Though he knew his death was ultimately in God's will, I'm sure he felt scared of what was ahead.  But He so selflessly followed through.  He was The Lamb.  He was the sacrifice.
Even among his pleas, Jesus speaks those unforgettable words in his prayer. Your will be done.  Thank you Jesus for those precious moments in the Garden where you prayed those words. 
Jesus gives me hope to face a scary season.  All the people I mentioned above give me hope because in each of those situations, God did something remarkable.  Miraculous.  He redeemed something only He could redeem.  He brought beauty from situations that seemed ugly.  He brought peace where there had only been strife.  He brought Jesus to us.
God is so gentle and loving.  And He is good to His children.  He will not send us into a season without intent.  When you are afraid of the season ahead, you can be reminded of these remarkable things about the One who goes before us:
[Tweet "Though we may be fearful, God never is."]
Though we might tremble at walking through the hard stuff, God is always steady.
Though we don't understand the reason why, God always has a purpose for the pain.
Fear can be a good thing. It forces us to step out from under our soft and cozy Christian blanket and gives us the opportunity, if we so choose, to go deeper with God.
We may not know the season ahead.  What it will bring.  What the purpose is.  But we know the One who goes before us and that, my sweet friend, makes me await the next season with hope and assurance of the work He will do.
Romans 8:31
What shall we say about such wonderful things as these? If God is for us, who can ever be against us?
Verses for When You're Scared to Face the Next Season:
Psalm 31:19  (NLT) – "How great is the goodness you have stored up for those who fear you. You lavish it on those who come to you for protection, blessing them before the watching world."
Psalm 112:7 – "They do not fear bad news; they confidently trust the Lord to care for them."
Psalm 118:6 – "The Lord is for me, so I will have no fear. What can mere people do to me?
2 Timothy 1:7 -For God has not given us a spirit of fear and timidity, but of power, love, and self-discipline.
Psalm 62:1-2 – "I wait quietly before God, for my victory comes from him. He alone is my rock and my salvation, my fortress where I will never be shaken."
Isaiah 43:2 – "When you go through deep waters, I will be with you. When you go through rivers of difficulty, you will not drown. When you walk through the fire of oppression, you will not be burned up; the flames will not consume you."
Romans 8:28 – "And we know that God causes everything to work together for the good of those who love God and are called according to his purpose for them."