We're in the final days of 2016, and it feels good. Christmas is just days away and then we'll be celebrating the new year.
I don't know about you, but this has been a particularly hard year for me.
Going into 2016, I thought it would be the year that many of my hopes and dreams would come true. I had been pursuing the things I thought were important.
I firmly believed I was honoring God with my life, and I still believe I was.
But even so – even with my best intentions, the past year turned out to be the hardest, most miserable year of my life.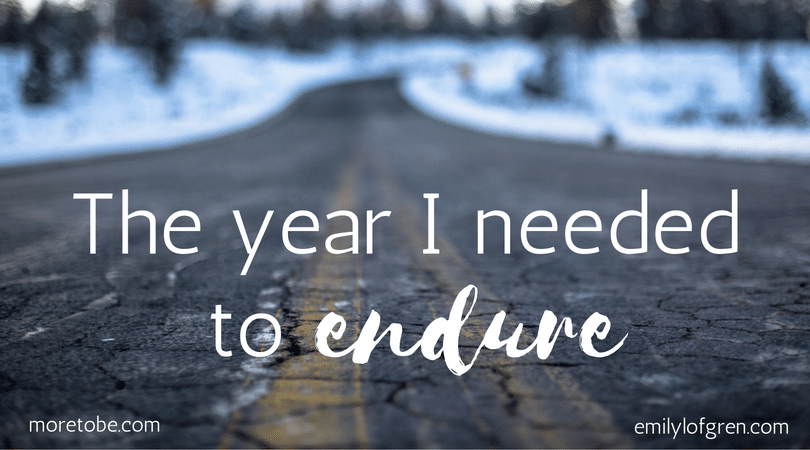 That happens sometimes. In life, we have no guarantees. Even if we work as hard as we can, make daily quiet time a priority, stay engaged in the local church, and pursue good, God-honoring things, we may still hit seasons where things don't go as planned.
My life was shaken up this year by chronic Lyme Disease and a host of other infections. At some points, I could barely walk, talk, or read. My body was (and still is) filled with pain. I experienced severe memory loss and honestly had many days when I didn't know if I'd make it to the next.
The illnesses that began to overtake my body had been threatening me for years. I had symptoms that would come and go, but I always thought I could fix the problems by cleaning up my diet, getting quality sleep, exercising, and taking supplements. However, there was a turning point when the sickness took a turn for the worst.
I got to the point where I could no longer rely on myself.
The situation was hopeless on my own.
My own personal strength failed me, so I needed to turn somewhere else for support.
So, where did I turn?
At my weakest points, I had to turn to God. I needed to go to the only source that offers true hope.
There was no one else I could rely on to meet all of my needs.
And you know what God did when I turned toward Him and cried out? He showed up. He provided me with comfort and He provided me with hope.
[Tweet "God always comes near to us when we come near to Him (James 4:8)."]
I have to admit that turning to God isn't the most natural thing in the world for me. Because of my pride and my self-sufficient nature, I struggled with letting go of control over my life. In fact, I believe that part of God's plan was to turn my illness around and use it to draw me nearer to Him. God can and will turn everything around for our ultimate good when our hope is in Him (Romans 8:28).
I shared earlier that in life we have no guarantees, and that is true when we look at what the world offers us. But, if we have our hope and our trust in Jesus, we can have a guarantee. When I put my trust in Jesus, I was given a guarantee.
Paul writes in Ephesians 1:13-15, "And you also were included in Christ when you heard the word of truth, the gospel of your salvation. Having believed, you were marked in him with a seal, the promised Holy Spirit, who is a deposit guaranteeing our inheritance until the redemption of those who are God's possession – the praise of his glory." (NIV)
I love this promise here. Knowing that when we hear the gospel and believe in Christ, we have the Holy Spirit given to us is pretty cool. And then knowing that we ultimately have Heaven to look forward to is even cooler. I couldn't have gotten through this rough year without having a hope in something greater than this world.
While this year was, by far, the hardest year of my life, I believe I needed this year so that I could grow into the daughter of God that I was created to be. I'm still a work in progress, as we all are. But, without being at the point of complete desperation, I would not know the Lord as intimately as I do now. I have seen how God provides and I know that He is good.
This is the year I needed to endure.
What has this year been like for you?