After the family funeral, one of the older women approached me in the buffet line between scooping spoons of mac and cheese and chicken piccata onto my plate. Another peppered my daughter with questions through the stall door of the church's ladies room. A third struck up a conversation with my son while waiting to greet the family after the memorial service. They spoke as if they knew the intimate details of our lives, asking questions only a magician, or someone in the family's inner circle, could pluck out of blue sky and thin air.
When my son turned to me with wide eyes and a questioning look during the granny brigade's interrogation, I shrugged my shoulders and smiled.
He had finally come face to face with a lifetime member of his grandmother's infamous Sister Circle.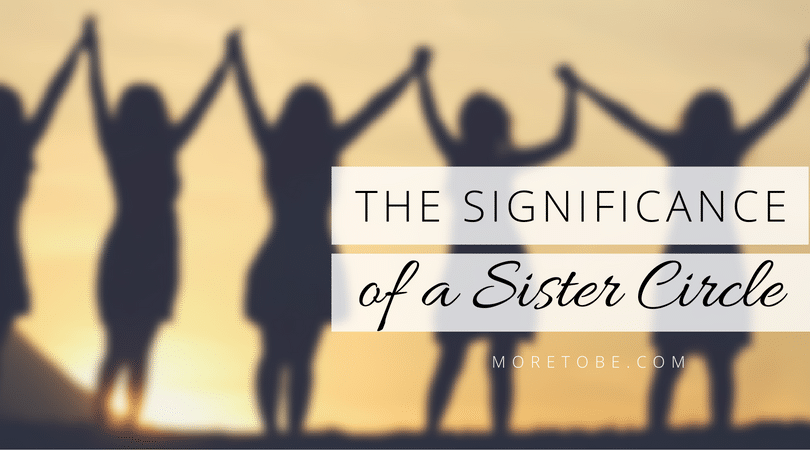 Nothing could prepare him for the death squeeze against a matronly bosom or the knowing looks or the instant love expressed through a familiar connection. He had to force-grin and bear the delicious weight of it.
The Sister Circle grew out of a tight-knit group of high school friends, with my mother-in-law and her own flesh and blood sister at the center of it.
After fifty years of consistent, daily, real-life friendship, these women have accompanied each other into their mid-seventies. They grew up together, supporting one another through courtship, marriage, birth, illness, grand-babies, and for some, the loss of their husbands.
They have weathered the years like an interlocking wall made of thick stone, and when one sister became weak or another threatened to crumble, the others stood firm, holding her in place.
They made space for one another, for joy and pain, for personality quirks and open-ended questions.
My son didn't know what to make of women who sister through life together. At fourteen, he can't yet understand the significance of the Sister Circle and the gift of their prayers over the course of their friendship.
His friends are scattered like stars across an endless sky, many a virtual reality rather than a flesh and blood existence. He has lived in three different countries, attended multiple schools and church campuses, and lived hours away from extended family.
He is a man-child—unfamiliar with the inner workings of the female mind, and the way celebration and birth and death and Jesus shape women into the bedrock on which families and friendships are built.
The Sister Circle is a gift not only because of their interest in our lives or their countless prayers, but because they champion longevity.
They enflesh commitment.
They prove that the radical act of staying mortared together in friendship over the course of a lifetime is possible. It is beautiful and hard and utterly life-changing for the Sisters themselves and for everyone they encircle.
What would it look like to form a Sister Circle in your life?
Could the Brave Women Manifesto give you a connecting point?