I have this spot in my house—my little prayer corner that I set up after watching the movie The War Room. I spent a lot of time in that spot . . . until recently.
A little over a year ago, a lifelong friend was admitted to the hospital for what she thought was a kidney stone. After a lot of ups and downs, she finally discovered she had a rare form of virulent cancer.
While she battled the cancer ravaging her body, the rest of us battled in prayer.
My friend loved the Lord and her family. She was the sort of mom everyone wanted to be—devoted to her family, loving, patient, and kind. In as far as a human could do, she was doing everything "right."
I spent a lot of time in my little corner, praying for my friend and her family. I truly thought my prayers would be answered in the way I wanted. But within a year of her diagnosis, my strong and brave friend lost her fight.
That is not how I expected her story to end.
Her funeral was one of the hardest I've attended. Deep lines of grief etched the faces of those my friend left behind. She was not only a wonderful mother but an only child. Her parents were as devoted to her as she was to her own children. And her husband had loved her with a fierce and rare depth. She was a treasure to those who knew her.
She was gone, leaving behind a spot big and empty.
Standing in the room of grieving people, my heart burned within me and questions boiled in my mind. I didn't want to let her go. It wasn't fair. She didn't have to die. God could have healed her with a touch. Why did he take her away from these people who loved her so much?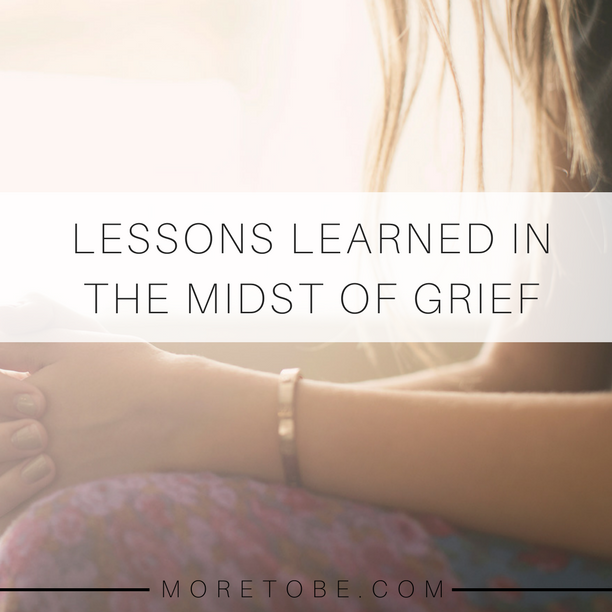 Not long after my friend's death, a friend of my daughter's was murdered. The young lady was murdered in her sleep by her own grandmother in a devastating murder-suicide.
Terrible. Tragic. Unfathomable.
Add onto that the daily struggles of my daughter with autism and a severe speech impairment. Every day brings new challenges for us. This, too, is a form of grief, a constant letting go of expectations and adjusting to a new normal. Don't get me wrong—this is not a grief directed negatively at my daughter. We love her and are thankful for her. She has had an amazing impact on the people around her. But I would not be honest if I did not admit how hard it is for me to see her struggle. And there is a constant nagging fear deep in my heart about what will happen to her when my husband and I leave this life.
This has been a season of unanswered questions.
I've struggled. Grief often washes over me in torrents. It pulls me under its waves, pushing air from my lungs. Some days I am drowning.
A few years ago, I managed to write several blog posts a week. Now I can't seem to get one post finished a quarter. My thoughts are disorganized and my emotions erratic. I carry this constant knot of anxiety deep in my chest. And I can barely look at my little prayer corner, much less spend time in it.
And yet.
This has also been a season of blessings. In the face of these deep losses and challenges, I've learned some deep lessons.
First, I'm learning to notice what's important. If my friend's death taught me anything, it was to treasure the moments we have.
[clickToTweet tweet="We can let the unimportant go and stop worrying about the small stuff." quote="We can let the unimportant go and stop worrying about the small stuff."]
Seriously, worrying does not change events. It might lend us a false feeling of control, but in reality, worrying is just spinning our wheels in a pit of mud, going nowhere. Radio personality Brant Hansen quoted an unknown source the other day saying something like, "Worrying is taking on the problems of God without the power of God." So true.
Worrying is a waste of our time and energy. Our time is better spent in prayer with the Father than with worrying about things going our way.
Aside from worrying, a lot of people, activities, and needs pull at us on a daily basis. We must weed through it all and decide what's important and what can be let go. I've also learned God's grace doesn't depend on our mood, reaction, state of mind, or participation.
[clickToTweet tweet="God's grace doesn't depend on us." quote="God's grace doesn't depend on us."]
The fact that God loves us does not depend on what we do. God loves us just as much when we're quiet and hurting as he does when we're strong and reaching out to others.
Though I've felt guilty and sad about not approaching my prayer spot, I know God is not looking at me in condemnation for my perceived failure. In fact, through this time of difficulty I've realized sometimes I have approached my spiritual walk as a list of "have to's" and "need to's." In some ways I've even mentally made it a checklist: Did I meet all the guidelines for spiritual disciplines today? Then I get a gold star. Yippie for me.
But our spiritual relationship with Jesus is meant to be so much more. From my own journey as a parent trying to help my child through grief this year, I've learned that what I want the most is for her to share her heart with me. I not only want to help her through things, I want her to seek out a relationship with me. I want to be there for her.
Somewhere along the way, I've realized my desire for a deep relationship with my daughter is a glimpse of the love God has for us. In the book of Ruth, God is described as someone under whose wings we can take refuge.
[clickToTweet tweet="God wants to be our place of refuge. He doesn't want to be a checklist of a bunch of "have to's." " quote="God wants to be our place of refuge. He doesn't want to be a checklist of a bunch of "have to's.""]
He wants us as his children to come to him and take refuge in him. He wants us to find peace and comfort and hope in him. He wants to walk with us during difficult times.
He wants us to find peace and comfort and hope in him. He wants to walk with us during difficult times.
He wants to walk with us during difficult times.
Jesus offers us the deepest relationship we will ever experience—oneness with him. He wants this from us. He doesn't require us to act perfect, feel perfect, or be perfect first. He simply says, "Come."
And that's what we're called to do. Come. Go to the Father with our hearts. During my friend's illness, a wise friend said to me, "We are not only called to pray people out of tough situations but also to pray them through it."
I don't have solid answers for why bad things happen to any of us, but the truth is that we live in a fallen world. This world will never be Heaven. Because of God's grace, He allows all of us to live in the world he created, and he gives us free will to come to him. This also means he allows this world to have bad things, too. He allows us grace to make good and bad choices. He allows good and bad to happen to all of us. And at some point we are all going to die. I can't understand everything, but I do know for me that the more I experience pain and sorrow, the more I understand true joy. The more time I spend in darkness, the more I appreciate the beauty of light.
I recently taught from the book of Ruth and took a new notice of Naomi's struggle. In the beginning of the book, we meet Naomi who had moved to a new land with her husband and two sons. All three men in her family died. She returned to her homeland several years later with only her sweet daughter-in-law, Ruth. When Naomi returns to her people, she does not pull punches when describing the depth of her grief. She describes herself as bitter, empty, and afflicted (NIV). This is a woman who understands grief.
As Naomi expresses her soul-deep pain, no giant bolt of lightning from Heaven zaps her; no one chastises her; no one shames her for expressing her feelings.
I also love how the book of Ruth is, in part, the journey of how Naomi learns to hope again. At the end of the book, the picture we see of Naomi is her surrounded by community, her friends and family declaring how God will renew her life and sustain her.
This, too, is the promise we have in Jesus: One day all our tears will be wiped away. (Rev 21:4)
Today I sat in my little prayer spot as I planned what to say in this post. At first, it wasn't easy. The pain over my friend came back, sharp and sad. But at the same time, it was like crawling back into the lap of the Father and feeling at home.
If I can leave you with only one thought, it is this from Psalm 68:19: "Praise the Lord; praise God our savior! For each day he carries us in his arms." (NLT)