Are you craving alone time with God?
Do you wish you could unplug and escape the noise so that you can hear the still small voice of God?
For most of us, it's a challenge to find the time to get alone with God and into His Word without interruption, never mind the extra financial resources to devote to a retreat.
Going away for even 24 hours may not be an option, as that kind of departure usually put unnecessary pressure on our families and work. Making the financial commitment to stay in a hotel or attend a conference isn't always a viable solution for some spiritual rejuvenation.

So what would it look like to creatively pursue having a retreat at home?
I wouldn't have believed it could be possible to have a retreat at home until I experienced it for myself. Truly, I had the kind of retreat experience that made me feel refreshed spiritually, emotionally, and physically. My at-home-retreat wasn't followed by a crash and burn re-entry either since it was so evenly paced and spread out during windows of time that worked within my carved-out schedule.  So how did I make a retreat at home happen? Well, I planned a few days in advance and decided on what I would study, and then I kept some boundaries in place in order to guard my retreat time. Here are some suggestions for you to do the same:
Step 1:  Schedule the Time, but Be Realistic
While a typical retreat may be a full day or overnight commitment, feel free to break your retreat time into two to four-hour chunks over two days. It doesn't have to happen all at once!  For example, you can either slot a morning, afternoon, or part of an evening.  Work your retreat blocks according to the natural time you can find to be alone, such as while the children are at school or napping. If you're a homeschooling mom or have little ones around all the time, designate an evening after bedtime, an early morning before they rise, or see if you can get a friend to take them for a playdate. If you're a working woman, how about taking a whole week of lunch hours to retreat with God, even in your car or a corner of the office somewhere?  Once you pick your time-frame and date(s), put it on the calendar and start preparing by getting the distracting chores and immediate deadlines taken care of so that you can truly relax during your retreat time.
 Step 2:  Set the Stage
Women's retreats are often inviting because of their theme and setting. So for your retreat, be sure to pray about your purpose as well as your setting. Will you retreat at home? In your den or bedroom? At a park? Or might you go to your in-laws' empty home while they are at work (with permission of course) or trade spaces with a friend for a bit?  Once you know where you'll retreat, consider setting the stage with a few simple treats.  For example, you may want to pick up a new candle and a sweet snack or favorite drink to have on hand. You could even purchase a special mug, a journal, and a pen (a dollar store can be a great place to get all this for under $10) especially for your retreat time. Put it all together in a basket and have it ready to go. You may also want to make a playlist of your favorite worship music or tune into a Pandora station playing hymns or worship music during your retreat.
Step 3:  Plan Your Purpose, Then Do It
What's happening in your heart these days? Are you struggling with insecurity or pride? Would you like to understand more about the character of God? Is it time to forgive that hurt and embrace God's grace?  Figure out the topic you need to meet with God on and then do some research to find a sermon series or study that can guide your retreat time, such as: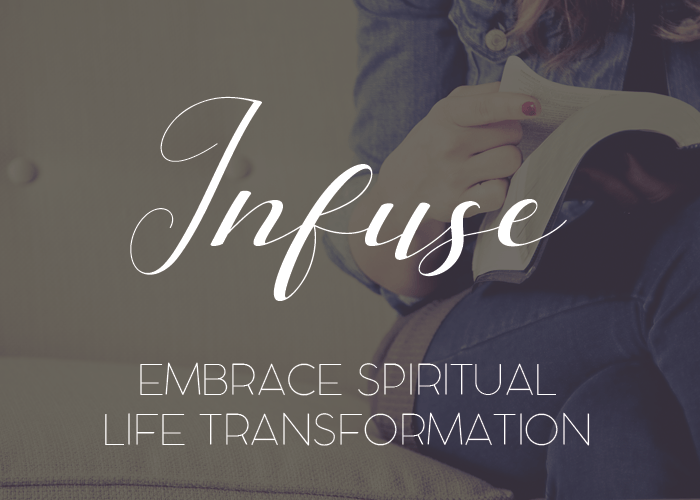 When the time comes for your retreat, decide whether you'll watch or listen to the messages online or on your iPod or smartphone. If you're the creative type, you might even enjoy crafting while listening to the messages, such as painting, knitting, or beading. If you're not the crafty type but fear falling asleep, grab your journal and take notes. It's your retreat time to enjoy your way, with the focus on getting the truth into your soul!
When you're done listening/watching, spend time journaling and praying (or doing both at the same time) and put time into studying by looking up the key Scriptures (I love Biblegateway.com for seeing verses in different translations). If you feel the Spirit's leading, read through an entire book of the Bible or multiple chapters and record what you're learning. The goal is to walk away with a keeper truth for each time you spend retreating. It doesn't have to be a deep theological principle, but something you can continue to pray on and think about in the hours and days ahead.
Step 4:  Transition Into and Out of Your Retreat
To get ready for your retreat, put your phone on silent. Put an "out of the office" reply on your email. Turn off your computer or at least close your email and browser.  If the kids are home, explain to them your start and end time, and have a basket or list of activities to keep them busy. It may be a great time for a special surprise movie.
Your retreat can't last forever, right?  So end your block of time with a keeper thought and action step. What is one Scripture you want to meditate on for the next 24 hours? Write it down on an index card and post it where you can see it regularly. If you have plans to do another retreat block, make a commitment to do something to keep you in retreat mode, such as continuing to listen to your worship playlist or another message while folding laundry.  Maybe you can limit checking email and stay off social media until your next session.
As you finish up your final retreat session, think about how you can leave a stone of remembrance on this time that will help you walk away with the truths you've learned. Consider making something or writing down a truth to post at your desk or on your mirror.
Of course, it is wonderful to get away for a retreat, either alone or with friends, but the reality is that for most of us, the schedule and resources prevent us from doing so as often as we'd like. Rather than thinking of a retreat as an all or nothing experience, make time for an at-home-retreat, which can really be spiritually and physically transforming.
Anytime with the Lord and in His Word will reap great dividends.

I pray that you'll be inspired to do your own at-home-retreat and experience a spiritual overflow in your life now and not put on hold until your time and bank account can afford to do so.
This post was originally published at elisapulliam.com.