Have you ever noticed how certain words carry a particular meaning depending on our generational differences and the themes of culture? I'm not just talking about slang, which changes with each decade. Like the way Millennials are high key salty while the GenXer's are chill, and neither of those expressions has anything to do with music, food, or temperature.
When it comes to the matter of our calling we end up in a similar situation. We may be having a conversation about finding meaning in life and uncovering our God-given purpose with someone who shares our biblical worldview and yet because of how we define the word "call" or "calling" we can hold completely different viewpoints on the priorities of career, passions, and life purpose.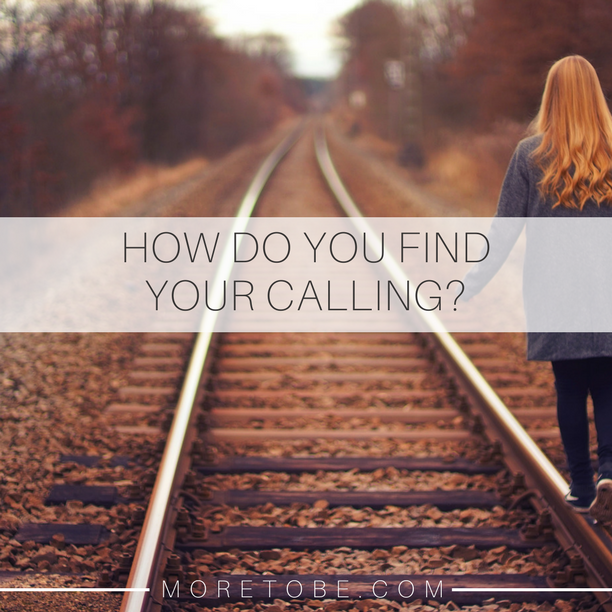 So what exactly does it mean to be called?
Do we need to be "called" to have a "calling?"
Is it even worth spending time discussing the difference between called and calling?
Chances are these questions will be answered differently by each generation. Traditionalists and Baby Boomers may not feel compelled to find their calling because they aren't looking for a career or title that validates their worth to quite the same degree as GenXer's and Millennials. For those in their twenties and thirties, there is a deep passion to uncover a meaningful life — a calling. That pursuit comes from a place of desperately wanting to be certain that what they are doing with their lives is the best use of their time and resources.
While it might be nice to come up with our own definitions of "called" and "calling," what if we gave up our presumptions, along with our cultural and generational biases, and instead embraced a Biblical perspective?
Yes, the Scriptures really do speak beautifully to the concept of being "called" and embracing our "calling." These two words are used throughout the New Testament, and they actually have different meanings because they come from two different Greek words.
Kaleo means "called," but think "identity."
The definition of Kaleo means:
to call

to call aloud, utter in a loud voice

to invite

to call i.e. to name, by name

to give a name to

to receive the name of, receive as a name

to give some name to one, call his name

to be called i.e. to bear a name or title (among men)

to salute one by name
Kaleo is found in the following passages:
1 John 3:1 NIV
See what great love the Father has lavished on us, that we should be called children of God! And that is what we are! The reason the world does not know us is that it did not know him.
1 Peter 2:9 NIV
But you are a chosen people, a royal priesthood, a holy nation, God's special possession, that you may declare the praises of him who called you out of darkness into his wonderful light.
Matthew 4:21 NIV
Going on from there, he saw two other brothers, James son of Zebedee and his brother John. They were in a boat with their father Zebedee, preparing their nets. Jesus called them . . .
James 2:23 NIV
And the scripture was fulfilled that says, "Abraham believed God, and it was credited to him as righteousness," and he was called God's friend.
Ephesians 4:4 NIV
There is one body and one Spirit, just as you were called to one hope when you were called; one Lord, one faith, one baptism; one God and Father of all, who is over all and through all and in all.
Kaleo describes the process of being called by name as opposed to task or responsibilities. We can think of Kaleo as the word to describe our identity as opposed to our responsibilities. For example, by putting our faith in Jesus Christ as Lord and Savior, we are adopted into the family of God, and then we're "called children of God."
Klēsis means "calling," but think "responsibilities."
The definition of Klēsis means:
a calling, calling to

a call, invitation

to a feast

of the divine invitation to embrace salvation of God
Klēsis is found in the following passages:
Ephesians 4:1 NIV
As a prisoner for the Lord, then, I urge you to live a life worthy of the calling you have received.
Ephesians 4:4 NIV
There is one body and one Spirit, just as you were called to one hope when you were called; one Lord, one faith, one baptism; one God and Father of all, who is over all and through all and in all.
Philippians 3:13 NIV
I press on toward the goal to win the prize for which God has called me heavenward in Christ Jesus.
Romans 11:29 NIV
for God's gifts and his call are irrevocable.
Ephesians 1:18 NIV
I pray that the eyes of your heart may be enlightened in order that you may know the hope to which he has called you, the riches of his glorious inheritance in his holy people…
Klēsis describes an action as opposed to our identity. It describes the "invitation to embrace the salvation of God," and then it is walked out daily in the choices we make regarding how we fulfill our God-appointed responsibilities.
So what do we do with being called and embracing our calling?
When God calls us His own, we receive a new identity as children of God. And with that new identity, we also receive a new calling. It doesn't necessarily mean we change our career or responsibilities or even where we live.
[clickToTweet tweet="Receiving our calling is giving God glory in every kind of work, paid or unpaid, that we put our hands to." quote="Receiving our calling is giving God glory in every kind of work, paid or unpaid, that we put our hands to."]
Our "work" is what we do to provide for ourselves and our families as well as everything else we do with our hands, heart, and mind. Our calling is our 9 am to 5 pm work —whether it is in the workplace, ministry, or home. It's our work, even if we don't get paid. It's our work, even if it is motherhood. It's our work, even if we don't love what we're doing. And it's also our work when it happens from 5 pm to 9 am. Those hours are equally significant, and sometimes even more precious depending upon the relationships and responsibilities God has ordained for us.
At the heart of the matter is whether we see our calling in light of how God sees our work.
In Ephesians 2:10, we are described as "God's handiwork (workmanship or masterpiece), created in Christ Jesus to do good works." The word "works" comes from the Greek "ergon" which means:
business, employment, that which any one is occupied

that which one undertakes to do, enterprise, undertaking

any product whatever, any thing accomplished by hand, art, industry, or mind

an act, deed, thing done: the idea of working is emphasized
The work that God would have us put our hands to comes in all shapes and sizes. There's not one particular career that is the one. There isn't one role that is the one. Our work can't help but change over time as we continue to be sanctified and transformed by God through the power of the Holy Spirit at work in us.
And ultimately, our work is never meant to be about us in the first place.
Our work is supposed to be about God's kingdom purposes accomplished for His ultimate glory.
Maybe that is why the word for handiwork or masterpiece comes from the Greek word "poiēma," from which we get our English word "poem." Could it be that God is telling the world a story through the work we do each day? 
Our work gives God glory, not in the "what" but the "how" we go about accomplishing it. 
Whether it is changing diapers or taking out the trash. Entering data into a spreadsheet or creating a presentation. Teaching a child to read or how to drive a car. Caring for a dying patient or cheering on a client.
Maybe that is why Paul urges us to live a life worthy of the calling we have received because it's not really about us at all. It's about the way God is going to use us as everyday missionaries in every kind of work we get to do.
---

Would you like to unpack your calling and purpose?
Book a consultation session with one of our coaches to get started!