Have you ever felt so overwhelmed by the needs of those around you that you felt almost paralyzed because you didn't know how to help or what to do?
Do you struggle to feel like you're making a difference, even if it is just one person at a time?
I am a chaplain at a Christian boarding high school in Georgia, and after hurricane Irma hit Florida, we made a decision take a group of students and head down to help with the cleanup efforts. So, one week after the storm slammed into the west coast of Florida, we loaded up chainsaws, rakes, shovels, and other construction materials and headed south. We had no idea what to expect, but we said a bunch of prayers and stuffed 35 students into two mini-buses and a Suburban and took off.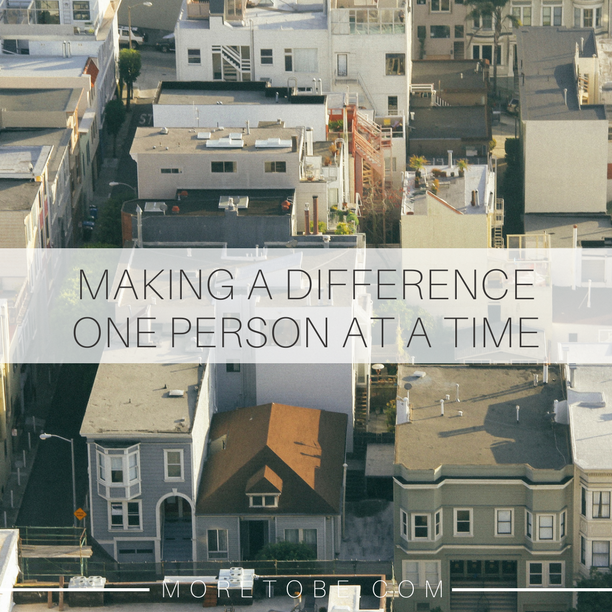 When we arrived at the church we were staying at after dark, so it was difficult to see what damage had been done. The next morning after breakfast we got some names and addresses from the local pastor of people who needed help, and we headed out into the community.
As we drove, the students questioned why we were even there.
It appeared like life was going on as normal with little or no damage.
Sure, there were some trees down, but those would be easy to clean up . . . and then we turned a corner.
It is hard to describe the scene we encountered in this neighborhood that had been flooded during the hurricane. Mattresses, couches, dressers, tables and chairs, not to mention clothes, toys, and photo albums lined the street. We could barely drive down the road because every earthly possession these people had was piled up in their yard and was spilling into the street. Not to mention the tree branches and yard debris that was mounded up.
The rest of the day was spent removing downed trees and limbs, cutting out damp drywall, and hauling out soggy furniture.
At one point during the day, I looked around and wondered if we were making that much of a difference.
It felt like there was so much to do.
These people's lives had been turned outside down. We couldn't put their house back together. We couldn't replace their family pictures. We couldn't turn their water or electricity back on.
It was then that I fought back against the lies of the enemy. Sure, we couldn't magically restore order to these people's lives, but we were doing what we could. We were giving our time and serving the best way we knew how. By the end of the day, it was rewarding to see how much progress 35 hands and feet had made. Trust me, there was still so much to be done in that neighborhood, but for the five families we were able to help that day, we made a difference.
First Peter 4:10 reminds us that our job is to serve others:
"God has given each of you a gift from his great variety of spiritual gifts. Use them well to serve one another."
There were thousands of people in Florida affected by the storm who needed help, and I can look at it that we ONLY helped 10 families while we were there, or I can look at it that we HELPED 10 families while we were there.
[clickToTweet tweet="There are so many people hurting in this world, and it can feel daunting to be Jesus' hands and feet. Fortunately, He asks us to change the world one person at a time." quote="There are so many people hurting in this world, and it can feel daunting to be Jesus' hands and feet. Fortunately, He asks us to change the world one person at a time."]
He simply asks us to share with others what we have received.
Paul gives us these words of wisdom in 2 Corinthians 1:4: "He [God] comforts us in all our troubles so that we can comfort others. When they are troubled, we will be able to give them the same comfort God has given us."
Who has God brought into your life who needs love and attention?
Who can you serve in your family, workplace, church, or community?
May it start at home with those closest to us, and may it spread out like ripples upon the water, touching whoever God brings into our path. Whether our sphere of influence includes four people or twenty people or seventy people, may we love, serve, and comfort them well—one person at a time—because the smallest encounters make the biggest differences.