Have you ever felt like you're being "pressed in on every side?" I'm guessing the answer is "yes," because we know from Scripture that trials are a part of our life. The worries and weight of living in this world fall upon all mankind.
Being a follower of Christ doesn't mean living a life without suffering.
As it is described in Matthew 5:45 (NIV), "He causes his sun to rise on the evil and the good, and sends rain on the righteous and the unrighteous." But how do you respond in those suffering seasons?
Are you able to stand under the Word of God even when you don't understand His ways?
Or do you find it harder to believe God's Word as truth and cling to God's promises? Years ago, I would have doubted God's Word in the middle of a trial like the one I find myself in presently. See, I recently received a medical diagnosis that explains so much but also dashes so many dreams. While coping with that new reality, I had to wait for another test result that could have dramatically changed the course of my future. And in the middle of all that, I've been walking with loved ones through their own crisis situations. Sometimes it feels like too much. Ever feel that way?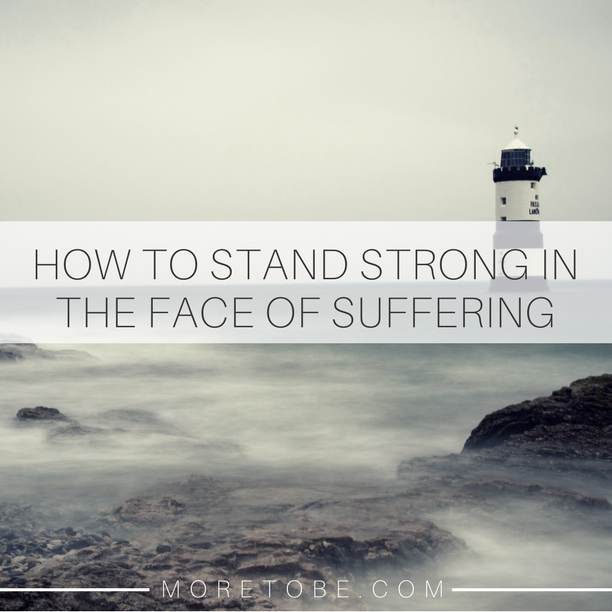 But in this suffering season, I've noticed that while my flesh is indeed overwhelmed, I'm not consumed by worry. Maybe that's because I've discovered that God is faithful — not because of the absence of trials but because of the presence of them over the last decade.
I've emerged on the other side of the stormy waves breaking on the shores of life believing more fully in the God of the Scriptures over the god of my feelings.  
Yes, He has revealed the fullness of His character more through trials than anything else.
He has opened my eyes to see the fulfillment of His promises — the ones I've taken in before the storms came crashing my way.
[clickToTweet tweet="It's the time spent in the Word that prepares us to endure the storms of life. #unblindedFAITH #moretobe #devotional" quote="It's the time spent in the Word that prepares us to endure the storms of life."]
That's because the Word is our offensive weapon in this everyday battle we face as followers of Christ. The enemy of God, Satan himself, and all his minions, are on a mission to destroy us (John 10:10). But God has given us a battle plan in Ephesians 6:10-12 (NLT):
A final word: Be strong in the Lord and in his mighty power.  Put on all of God's armor so that you will be able to stand firm against all strategies of the devil.  For we are not fighting against flesh-and-blood enemies, but against evil rulers and authorities of the unseen world, against mighty powers in this dark world, and against evil spirits in the heavenly places.
Satan uses external situations to create internal turmoil.
That's his attack plan — distract, defeat, destroy. But God's got a great plan at work, that we may stand strong through the power of Jesus Christ and the work of the Holy Spirit, fully strengthened by our spiritual armor, which includes the Word of God.
The Word, who is Jesus, is essential to the armor we need to put on every single day, because the day of evil is coming at us all the time.
Therefore put on the full armor of God, so that when the day of evil comes, you may be able to stand your ground, and after you have done everything, to stand. Ephesians 6:13
The spiritual armor of God enables us to STAND UNDER God's protection even when we don't UNDERSTAND God's purposes.
Yes, I'm playing with words!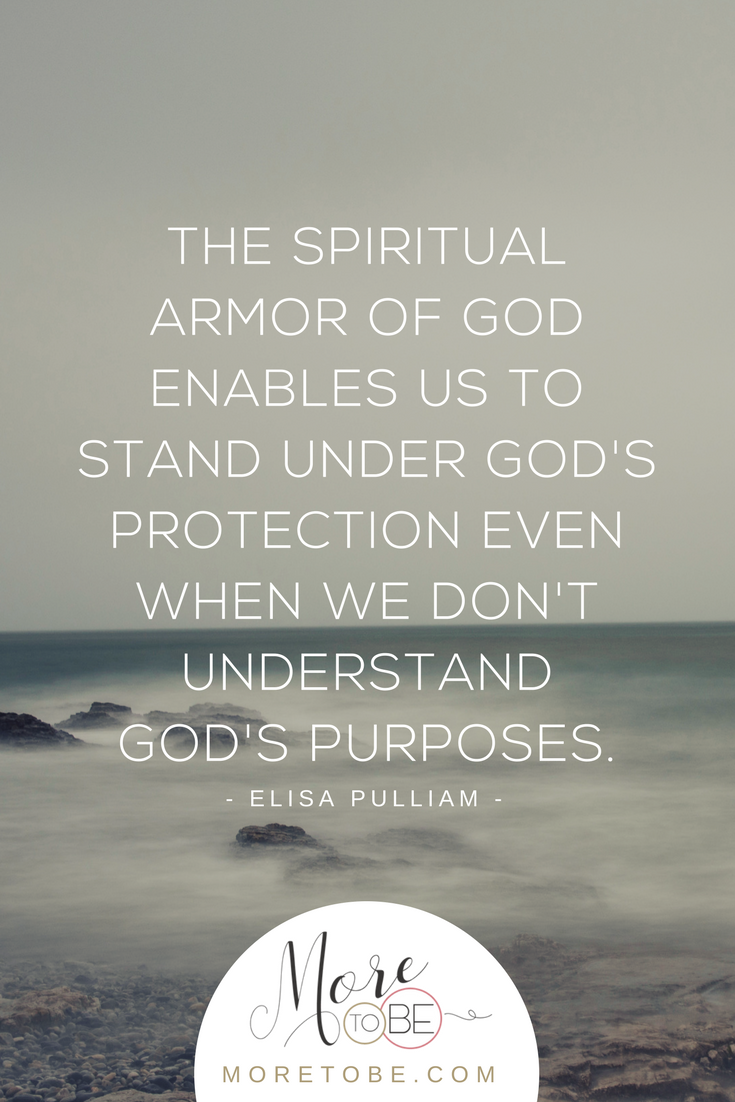 In the face of trials, we STAND not in our own strength but fully armed with the offensive and defensive weapons God gave us in the Word and in Christ, himself:
TRUTH:  Stand firm then, with the belt of truth buckled around your waist.
RIGHTEOUSNESS: With the breastplate of righteousness in place.
GOSPEL OF PEACE: And with your feet fitted with the readiness that comes from the gospel of peace.
SHIELD OF FAITH: In addition to all this, take up the shield of faith, with which you can extinguish all the flaming arrows of the evil one.
HELMET OF SALVATION: Take the helmet of salvation.
SWORD OF THE SPIRIT: And the sword of the Spirit, which is the word of God.
So let me ask, are you using the Word of God as your sword in response to all that is coming at you each day from the evil one?
Oh yes, friend. Bible reading isn't simply a good idea. It's necessary in this journey to eternity in order to endure the daily cross we're each called to carry — a cross of suffering that Jesus first carried for us.
***
Don't know where to start in reading the Word of God?
In need of a jumpstart to get your time with the Lord recharged?
Grab a copy of Unblinded Faith: Gaining Spiritual Sight Through Believing God's Word. This 90-day devotional is a perfect tool to add to your battle plan, reminding you to take up your sword while trusting in God's victorious work already satisfied by the cross.