God's existence has always been a fact to me. I've never truly questioned His presence in the world or in my life. It's always seemed apparent to me that God is real, He is good, and He loves me. There's a firm grip that relentlessly holds the boundaries of my belief in place. I cannot shake the reality of His presence.
However, there have been times, seasons even, when I subconsciously doubt His ability to handle my problems enough for me to hand them over. I hold them tightly to my chest without even feeling my knuckles whiten — completely unaware that in my desperation to cling to my feeble solutions, I've not given God the chance to offer His.
This is the essence of doubt, isn't it?
A quiet questioning of God's power that might never see the light of day.
It hovers silently right beneath our consciousness, where it's safe to sit unaddressed, unspoken.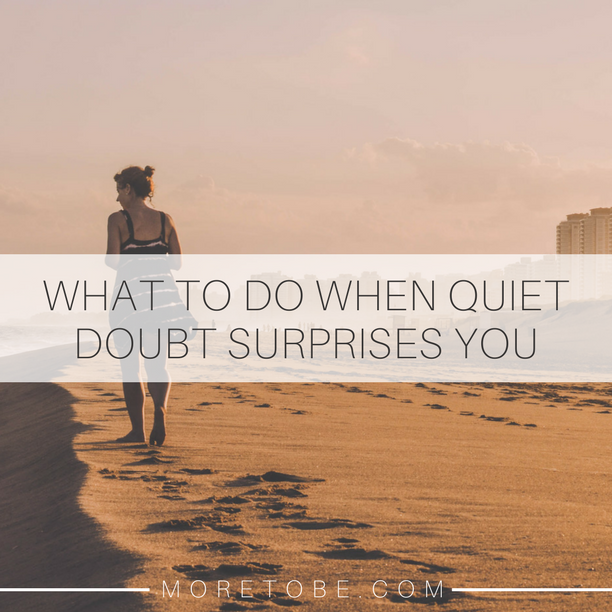 If we aren't careful, this silent predator spreads its tentacles into areas of life we never anticipate. We experience anxiety and wonder why. We know God is good, and that He is peace — so why don't we feel peaceful? I believe this is the work of the enemy that so often goes ignored, and that's the entire point.
[clickToTweet tweet="If we don't call it out of ourselves, this unquestioned presence of quiet doubt in our lives, then how will it ever leave?" quote="If we don't call it out of ourselves, this unquestioned presence of quiet doubt in our lives, then how will it ever leave?"]
In Matthew 14:31, Jesus saved Peter from drowning, after Peter walked on the water to Him. Peter saw that the wind had begun to rage, and in his fear he cried out for Jesus to save him. Jesus' response was to grab Peter instantly, and then he said to him, "O you of little faith, why did you doubt?"
Peter had already seen the miracles performed by Jesus — and yet just beneath the surface, doubt was lurking in Peter's heart.
When we have our own storms in life, we often cry out to Christ for rescue. When we get an unexpected diagnosis or answer a phone call that changes everything, our first response is one of faith. Just as Peter walked out of the boat onto the sea, full of faith that his Lord was on the water in front of him, we believe that Jesus has heard our prayer and He is faithful to answer.
What happens next? There we are, on the water in the storm of life — and we notice the wind raging. Maybe it's walking into your first cancer treatment or visiting a loved one who hasn't yet been healed — though you believed they would be. What then?
This is the place our faith can begin to feel unsteady, and we grasp for ways to strengthen it.
This is a moment that matters — that can be used for our good, if we allow it.
The following verse says this: "And when they got into the boat, the wind ceased." Did you catch that? The wind only ceased when they got into the boat — but not before. Jesus held onto Peter the entire trek back to the boat — through the wind, the rain, and the waters that had once threatened to overtake Peter.
He does the same for us.
During the storm that still rages, He holds us tightly, even as we doubt.
He's not waiting for our faith to be ironclad to be with us. He's there in the midst of it, walking us through it, holding us up with his hand, and showing us another reason to trust Him — as if we needed more.
Today, is there a place of quiet doubt in your heart you need to call out? Bring it into the light and into His hands. He is faithful to walk you through it and to the other side, where your faith is made strong and doubt has no power.
And immediately Jesus stretched out His hand and caught him, and said to him,
"O you of little faith, why did you doubt?"
Matthew 14:31