The same way the Israel experienced captivity in Babylon, our hearts and minds also experience captivity by fear, insecurities, opinions, and circumstances. It is in the midst of those suffering times that God's Word speaks hope and encouragement into our hearts, through these words:
But those who trust in the LORD will find new strength. They will soar high on wings like eagles. They will run and not grow weary. They will walk and not faint. (Isaiah 40:31 NLT)
The Hebrew word for "wait upon" used here is qavah, which means to properly wait, in the sense of expecting. This is not a passive form of waiting but active as you wait to see what good is going to happen. The phrase "to wait upon the LORD" means to wait for the Lord's hand to dig into the situation, to wait for His help, to trust Him, and to put all your hope and confidence in Him. We often find ourselves desperate for help under circumstances of danger or want, while looking to God for an outstretched hand. The same way it applied to the Israelites who had no prospect of deliverance from the Babylonians but for God's help, it applies to all who find themselves depleted, helpless, desperate for outcomes, and who in view of this put their trust in the Lord.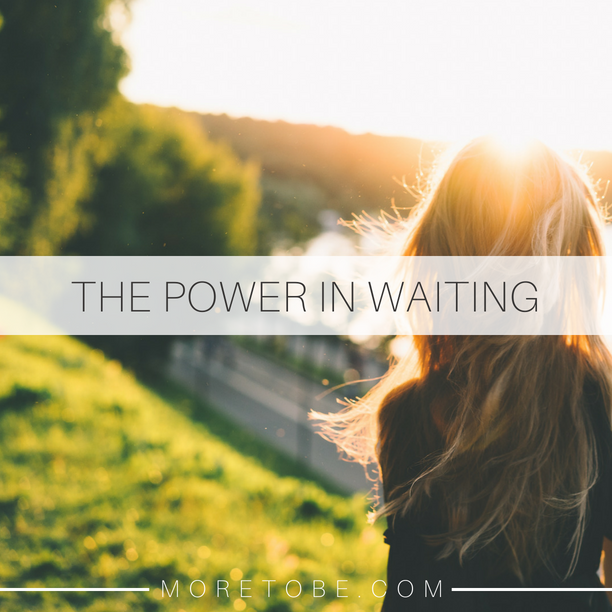 God's promise applies now to His people as it did in the times of captivity in Babylon. The wait is not one that promotes self-effort as we rely on ourselves while waiting for God to move. No, it is a waiting that involves relying on His means of grace. An attitude where we stand on God's Word, where we speak the life of His Word into our lives, waiting for the manifestation thereof to come into existence. We continue to do what God leads us to do by working, forgiving others, serving where desired, and building our lives in His presence, while waiting for Him to bring breakthroughs to pass.
We are to do our part by doing our best in everything, but we trust in God for the harvest and not our own efforts.
Then, we are promised the renewal of our strength. The imagery of the eagle is most profound as it is used here. The eagle rises above the vigorous winds and ascends further towards the sun than any other bird. This figure denotes the strength and purpose we will find in the Lord. It speaks of a place where we will move above the danger and evil intents of the enemy as we move in close communion with God and a position of nearness to His throne.
We will be unwearied, and we will be able to fulfill God's plan for our lives and not fall short of His greater purpose for us. These may not always look the same way we picture them to be. From personal experience, Isaiah 40:31 played a significant part in my life to get me on the track where God wanted me. At the age of 25, after suffering from a heart attack and recovering from a heart operation, this verse was given to me on a small piece of paper. It brought more hope to my soul than any words from the doctors. I was told there was no silver bullet for my condition and that I would have to find a new rhythm in life. But even before the doctor reported back after the operation, I already had a sense in my heart that my hope in healing should be placed in God alone, so when the doctor gave his report, it confirmed the message I got.
Shortly thereafter, I received the piece of paper with Isaiah 40:31 written on it. The hope that filled my heart was humbling. Even while I was lying down in a hospital bed, with little physical prospects of becoming better, I felt strengthened, knowing God was in control. My hope vested in Him. And my healing did come two years later while I waited on Him. I made a few adjustments in my life and trusted in Him to open new doors of opportunity to living a healthier, restful, and fruitful life. Throughout that season of my life, where I previously often fainted, I never did again. The attacks on my health continued to come, but I always escaped theirseverity as I found my refuge under God's wings. Even while waiting for God's victory over my health to manifest, I began walking as if I already had it and blessings followed until complete restoration was given by God.
As we walk in the promises of God's Word while we trust in Him, He will make us rise above the dangers. We will run and not grow weary, and we will walk and not faint. We will be reminded that we are given every reason why our entire lives must be about seeking God's face and praising Him, even in the midst of our darkness and challenges.
That brings us to our next verse:
Search for the LORD and for his strength; continually seek him. (1 Chronicles 16:11 NLT)
The same way Jesus sought His Father's presence while He was on earth, we should search for His presence. We find our strength not in our own capabilities but in God's presence where we truly surrender ourselves and become fully dependent on His purposes and hand in our lives.
May every day become a search for more of God's presence in your life as you delve into His words and stand on His promise in a hopeful expectation of waiting for Him to bring it to pass.
Maretha Retief