I don't know about you, but I love to give meaningful gifts to my family and friends as a way of conveying my love. However, with a limited budget and limited time, I have to get pretty creative about how I accomplish this goal. Do you find yourself in a similar situation?
This list of 30 gift ideas will help you simplify your life by giving you more margin time this season!
In my dreams, I'd love to be able to produce a hand-made gift-giving extravaganza on a shoe-string budget, but as a working mamma, that's not an option. Nor do I have time to browse the stores for the best find, even though Black Friday is a great option!
So, instead, I've spent a few hours of brainstorming and browsing to come up with this list of options for gifts we can order online and have in hand before December 1st even hits. Do you know what that means? We can actually enjoy the holidays with family and friends and not have to worry about last minute shopping! Doesn't that sound like a lovely idea?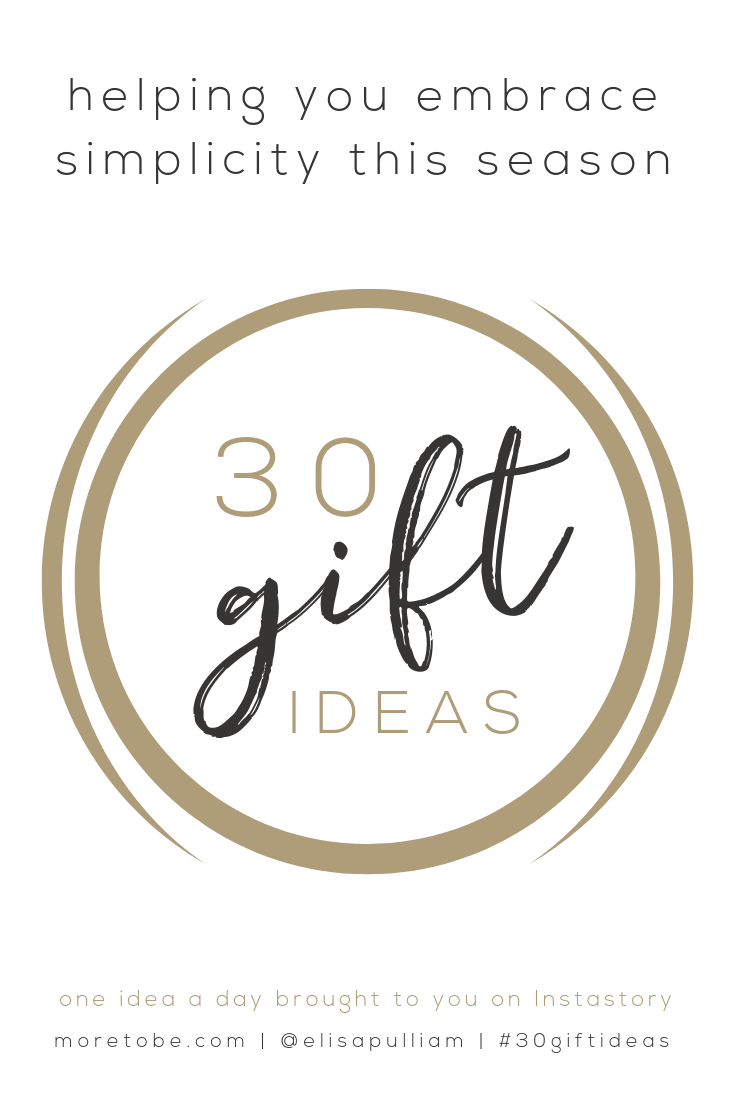 Some of these gift options are perfect stocking stuffers or can be bundled together in a themed basket! Some are favs from our More to Be Shop, because if I didn't love it, it wouldn't be there. You'll also see a bent toward what I call Holy Whole because of my own delightfully life-changing wellness journey through using essential oils and embracing a whole foods lifestyle. Let's just say I've become as passionate about caring for my physical temple as I've always been about tending to my heart and mind. These gifts ideas have your tweens on up in mind, although I left out the littles, since they are the easiest to shop for and don't hesitate to make their wants known!
No matter where you find yourself today, I pray these 30 gift ideas will help you embrace simplicity this season.
At the end of the day, we all know the real reason we celebrate Christmas. Whether we model our gifting-giving after the wise men delivering gifts to Jesus or practicing another kind of family-passed-down tradition, we wouldn't have our holiday without that starry night when our Savior was born in a manger in Bethlehem. So before you even go browse the list,  take your first holy pause in this holiday season to reflect on the gift Jesus is too you and ask God to lead you in how to convey that gift to your loved ones this year.
30 Gift Ideas
Especially for Her
Invite your sister-in-Christ to spend this next year growing in faith with you. Grab a copy of Brave Together for both of you and watch God grow your faith together this year. 
The Dessert Mist Diffuser* is the most beautiful one you'll find anywhere! Grab it for your oily sister or introduce her to benefits of oils with a group gift by getting her a Starter Kit* with oils included!
There's not a gal on your list, from 18 to 98 who wouldn't be blessed by a copy of Unblinded Faith. Grab the bonus prints to put in a frame plus the Journal for a thoughtful bundle. It would make a great gift for your Bible study leader!

Create a body care bundled for the gals in your life with the Lavender Mint Shampoo & Stress Away Bath Bombs*. You can up the wow factor with Stress Away Roll-On* or Tranquil Roll-On* with a mani/pedi gift certificate.
The inCourage Devotional Bible is for the women in your life who would like to have a few lines on each page to journal their thoughts or record their notes.
With the Bible Journaling craze still underway, create a bundle using the Inspire Bible along with the Illustrated Faith Bible Journaling Pens and the Complete Guide to Bible Journaling.
Already have an oil's lover on your list? This oils bottles case and diffuser carrying case makes a perfect gift combo!
Hand lettering is the latest crafty craze so grab the Tombow Brush Pens and the Brush Pen Lettering Guide with additional Sketch Pad.
The Star Collar Necklace from Akola is more than just a piece of jewelry. This organization was founded by one of my former students after her visit to an orphanage in Africa. She's worked for the last decade to build sustainable living for women and children in Uganda!
How about a customized stainless steal bracelet engraved with a verse or One Word for the year?


Especially for Tweens, Teens, Young Adults
A Sports Duffle Bag can come in handy for any person on your list. Turn it into a "wow" gift with a HydroFlask (all the rage amongst the teens)!
What high school or college age student do you know that is not in need of a Stress Away Roll-On*!
If you've been on a college campus in spring, you've probably seen a "Tree" Camping Hammock. Yep, another rage!
Ready to get a real adult Bible into the hands of the next generation? The Jesus Centered Bible is a perfect option.
Who doesn't need a good backpack for school or travel? This Under Armor Collection is worth considering.
For Everyone on Your List
Who doesn't have a to-go mug these days? But a Yeti Rambler 30 oz Travel Mug won't fail to impress! It keeps cold drinks cold and hot drinks hot!
A Stitch Fix Gift Certificate is super fun for the women and men in your life (young adult on up) who would love a fashion adventure!
This Neck Heating Pad won't disappoint, bringing relief to those of every age and stage in your life. Bundle with Deep Relief Roll-On and Stress Away Roll-On*.
For your flavored coffee lover, check out this selection of k-cups to keep their java taste buds on their toes! Grab the More to Be Coffee Mug for an extra special gift!
For your tea lover, check out this selection of teas! Put it in a basket with the More to Be Coffee Mug!
Who doesn't like to cozy up in bed or on the couch even when there is still work to do? This lap desk will make their late night hours a little easier to get through.
Give an Immune-Boosting & Home Cleaning Bundle using Thieves to your mom or mother-in-law, recent college grad, or new mamma on your list.
If you've got a sports fan on your list, then this selection of Sports Team Gear will make it easy for you to pick out some new gear for the upcoming season.
Have you read anything by Bob Goff? If so, you know he's a great storyteller with a powerful message. His book, Everybody Always will be sure to touch the heart of anyone on your list. You can bundle it with his first book, Love Does.
For the littles on your list, check out Bob Goff's children's book, Love Does for Kids.
Maybe the best gift to give yourself and everyone over 18 this season is The Whole30 Guide and Cookbook. Yes, I'm an advocate as it solved my three-decade long health issues and enabled me to lose over 20 pounds in the process, which was never the original goal! Bundle it with The Whole30 Slowcooker Cookbook for a double blessing!
Do you have any Bible history buffs on your list? The Wayfinding Bible will excite their journey through Scripture with illustrations, maps, reading plans, and narrative notes. Add a pack of Bible Gel Highlighters as a stocking stuffer!
Have someone who likes to think about spiritual things? Francis Chan's Forgotten God won't disappoint.
Essential Oils are for everyone because we all need the natural way they serve our bodies by boosting our immune system and reducing our stress! The Essential Oils plus Diffuser Starter Kit from Young Living* is a gift that will keep on giving! It would make a great group gift option too!
What is the best storybook about the greatest story ever told? It's the Jesus Story Book Bible and it should be in every family's library!
Please note, there are affiliate links included, which means your purchases support the work of More to Be. You can save on Young Living products by becoming a member by purchasing a starter kit.