Could you imagine spending 40 days fasting from sugar while feasting on Jesus?
Maybe you've never fasted before.
Maybe feasting on Jesus sounds a little weird.
Maybe you're not sure that you can say no to sugar much less anything else that has a stronghold over you.
Well, sister, you're not alone.
That's where I was 365 days ago.
But God allowed me to get so desperate with my health in order to discover an area of my heart that needed grave attention. In July 2018, I dove into a Whole30 journey to get to the root cause of my health issues, only to discover that behind the health was a heart desperately in need of attention. I was addicted to sugar and comfort food was my idol of security. As the truth burst forth, I knew there was no going back.
Six months later, I'm not only 25 pounds lighter, but I'm also spiritually and emotionally freer — and that by-product is worth the journey. My sugar dragon still wants to dominate, but in Christ, I've found the power to say no. I've found the strength and motivation to say no.
I've found freedom in Christ that I never tasted before. No pun intended.
The invitation stands before you, my friend to embrace freedom too.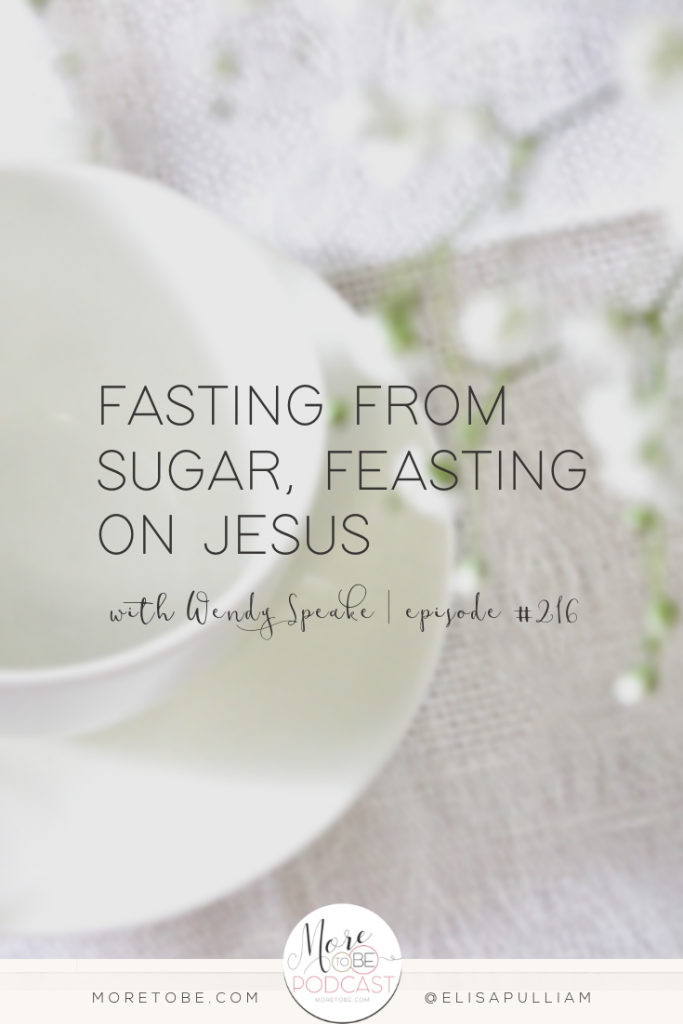 Come join me on the 40-day Sugar Fast led by author, speaker, and this episode's special guest, Wendy Speake, which kicks off on January 7, 2019.
Even if you don't believe sugar is your issue, I urge you to join in this season of discovering how to feast more on Jesus and less on everything else. Wendy has prepared for you a soul-deep journey through God's Word and a community steeped in authenticity and accountability. I'm grateful to be on the leadership team this year and experience my first sugar fast with Wendy.
On this episode, Wendy and I chat about what fasting is and is not, what causes hangups in our fasting endeavors, and how to break strongholds through fasting. Wendy is a grace-filled guide filled with holy boldness. You'll not want to miss out on this opportunity and you'll want to bookmark it for future reference. It is that good, especially for those us of who need to learn and practice fasting as a spiritual discipline. I pray you'll be as blessed as I am to sit under Wendy's teaching.
When we empty ourselves of the things we think we need, He reveals the very things we actually need. – Wendy
What is fasting? Don't eat. Get hungry. Let God show you He is faithful. – Wendy
When we fast on that which is temporary we feast on that which is eternal. – Wendy
Jesus is our true power source. – Wendy
Anything we can't live without is an idol. – Elisa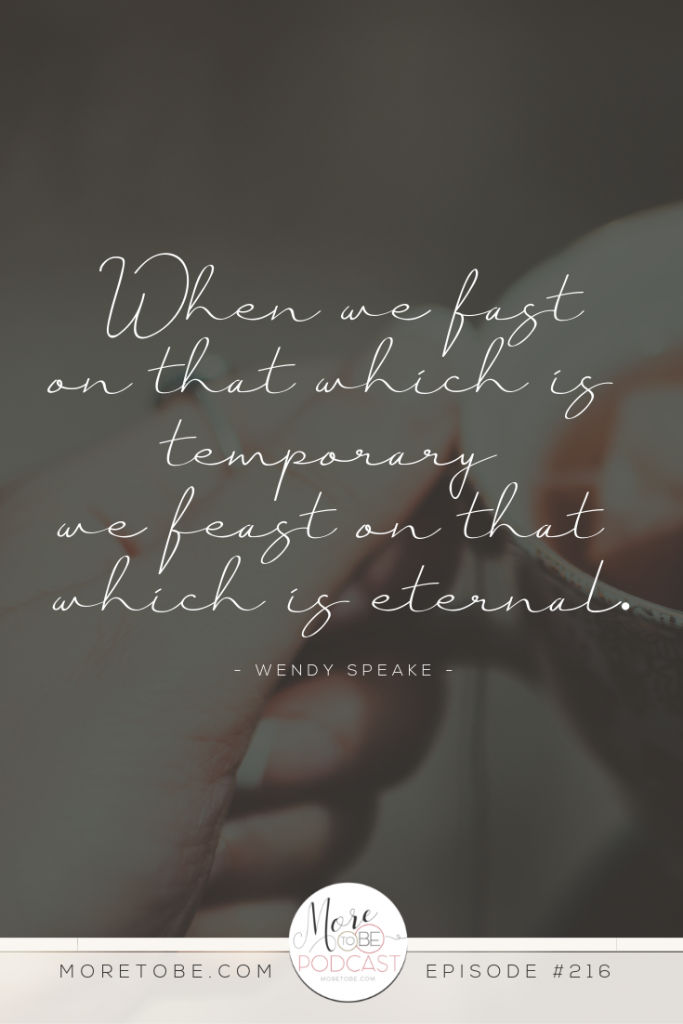 Whatever is that we consume, we're consumed by. – Wendy
I had a heart problem, not a health problem. – Elisa
You have a God-shaped hole in your heart that can only be filled by Jesus. – Wendy
We run to comfort food when we could run to the comforter. – Wendy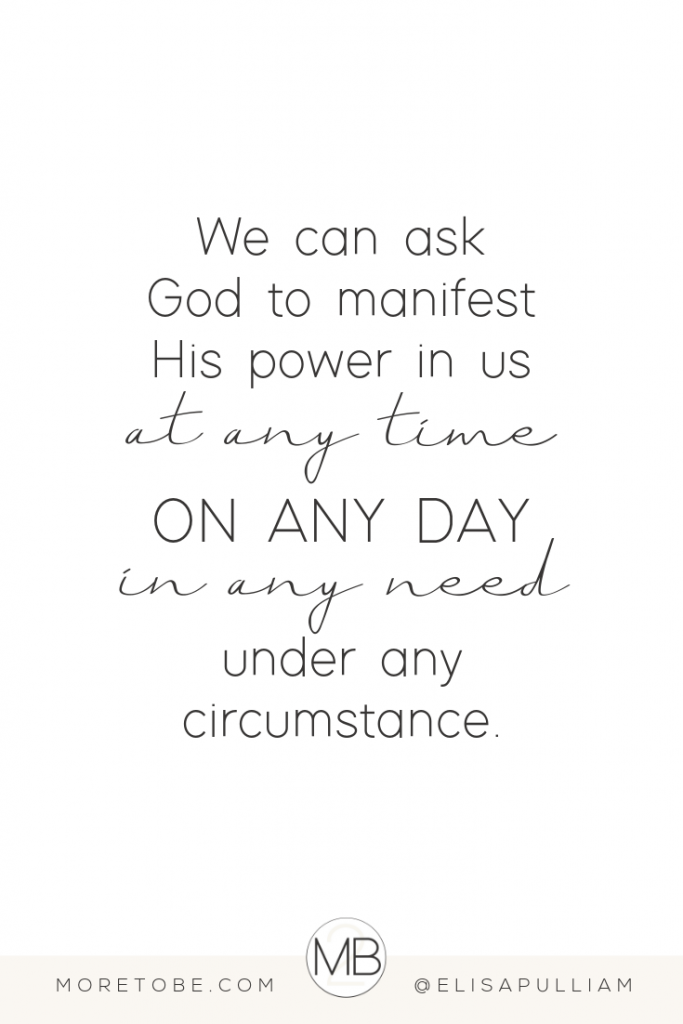 We can ask God's power to manifest in us at any time, any day, in any need, under any circumstance. – Elisa
The fast reveals the stronghold. – Elisa
Strongholds stop us from experiencing the stronghold of Christ. – Wendy


Scripture Focus
Jeremiah 2:13
Psalm 139:13
Psalm 90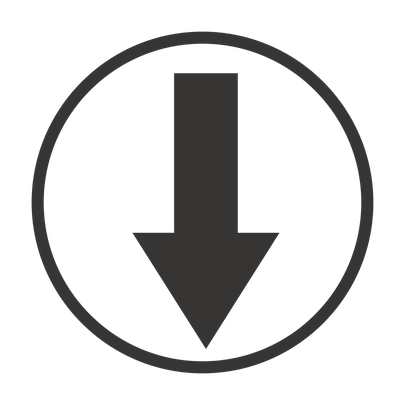 Notable Links & Mentions



Share & Bless
Listen on iTunes, Stitcher, and Spotify
If you've been blessed by this podcast, then hope you'll show your support by share it with your friends and family! We would also be so grateful for you to rate and review our podcast wherever you listen.

Show Your Support by Joining the Sisterhood Circle
We invite you to become a More to Be Sisterhood Circle Member as a way of supporting this podcast. With your membership support, you'll gain access to our signature courses and resources for FREE plus receive advance notification of new resources, trainings, and special sales.
To get access to over $100 worth of bonuses, become a Sisterhood Circle Member by clicking here and upon check-out, enter coupon code "Podcast" to save an additional $20!