Through what lens do you see the biblical narrative? Is it as a whole or in two distinct parts?
Is one part solely drawn from the Old Testament where we meet our Creator God? It is only there that we find our Sovereign God, the one who gave the law and passes judgment but can also be compassionate, merciful, and long-suffering?
What about the New Testament? Is that portion devoted entirely to one main character, Jesus, our Savior, with guest appearances from the Holy Spirit and encores from God the Father? Do we see love and grace and hope only in the Gospels and letters?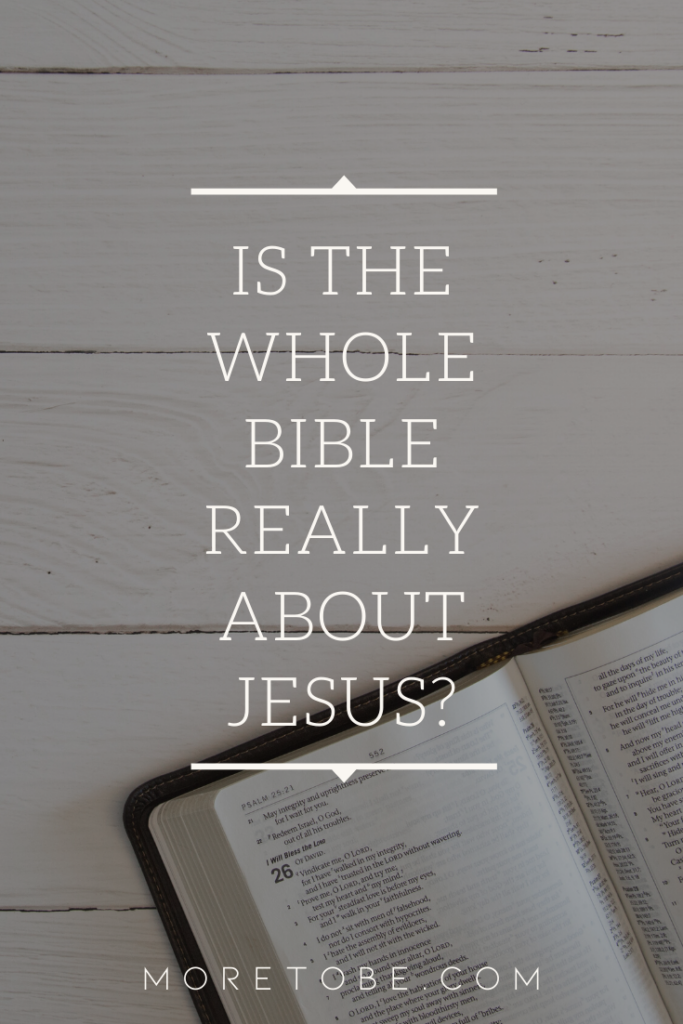 We tend to cut the Bible in half, as is understandable considering the way it is organized, but in doing so, we have the propensity to see God in an either/or capacity. He's this . . . not that . . . because often times it is hard to reconcile the God we meet in Leviticus, Judges, Kings, and Job with the Jesus we encounter through the eyes of the disciples and perspective of Paul.
But what, if we saw the entire Bible, all sixty-six books as one whole story, all about Jesus?
How would that impact our faith? Would it transform our understanding of God's sovereignty? Might it increase our ability to trust Him with our lives and more deeply believe in His promises?
Could we, quite possibly, find the answers we're looking for right in the Word through the leading of the Holy Spirit rather than be susceptible to the tickling of our ears from every modern-day interpretation of what it means to love the Lord our God with all our heart, mind, soul, and strength?
I've been asking these questions of the Lord for some time now, which is what inspired the idea to study the names of God and invite you to join me in this journey using the Encounter God: 52 Scripture Memory Card resource.
What I've discovered is that the answer is yes. We can meet Jesus in the entire biblical narrative if we are looking through a set of Holy Spirit inspired lenses. Throughout Scripture, God proclaims His identity and reveal His promises, all of which are captured in the person of Jesus, our Savior and Messiah, Rescuer and Redeemer, friend and Lord.
In a similar way, The Jesus Bible invites us to see Jesus afresh, not only in the New Testament but throughout the Biblical narrative.
Encounter the living Jesus in all of Scripture. From the Passion Movement, The Jesus Bible, NIV Edition, with exclusive articles from Louie Giglio, Max Lucado, John Piper, Ravi Zacharias, and Randy Alcorn, lifts Jesus up as the lead story of the Bible. Profound yet accessible study features help you meet Jesus throughout Scripture. See him in every book so that you may know him more intimately, love him more passionately, and walk with him more faithfully.

– The Jesus Bible
As soon as you open the pages of The Jesus Bible, you're met with an invitation to read the story of God from a completely different vantage point. Pastor Louie Giglio leads with a powerful introduction explaining how the Bible is "best understood when it's viewed as one story in six acts: Beginnings, Revolt, People, Savior, Church, Forever."
Interwoven with the Word, we find opportunities to explore these themes further, offering a theology lesson at our fingertips. Each chapter begins with a bold name of Jesus and a description of His character followed by an introduction to the book along with sidenotes and footnotes laced throughout the pages.
If your desire is to see Jesus come alive in all sixty-six books of the Bible, this new edition from Zondervan won't disappoint.
May you begin your journey deeper into the Scriptures with a heart and mind surrendered to His leading as you invite God to give you eyes to see Him afresh.
I received The Jesus Bible for free as a member of BG2 as a #BibleGatewayPartner.