Who is God to you?
Is He your Almighty God?
Do you see Him as a friend or foe? Limited or limitless? Promise-keeper or promise-breaker?
I suppose without the introduction from God himself, we might not recognize the importance of His name and the way it conveys His character. Take Abram, for example. From his perspective, God promised that he would be the father of many nations. Of course, at that point, he was 99 and had only one son through the intervention of his wife, Sarai, and her not-so-brilliant plan to use her servant to get her husband an heir. Certainly, both Abram and Sarai, believed that Ishmael, the son born through Hagar would fulfill the promise. Ahem, they were wrong.
God's plan was still God's plan.
He was not failing to fulfill what He promised.
When Abram was ninety-nine years old, the Lord appeared to him, saying, "I am God Almighty. Live in my presence and be blameless."

Genesis 17:1 CSB
That plan was declared in a face-to-face encounter with God, in which He declares and instructs Abram ever so cleary, by way of a very important introduction.
Hello, I am God Almighty.
Maybe Abram forgot. Maybe he was doubting. Maybe he was scared.
God Almighty does not forget.
He will what He says He will do.
He will get the job done.
He has all the power in the world. He made the world.
He is the promise-keeper, the way-maker, the faithful one to faithless ones.
God will keep His my covenant. Always.
If that is as true for Abram as it is for us, how does that change the way you see your circumstances today? Maybe you feel like God is too long in fulfilling His end of the deal. We're still waiting on the Abrahamic Covenant to be fulfilled with Abram's descendants fully inhabiting the promised land. But the end of time has not yet come. God is not yet finished.
So what does it look like to wait well on God Almighty and not take matters into our own hands? What do you need to do in order to be faithful and blameless before God?
Let's Pray

I am so grateful that you are an unchanging God. The Almighty who remains faiithful to His Word. The one who seeks us out for connection, friendship. and a committed relationship. You are a covnenant keeping God. May I never forget that. Help me Lord to see this side of You. To trust You more, even when I don't see you working and doubt your abilities. Remind me in my spirit, God, to get on my face before you . . . to serve you faithfulfully and live a blameless life.

In the Strong Name of Jesus, Amen.
---
---
Listen to the Wednesday in the Word Podcast Episode
---
---
Join us in the More to Be Tribe
Join us in studying God's Word with the ​Encounter God: 52-week Scripture Memory & Prayer Scripture​ resource.
Each week, we're committing to these four simple steps:
Memorizing One Name or Attribute of God
Memorizing the Key Verse
Studying the Key Verse in Context of the Chapter of Scripture
Praying According to God's Name or Attribute
As you embrace this challenge, join us in the More to Be Facebook group to share what you're learning!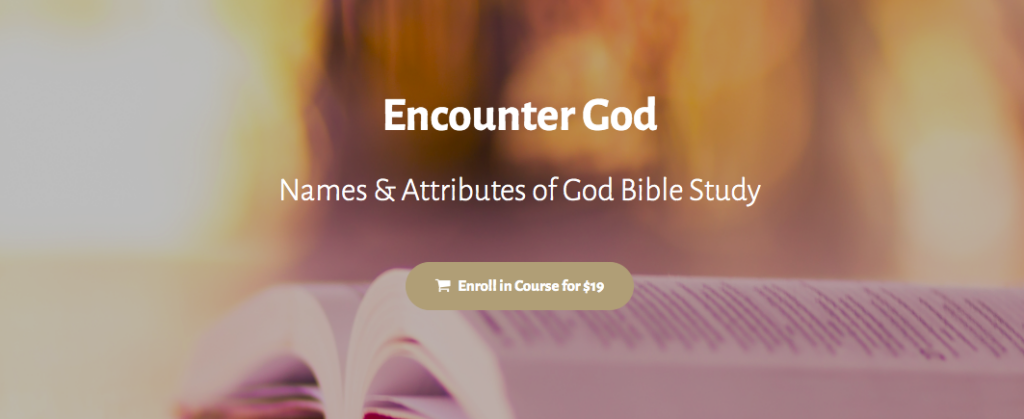 Get access to weekly teaching videos and bonus resources.