Ahmaud Arbery.
Breonna Taylor.
George Floyd.
Maybe you're well-acquainted with these names. Maybe you are not, because you're like me and tend to shelter yourself from the painful realities in this world, overwhelmed by what you can't do to solve the greatest atrocities. But something in me has flipped in the last few weeks.
Silence is no longer an acceptable response.
Maybe it's because I'm learning how to step out of my fear and willing to be more vulnerable, admitting what I do not know and what I can not solve.
These three names represent three human beings made in the image of God, murdered in the United States in the last three months, because of the color of their skin. Yes, racism still exists.
In this special release of the More to Be Podcast, I invited my friend Barb Roose to join me to begin the conversation. It's time we learn, as believers, how to respond as to these horrific events and moreover, how to bring an end to racism. The conversation was inspired by one of Barb's recent blog posts "From a Black Friend to My White Friends," providing a launching pad for the questions we should be asking of ourselves and of our community.
This conversation was raw, real, and necessary. It's an honor and privilege to have Barb speak so honestly and frankly about the racism issues still evident around us.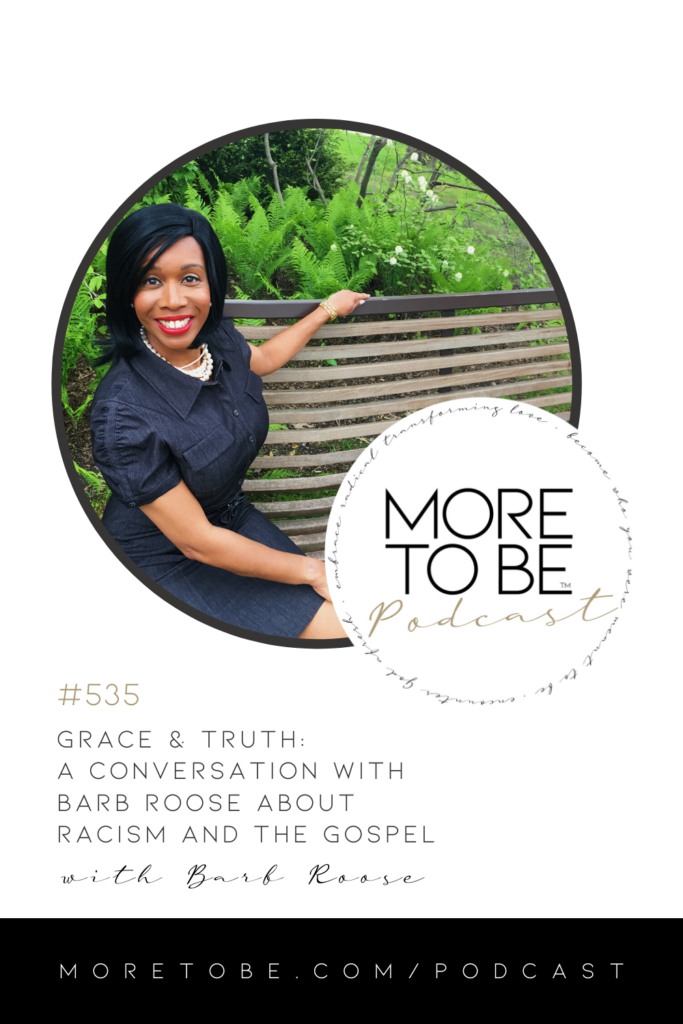 Barb Roose is a popular speaker and author who is passionate about equipping women to win at life with Christ-empowered strength and dignity. Since 2005, Barb has been speaking to audiences in the US and abroad, including national tours like the Aspire Women's Events. She's a Bible teacher who loves following God more than anything else in life. Barb is a real woman who has experienced God's power and presence during battles with depression and anxiety, parenting challenges and family addiction trauma. Rather than teaching audiences to follow God to get what they want, Barb inspires audiences to discover that God is all that they truly need! Barb is the proud mother of three adult daughters. A perfect day for Barb includes a long walk, finding a sale on fabulous shoes and enjoying a bowl of chocolate peanut butter ice cream. Visit Barb's online home at barbroose.com.
If you've been blessed by this podcast, we hope you'll show your support by sharing it with your friends and family as well as take a moment to rate and review it in your listening app.
Highlights
Fear is self-focused. Fear is "what about me?" Fear is not necessarily "what's happened to them?" – Barb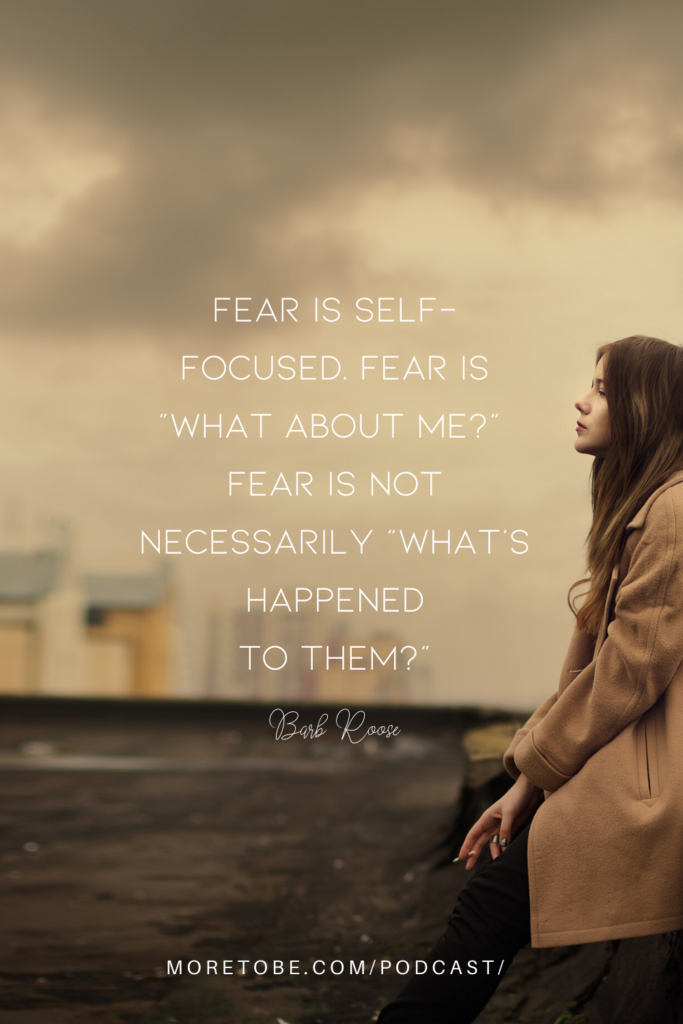 It's not the handout. It is not the financial "you feel good because you took care of something." It is building a relationship, and meeting a need, which is Jesus. – Lisa
In order to engage in this conversation (about race) well, we need to take the focus off of ourselves. – Barb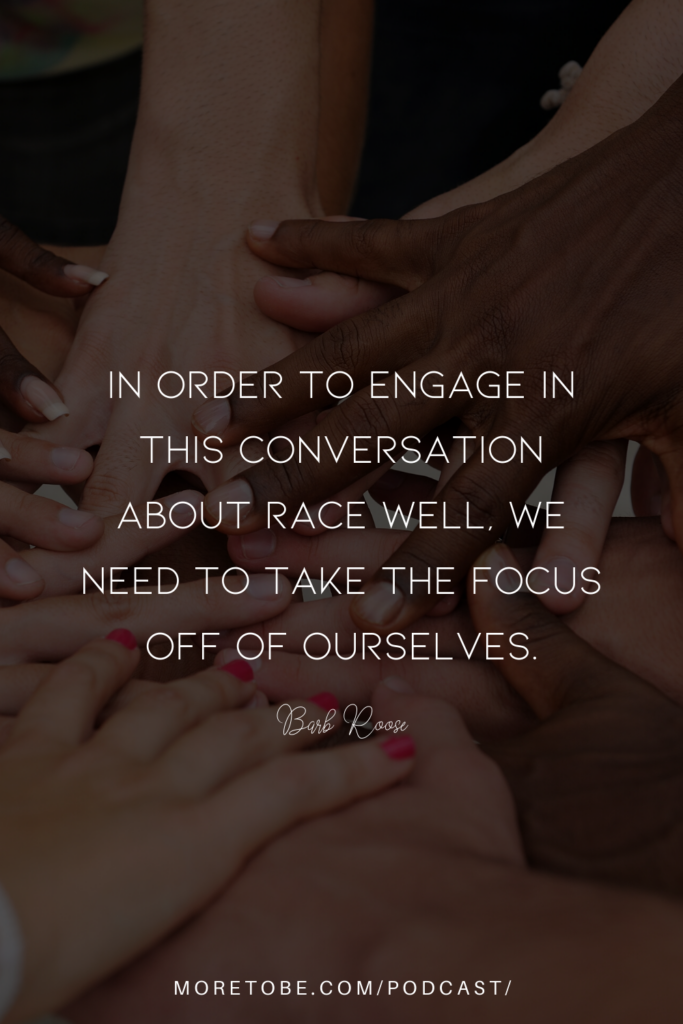 How do I bring people of color into my life? The best way to do it is to volunteer for local organizations! – Barb
How aware are you willing to make yourself? – Lisa
The Lord washed over me, "Lisa, this is in your backyard. You just choose not to look." – Lisa
Information is not the problem. It is willingness to see the problem. — a willingness to observe first, before leading with questions, willingness to understand someone's experience before applying assumptions. – Barb
This a place where we ALL have to examine our blind spots. – Barb
My eyes being opened didn't mean that I had to be ashamed of what I had, I could feel that shame, but what it meant was that I had to be a better steward of what I'd been given. – Barb
God intentionally planned for us to have different colors and different cultures. – Barb
I have the privilege to take that issue of fear and bring it before the Lord and say "help me navigate through this and give me courage where I did not have courage," because there is not a threat to my external being. – Lisa
The one attribute that I see defines Jesus the most is his compassion. He would see and then act with compassion. – Lisa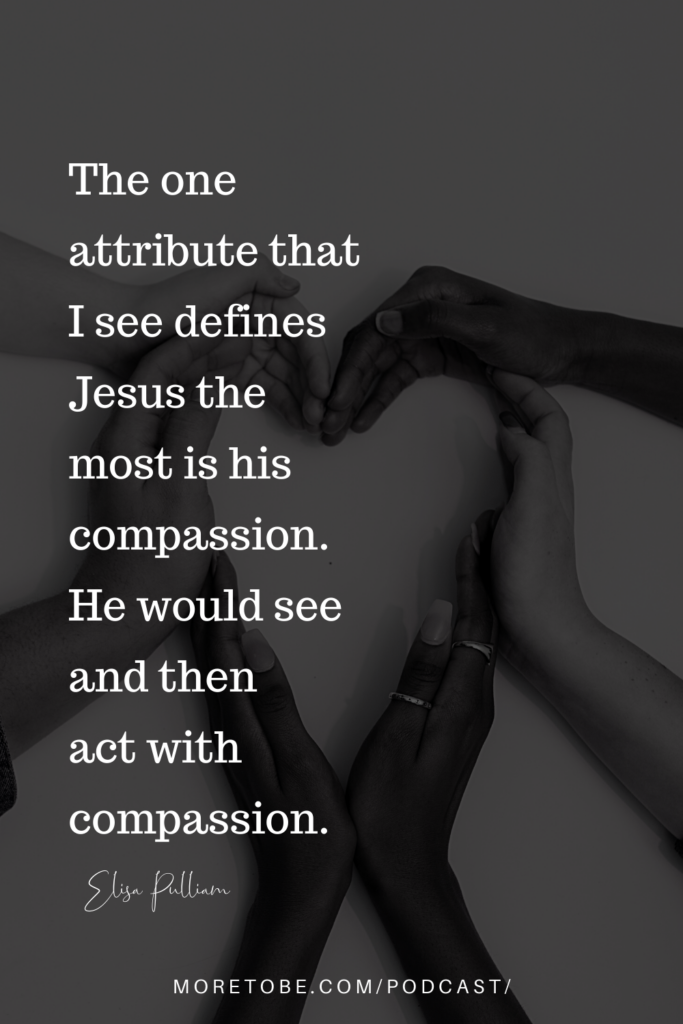 Things do not change until people are willing to wrestle. – Barb
"For this is the message you have heard from the beginning: We should love one another unlike Cain, who was of the evil one and murdered his brother. And why did he murder him? Because his deeds were evil, and his brother's were righteous. Do not be surprised, brothers and sisters, if the world hates you. We know that we have passed from death to life because we love our brothers and sisters. The one who does not love remains in death. Everyone who hates his brother or sister is a murderer, and you know that no murderer has eternal life residing in him. This is how we have come to know love: He laid down his life for us. We should also lay down our lives for our brothers and sisters. If anyone has this world's goods and sees a fellow believer in need but withholds compassion from him—how does God's love reside in him? Little children, let us not love in word or speech, but in action and in truth." – 1 John 3:11-18 CSB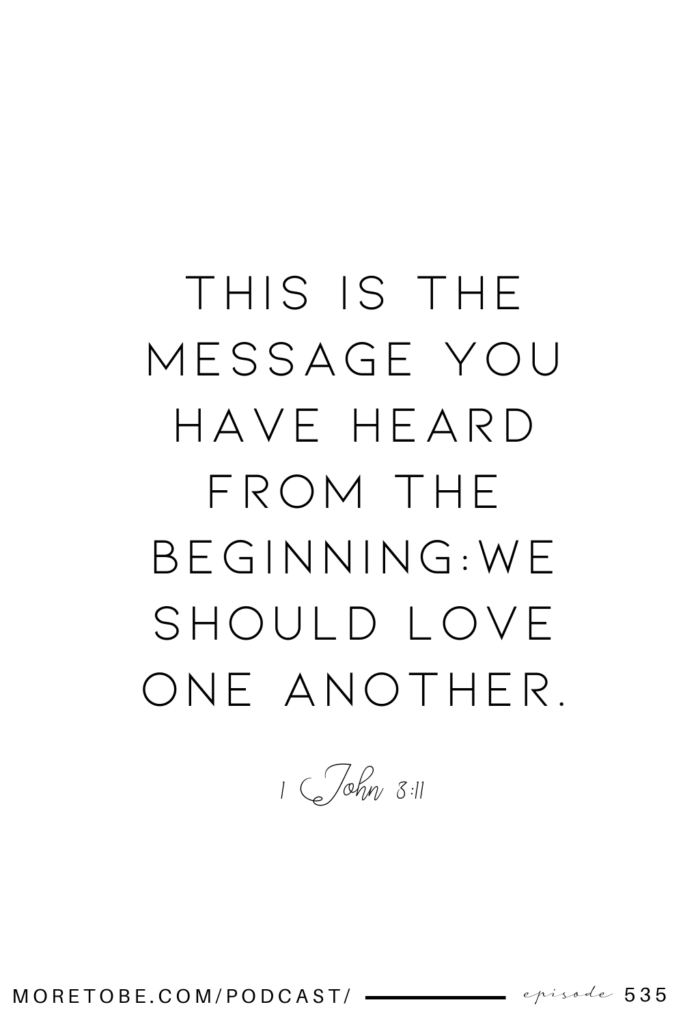 Mentions | Links | Resources
Support the More to Be Podcast
If you are blessed by our podcast and ministry, we invite you to become a Sisterhood Member as a way of supporting our work. You'll gain access to our digital library full of resources that will help you have a fresh encounter with God and His Word.