Who is your savior? Is your Savior the Son of God, sent into this world to rescue you and set you apart and redeem your life for His glory?
Or do you function as your own savior, taking upon yourself every problem and issue and need, believing it is all up to you?
If we are struggling to yield our life to the Savior of the world, we've got to take a holy pause to consider why? Is it because we don't know how to release the tension and anxiety we feel in us without trying to be in control of everyone and everything?
And we have seen and we testify that the Father has sent his Son as the world's Savior.

1 John 4:14 CSB
Jesus is the world's Savior.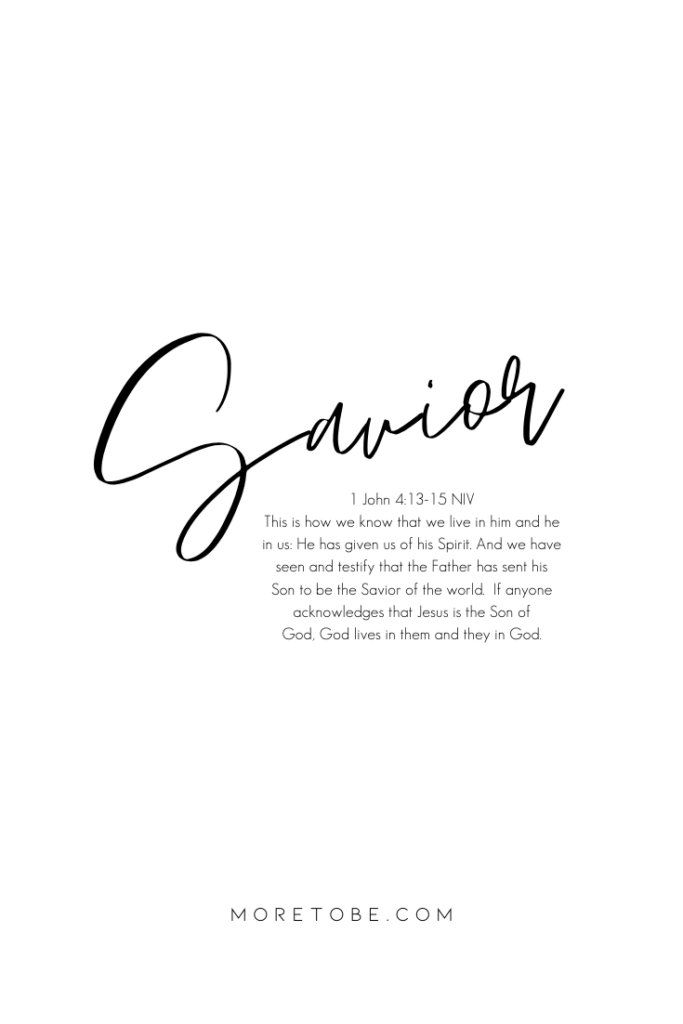 He not just the Savior for one, but for all.
That means there is no room for another Savior. We can let down all our efforts to resolve all the world's problems. We can cease from striving after solutions that weren't ours to come up with. We can stop our relentless rescue missions motivated by fear instead of being led by faith.
Imagine, if we gave up all our endless striving and instead simply became a vessel of God's love, trusting the Holy Spirit to do His work while staying in the lane God has placed us in. What would that kind of transformation look like in our lives? What would be the ripple effect on this world ? Would God's love flow more freely?
God, I thank You for sending Your son, Jesus Christ, to be the Savior of this world. Thank You that is the greatest love mission that this world has ever seen. Thank You for making me a recipient of Your love and redemption. May I live grateful and humble in light of Your love. May I be Your love in this world, as I release control and trust You to love well through me.

In the Strong Name of Jesus, Amen
---
Listen to the Wednesday in the Word Podcast Episode
If you've been blessed by this podcast, we hope you'll show your support by sharing it with your friends and family as well as take a moment to rate and review it in your listening app.
---
Get access to weekly teaching videos and bonus resources when you enroll in the Encounter God Bible Study.